1 View
Best Cheap UTV Tires That Are Actually Good
May 25th, 2021 12:11 PM
Share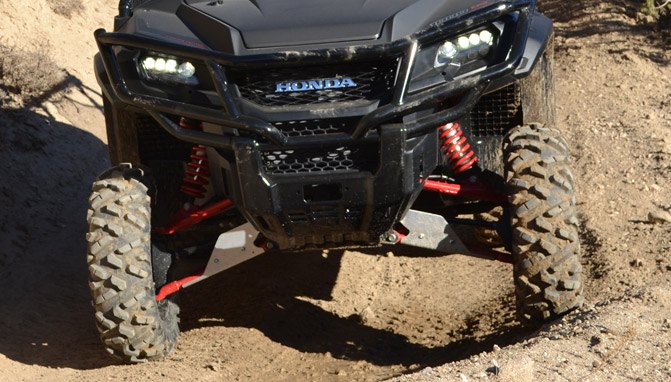 If your Side-by-Side needs some new tires but you you've got a limited budget, check out our list of the best cheap UTV tires.
Saving a few bucks on new tires is always a good thing. This is especially true when your old tires are either worn out, or not performing the way you need them to. The thing is, if the new cheap tires don't perform or last very long, then they aren't much of a bargain. We already covered some of the better cheap but good ATV tires on the market. Now it's time to talk about tires for your UTV that won't break the bank, yet will continue to give you a boost in performance.
Table of Contents
1. Editor's Choice: Tusk Terrabite
Tusk is the house brand for Rocky Mountain ATV/MC and there are some excellent products represented by that brand. The Tusk Terrabite tires just might be the best representative of the brand. The Terrabite is outfitted with a tread pattern that works well in all sorts of terrain, 8-ply construction for long-lasting performance, DOT compliance, aggressive shoulder and sidewall tread when you need to find extra traction, and a price that truly stands out when you consider all the tire has to offer. When it comes to finding cheap UTV tires, the Terrabite is a great place to start.
The Sedona Rip Saw is a great multi-purpose tire that is pretty cheap, but very good too. The tread is multi-directional, with deep lugs that have siping for added traction on slick conditions like rocks. The sidewalls have excellent bite for digging in deep ruts. They work well in mud, hard and soft-pack dirt, and more. The tires are 6-ply and have radial construction, making them a great choice for any UTV.
What makes the GBC Dirt Commander tires make the list for a good but cheap UTV tire is the simple fact that it is an 8-ply tire that gets great traction in a wide-range of conditions. It's good enough that at least one major manufacturer has used them as the OEM tire. They may cost a little more than many 6-ply tires, but finding other 8-ply tires in this price range with this quality will be a challenge. If you need a solid, all-around tire, the Dirt Commander is a good option.
No list of quality, cheap UTV tires would be complete without something from Kenda, and the Bear Claw EVO is a darn good tire. With biting, directional tread, the Kenda Bear Claw EVO is a solid performing 6-ply tire. It's not uncommon to be able to completely outfit your ride with new rubber for less than $300 and Kenda tires are legendary for their durability. If you're on a budget, go with Kendas.
Another tire that adds performance without killing your wallet is the Black Diamond XTR from STI Tire and Wheel. These are a solid mid-level mud and all-terrain tire that are radially constructed to run smooth on hard pack. They even qualify under DOT regs for road use if need be. If your stock tires are not digging in like you need, but you can't justify spending big bucks, the STI tire is a good option for your UTV tire needs.
6. Best Cheap Mud Tire: Interco Swamp Lite
If you find you need a more serious mud tire but still have that pesky budget to work with, the Swamp Lite tire from Interco is an option you might want to consider. Deep directional lugs, 6-ply construction and good center-rib treat design makes this a decent trail tire and a good performing mud tire. For mud performance, the Interco Swamp Lite is one of the best cheap UTV tires going.
Recent Updates
April 1, 2021: Added the Tusk Terrabite to the list and some information on what makes a cheap ATV tire a good buy.
We are committed to finding, researching, and recommending the best products. We earn commissions from purchases you make using the retail links in our product reviews. Learn more about how this works.
What makes a cheap UTV tire good?
There are all sorts of cheap UTV tires available from online retailers, but which ones are actually worth buying? There are a few things we look for, including higher load ratings, 6- or 8-ply construction, and tread that wraps around the shoulders and onto the sidewall for added protection. You can also look up user reviews to see what actual owners think of the tires. You won't find the absolute cheapest ATV tires when you check all of those boxes, but you can definitely find good tires and a good price point.
Published November 30th, 2017 6:47 PM
Top Brands
Popular Articles