20 Views
Best Polaris RZR Winch Options
June 15th, 2023 2:22 AM
Share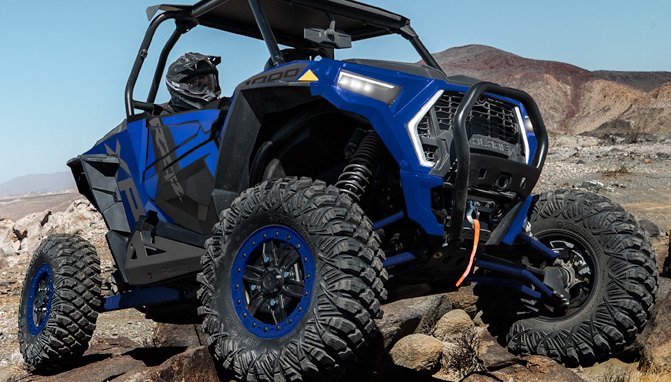 A winch can get you and your RZR out of a jam
Any Sport UTV that explores even moderately technical terrain will likely end up stuck a time or two. Picking up a Polaris RZR winch can save you some serious hassle.
We'd wager there's hardly a UTV driver alive who hasn't been caught out by some treacherous conditions at one point or another – whether that is due to some nasty terrain or just your confidence getting ahead of your skill. Equipping your RZR with a winch helps to ensure that the next time it happens, you won't be stuck with a long walk back to camp.
The good news is that your Polaris RZR weighs a good deal less than the average off-road truck or SUV, meaning you don't need anywhere near the same pulling power to extricate your UTV. An RZR 570, for instance, weighs in at just under 1,000 pounds dry, while a RZR S 1000 weighs a bit more than 1,200 pounds. Of course, you'll want to make sure that whatever Polaris RZR winch you pick has plenty of overhead; winching a vehicle out of a hairy situation produces peak forces that exceed the dry weight of the vehicle, as things like tree branches and thick mud tend to resist the pulling force of the rope. But you don't have to go and shell out the cash for a big, 8,000- or 10,000-pound winch like you might for a truck. We recommend buying something rated to at least 4,000 pounds, although your exact needs will vary.
Sound like a lot? Don't worry; we're here to help. Below, you'll find our picks of the best Polaris RZR winch options on the market today.
1. Editor's Choice: Warn VRX 45-S Powersports Winch
Sticking with a known brand with a well-established, unimpeachable reputation is rarely a bad idea, and there's perhaps no winch brand in the world as respected as Warn. The Warn VRX 45S makes for a near-perfect Polaris RZR winch. It's engineered to last with an IP68-rated dust- and water-resistant metal housing featuring a durable black powder-coat finish to resist corrosion, and an all-metal planetary gear train driven by a new-and-improved clutch design. It also boasts a 50-foot synthetic rope, which will always be our preference for multiple reasons: it's lighter, it doesn't develop sharp burrs like steel rope, and it holds less potential energy so that if the line should break, there's less risk of injury. Rated for up to 4,500 pounds, the Warn VRX 45S ships with a three-year electrical warranty and a lifetime mechanical warranty, so you can rest assured it will give you years of useful life.
2. Runner Up: SuperATV Electric 4500 Black Ops UTV Winch
A trusted brand within the ATV/UTV community, SuperATV pulled out all the stops with the Black Ops 4500 powersports winch. Like the Warn VRX 45S, it features a 50-foot synthetic rope and a 4,500-pound pull rating, but where that model uses a simple handlebar-mounted rocker switch, the SuperATV Black Ops comes with both a dash-mounted switch and a wireless remote control, allowing you to get well clear of your RZR while you winch it out. The solenoid, gearbox, and remote receiver box are all well sealed against the elements, too, so rain, snow, and mud are of little concern.
3. Most Budget Friendly Winch: Champion 4500 Wireless Winch Kit
We tend to be a bit wary of cheap "budget" options here at ATV.com, erring in the direction of the mantra "you get what you pay for." But the low price, feature set, and rave customer reviews for this Champion 4500 winch kit make it impossible to ignore. It literally costs roughly half of what most other comparable name-brand powersports winches do, with a two-year limited warranty to put your mind at ease. Plus, it's not exactly short on features, with a 4,500-pound line pull rating, 38-foot galvanized steel rope, roller fairlead, and both wired and wireless activation switches – one for the cabin, and one operable from up to 50 feet away. It's not the most sophisticated, premium Polaris RZR winch around, but it represents a solid value.
4. If Money Is No Object: Warn AXON 45-S Powersports Winch
The "Cadillac" of powersports winches, and handily the most premium option on our list, the Warn AXON 45-S is for the customer who won't settle for anything less than the best. It has the same 4,500-pound line pull rating and IP68 dust- and water-resistance rating, but with a state-of-the-art design that includes an advanced "Motactor" arrangement that combines the motor and contactor for easier installation and outstanding performance. It also boasts 50 feet of Warn's most advanced Spydura synthetic rope, and a digital wired remote that provides unparalleled control and user feedback, with data including winch load and current temperature at your fingertips. As a Polaris RZR winch, it's about the best, most advanced product your money can buy.
5. KFI SE45-R2 Stealth Winch
A high-quality, premium powersports winch with plenty of outstanding features, the KFI SE45 Stealth is well worth the price tag as a Polaris RZR winch, with a 4500-pound rated pulling capacity for plenty of overhead, and a 38-foot synthetic cable. That's not as long as the ropes included with some competitors' winches, but it's more than enough for most situations. Plus, the SE45-R2 more than makes up for it with a 14-foot wired remote that allows you to activate your winch from a safe distance anytime – no remote battery to go flat when you need it most. There's also a dash rocker switch that enables you to activate the winch from the seat in your side-by-side, and with its water-resistant seals, heavy-duty electric contactor, and one-year limited warranty, the KFI SE45-R2 Stealth Winch is the total package.
With a higher line pull rating than you're ever likely to need, an attractive price tag, and QuadBoss's well-respected name behind it, the QuadBoss 5000 winch is definitely worth a look. Rated for up to 5,000 pounds of pulling force, this winch is water-resistant and sealed against the elements for years of reliable use in all weather, and it boasts a powerful 3.8-horsepower permanent-magnet electric motor. That's significantly more power than some of the other winches on this list, and along with the three-stage planetary gear system, it should translate to faster line speeds. Other top features include a corded remote for operation from a safe distance, and 50 feet of long-lasting Dyneema synthetic rope.
Where does a winch get power on a Polaris RZR?
Power for your winch comes from your RZR's battery. When installing your winch, you need to hook up a couple of wires to the battery in order to provide power. Just be aware that running your winch (or any other accessory) when the vehicle is off will quickly deplete the battery.
What size winch do I need for a Polaris RZR?
When it comes to winches, you will never complain about having too much power on hand. For most 2-seat models, we think a 4500-pound winch is just about perfect, as that is plenty of power to move a UTV from a ditch or out of the muck. You might be able to get away with a 3500-pound winch, but we don't think it's worth the risk. This is not the place to try and save a couple of bucks. If you've got one of the larger 4-seat model RZR models, you might want to consider one of the newer 5500 lb. winches that are starting to come available on the market. It never hurts to error on the side of caution.
Is synthetic rope better than steel cable for my winch?
There are definitely pros and cons to each. Steel cable is less expensive and requires less maintenance, but is harder to fix on the trail and requires more caution to handle when using your winch. Synthetic cable, on the other hand, is more expensive and requires regular maintenance in the way of cleaning and UV protection, but is much easier to handle when required and easier to fix if it were to break when you're in a sticky situation.
What else is there to know about winching? Are there any other accessories I need?
If you're using a steel winch cable, it's recommended to get a good set of leather gloves to protect your hands from any debris or frayed cable. Also if you're ever in a pinch where you're required to use a tree as an anchor point, we recommend getting a tree saver and even a shackle kit to increase the pulling power of your winch. You can find a kit that has everything you need all in a bundle here.
Additional Resources
Recent Updates
June 15, 2023: Updated product links, restructured FAQ, and added to existing answers
October 15, 2021: Added additional resources, ranked products, updated product descriptions, updated product links
April 27, 2021: Added FAQs to the article.
October 15, 2021: Added additional resources, ranked products, updated product descriptions, updated product links
Published June 15th, 2023 2:22 AM
Top Brands
Popular Articles