65 Views
Best ATV Tow Straps To Help Get You Home Again
June 2nd, 2022 4:47 PM
Share
We're committed to finding, researching, and recommending the best products. We earn commissions from purchases you make using links in our articles. Learn more here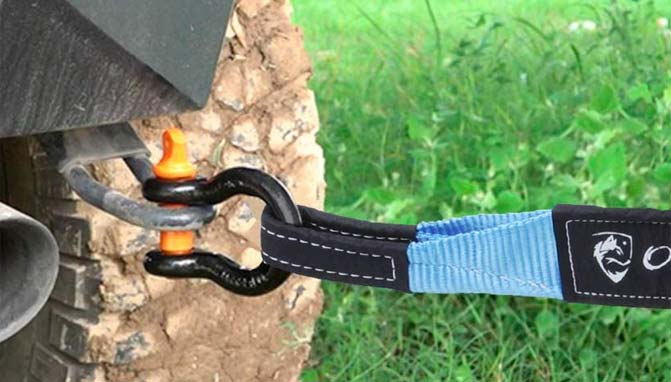 A quality tow strap can be a life saver on the trail
When something breaks on your ATV or you run out of gas more than a short jog away from camp, the last thing you want is to be caught without an ATV tow strap in your pack. The good news is there are no shortage of quality ATV tow straps available that can help you get back home again. In fact, the same tow straps that Jeeps and other off-road 4×4 vehicles use will work perfectly well on your ATV or UTV.
Not to be confused with a recovery strap, which is engineered to stretch in order to help recover a stuck vehicle, a tow strap is comparatively rigid in length. It has just one purpose: to provide a means of pulling a disabled vehicle from Point A to Point B. To do this, ATV tow straps are typically made from strong water- and UV-resistant polyester, and designed with a reinforced loop at each end for affixing to a D-ring shackle or tow hook.
It's tempting to think that your ATV will never find itself disabled; you keep the tank topped off, after all, and maybe it's a newer model in tip-top mechanical shape. But the fact of the matter is that the unexpected does happen. Maybe your fuel level sending unit stops working and you run the tank dry, or you stress a half-shaft to the point of failure trudging through some especially gnarly mud. Whatever the case may be, an ATV tow strap is a godsend when the unexpected happens, and it's so small and light that there's very little penalty to carrying one.
These days, you can hop online and, with a few clicks, find countless inexpensive ATV tow straps for sale. But how do you know that what you're buying will actually stand up to the task when it comes time to pull your ride back to camp? We're here to help. In this list, we've rounded up the very best ATV tow strap options available today, covering a range of price points and numerous manufacturers. All of them are high-quality straps that we wouldn't hesitate to use on our own machines.
1. Editor's Choice: TGL 3" x 20' ATV Tow Strap
Strong enough to get the job done and cheap enough that you can buy up a few in case one of them fails in the field, this 20-foot tow strap from TGL is one of the best ATV tow straps you can get. In fact, it's so inexpensive that you really have no excuse to ever ride without an ATV tow strap again. Made from durable polyester measuring 3 inches across, this tow strap has a break point of 30,000 pounds, which is more than enough to pull your lightweight ATV back to camp. In fact, the customer reviews are chock full of stories about using this strap to drag cars, SUVs, and even RVs – although we'll remind you that exceeding any strap's rated capacity can be quite dangerous.
2. Best Off-Road Recovery Strap: Smittybilt CC220 2" x 20' Recovery Strap
Although it's labeled as a recovery strap, the Smittybilt CC220 really makes for a better ATV tow strap than a recovery tool. There are versions rated to withstand up to 40,000 pounds, and some versions measuring up to 30' in length, but for the application, we're sticking with the 2" x 20' strap, rated for up to 20,000 pounds. That's well beyond the sort of peak force you should ever expect to see pulling an ATV, even if the trail is especially muddy, and the 20' length puts your ATV safely behind the tow vehicle without being so long that it's unwieldy. Best of all, with a reputable brand like Smittybilt behind it, you know you're getting a well-built, durable ATV tow strap that will perform as advertised.
3. Best Strap / Shackle Combo: Rhino USA Combination 20' Tow Strap And Shackle Hitch Receiver
Looking for a well-made, all-in-one kit with a shackle hitch receiver to put on your SUV or truck? Rhino USA has your back. Rhino is a brand by off-road enthusiasts, for off-road enthusiasts, and this 20' ATV tow strap combo demonstrates Rhino's deep understanding of its buyers' needs. Made from an exclusive polyester and silk webbing, the strap has a rated break point in excess of 31,000 pounds, and it comes with a nifty, durable drawstring carry bag that makes it easy to pack and stow. The included shackle hitch receiver is the real selling point, though; with that, you'll always have the perfect way to affix the strap to your tow vehicle. All you might need to buy separate is a hook or shackle for your ATV.
4. Recovery Strap Runner-Up: JACO 4x4 TowPro Recovery Tow Strap
JACO makes some of the best off-road recovery products in the industry and ATV tow straps are no exception. This 4x4 TowPro Recovery Tow Strap is backed with a 100% lifetime warranty, so you know it is built to last. As for specs, this strap measures three inches wide and 20' long and has a breaking strength of 31,542 lbs with a working load limit of 10,663 lbs. It is built of 90% military-grade polyester and 10% high-strength nylon. While this is a tow strap at heart, it does offer up enough stretch (7%) to help absorb any shock or impact during recovery use. Finally, heavy duty closed end loops boast double-diamond stitching and protective sleeves.
5. Otherya 3" x 30' Recovery Tow Strap
While it's a bit pricey, considering that it doesn't ship with any shackles or other supporting gear, the Otherya tow strap is strong – like, really strong. Constructed from 100% high tenacity industrial polyester webbing, this strap from Otherya has a rated break point of 30,000 pounds, and a working load limit of 10,000 pounds, making it not only one of the best ATV tow straps on this list, but an excellent car/truck/SUV tow strap as well. Sold with a money-back satisfaction guarantee and a convenient drawstring carrying bag capable of holding 10 lbs. or more of gear you can fit in with the strap. The Otherya 30-foot tow strap is the strap you need to get if you anticipate having to pull vehicles far heavier than your ATV.
Where to carry an ATV tow strap?
ATVs are not exactly brimming with storage space, but that doesn't mean you shouldn't find a way to carry a tow strap with you when you ride. If you have a Utility ATV, using your front or rear rack is the simplest way to carry a tow strap. Just tie it down and it's ready to go when you are.
If you don't want it fully exposed to the elements, you can put it in a backpack or a storage box that can also be locked down into one of your ATV's racks. We like this rear rack box, which has plenty of room for anything you might need on the trail.
How long should your ATV tow strap be?
The length of your tow strap is a topic of some debate. For pure towing purposes, we prefer ATV tow straps of about 20 feet in length. Longer straps can be a bit cumbersome to use on longer tows. However, a longer strap does have its benefits if you use it for recovery as well. If you have a longer strap, your recovery vehicle can be a little farther away on more solid footing when pulling out a stuck vehicle. A longer strap also helps if you are wrapping it around a tree during recovery.
What should I consider when purchasing an ATV tow strap?
The most important thing to look for in ATV tow straps is the weight rating. If you get a strap with a low weight rating, you may find it will snap on you if you're putting extreme pressure on it as you pull someone out. While that ATV or UTV you're trying to pull out of a mud pit might be less than what the strap is rated for, the grip of the mud on that machine may cause your strap to be overloaded. You also want to look for the material that is used. A good ATV recovery strap will be made of material that provides a decent amount of give, lessening the shock while pulling vehicles, which also lessens the chances of the strap snapping.
What is the difference between a tow strap and a recovery strap?
The biggest difference between the two is the elasticity of the material used for the strap. The material used for recovery straps offers more give as you're pulling out a stuck vehicle, minimizing the harsh jerk being delivered in the process that also minimizes the possibility of the strap breaking. You'll actually notice that many of the straps listed are considered recovery straps. The best use of a tow strap is just that. Towing a disabled vehicle to a safe point where it can be properly transported.
Are there any other items I should consider getting to accompany my tow/recovery strap?
Since many tow/recovery straps feature closed loops at the ends, it wouldn't hurt to get yourself a set of soft shackles to accompany your strap. These allow you to secure the strap to a solid tow point on your ATV or UTV. While you could use a more traditional steel shackle, the soft shackles won't scratch your precious paint or powder coat and they offer easier installation since they're as flexible as a rope.
Recent Updates
06/02/2022: Updated product links, updated product descriptions and added FAQ on soft shackles
9/20/2021: Updated product descriptions, replaced OOS product (TGL 2-inch strap replaced with TGL 3-inch strap), added additional FAQ, added additional resources.
Become an ATV insider. Get the latest news first by subscribing to our newsletter here.
We are committed to finding, researching, and recommending the best products. We earn commissions from purchases you make using the retail links in our product reviews. Learn more about how this works. Aaron Brzozowski
Aaron is a freelance writer, videographer and car enthusiast based out of the Detroit area. He has a special affinity for the Porsche 944 series, and once owned a Volvo 240 sedan with a Weber carb in place of the factory EFI system. His work has appeared on AutoGuide, GM Authority, /Drive, and VW Vortex, among other sites.
More by Aaron Brzozowski
Published March 3rd, 2021 11:33 AM
Top Brands
Popular Articles