72 Views
Best Polaris RZR Accessories
August 10th, 2022 5:32 PM
Share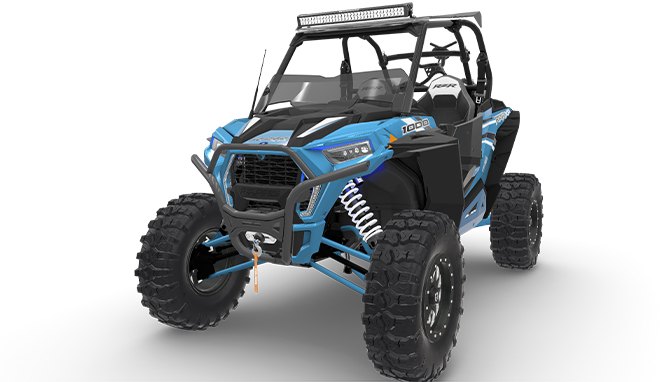 Here's what we'd like to do to our RZR
No other machine has captured the imaginations of custom builders, or average enthusiasts looking to add a little custom flare, than Polaris' RZR line. The RZR family has such a wide range of accessories available that picking the best Polaris RZR accessories is nearly impossible. There are just so many good options, how could we possibly narrow it down?
So instead, we started thinking, what accessories would we add to our own Polaris RZR? We narrowed it down even more by making it just for trail riding, and everything had to be bolt-on accessories. We also looked at areas where we could do what we wanted and save a little money at the same time. Let's face it, if we really went all out, we could easily spend more on a machine and accessories than it would cost to buy a new truck.
With all that said, here are the best Polaris RZR accessories to give your machine a better trail experience.
1. Editor's Choice: Sedona Rock-a-Billy Tires
The single best way to improve your UTV's performance is with a set of tires designed specifically for the type of terrain you normally encounter. For our RZR, we went with a taller tire in the Sedona Rock-A-Billy to give us better trail clearance, and some extra grip on rocks and slick terrain. This is an 8-ply rated radial tire with an aggressive tread pattern that boasts integrated side lugs for more bite. A built-in rim guard helps protect your wheels and each tire features a bead-to-bead layer of puncture-resistant material so you spend less time fixing flats and more time driving off-road.
2. Tusk Teton Beadlock Wheels
Speaking of wheels, we like the idea of mating the Sedona Rock-a-Billy tires to these Tusk Teton beadlock wheels. These rugged cast-aluminum wheels hold your tire in place with a forged aluminum beadlock ring. Having a beadlock lets you air your tires down for next level grip on the rocks without worrying about your tire popping off the wheel. The Teton wheels boast a 1200-pound load rating and feature a screw-on center cap.
How could we do a list of the best Polaris RZR accessories and not include a winch? We went with WARN's new Axon series 4500-pound winch with synthetic rope. This is a seriously well-designed and yet compact winch with a wireless remote control and this one features the revolutionary Motactor, which combines the motor and the contactor for easy installation. All-metal construction, IP68 waterproof rating, and all-metal three-stage planetary gear train are also highlights of the AXON family of winches.
There are some great GPS units available for ATV and UTV owners, but our favorite is the Magellan TRX-7 CS and it makes for one of the smartest Polaris RZR accessories you can add to your machine. This unit comes with 115,000 ORV trails already mapped and ready to follow, touchscreen navigation, built-in digital camera with GPS tagging, full Bluetooth connectivity, and one-touch social media sharing.
A good GPS system is not exactly cheap, but there's no better way to explore new trails far from home without worrying how you are going to find your way back again.
You need a spare tire when you go way off the main trail. Trust us, we know. It can make the difference between being held up for 10 minutes while you change a tire, versus sitting around for hours, waiting for a buddy to get back to you with the spare you should have hauled with you in the first place. Tusk makes a sweet spare tire carrier with a compact jack built into the carrier frame. The system mounts high enough to let you use more cargo space too, making it one of the best Polaris RZR accessories for peace of mind.
6. KEMIMOTO Aluminum Roof
Another Accessory for your RZR you won't want to be without is a roof. There is a huge selection of RZR roof options out there, but we are going to focus on the KEMIMOTO aluminum roof here. This roof has a rubber strip on the underside, which provides some vibration/noise reduction. And with its aluminum construction and black powder coat finish, it should hold up to years of off-road abuse. At less than $170, it is also a great price.
Don't laugh. Those plastic drain plugs always seem to come out on our RZR and then next thing you know, dust and mud comes flying in from the floor. These drain plugs are made from an elastomer material so they don't vibrate and flex with the machine, so they don't come out unless you want them too. This is one of the best Polaris RZR accessories that gets us thinking, "Why didn't we come up with that?"
8. Pro Armor Stealth Doors
OK, we're just going to go ahead and say it. We have not always been the biggest fans of Polaris doors. We've had latches that stick and plastic that separates. Not always, mind you, but it happens. Pro Armor has a fix and it's one of the best RZR accessories for sure. Pro Armor's Stealth Doors are made from aluminum and look great. The latch and handle are easy to find and use and the fit is nearly perfect. They help keep mud water and dust from coming in and very sturdy too.
We've tagged enough trees with machines to know that a good front bumper is easily one of the best Polaris RZR accessories you can invest in. SuperATV makes a front brush guard for the RZR that works amazing for woods work and riding just about anywhere. It is made of 1.75" x 1/16" wall steel DOM tubing that is covered in a UV-resistant powder coating. The tubing is bent to match your RZR's front end and it offers protection - including tubing that wraps around the headlights.
10. KC HiLiTES 30" Light Bar
KC HiLiTES is one of the industry's most well respected lighting companies and this 30" overhead mounted C-Series LED light bar is is designed specifically to mount to the Polaris RZR's factory ROPS. Features include extruded aluminum housing, combination beam pattern with angles spot and spread reflectors for maximum forward distance and left-to-right lighting. This light bar produces 16,200 lumens using an amp draw of 12.0A.
11. Red Line Powersports Oil
It may seem like a weird thing to have in a list of the best Polaris RZR accessories, but oil is definitely worthy. If you've ever had serious oil breakdown, you know that it can trash your engine and it usually comes at the worst possible moment. We like to run Red Line Performance Synthetic oil in our machines. It keeps everything running smoothly in the engine and transmission, as well as the differentials. We've found it helps with fuel economy, too, a nice bonus along the trail.
Recent Updates
August 10, 2022: Removed promoted product recommendation
September 8, 2021: Promoted product recommendation added
April 6, 2021: Add the Magellan TRX7 CS GPS, SuperATV bumper, and KC HiLiTES light bar to the list.
We are committed to finding, researching, and recommending the best products. We earn commissions from purchases you make using the retail links in our product reviews. Learn more about how this works.
What is the most important Polaris RZR Upgrade?
This is a bit of a loaded question. The easiest way to get improved performance out of your RZR (or pretty much any ATV or UTV) is new tires. That's why we put them first in this list. But don't just go and buy any tires. Match the tires to the type of riding you want to do. If you like to play in the dunes, than aggressive mud tires aren't going to do you any good. If you like to do a little bit of everything, look for an all-around tire rather than one designed for a specific type of terrain.
Polaris Accessories vs. Aftermarket
So you've got a Polaris RZR in your garage and you want to add some accessories. Do you go with genuine Polaris accessories or turn to the aftermarket? There are advantages for both choices. If you stick with parts and accessories made by Polaris, you can be absolutely certain they will fit easily. However, the aftermarket has been building products for the RZR for more than a decade now and the good companies have it down to a science. And when you open yourself up to the aftermarket, you get a lot more choice in materials, style and price. In our experience, it is worth checking out every available option.
Published September 22nd, 2020 5:00 PM
Top Brands
Popular Articles