46 Views
Best Polaris RZR Roof Options
July 2nd, 2021 5:25 PM
Share
We're committed to finding, researching, and recommending the best products. We earn commissions from purchases you make using links in our articles. Learn more here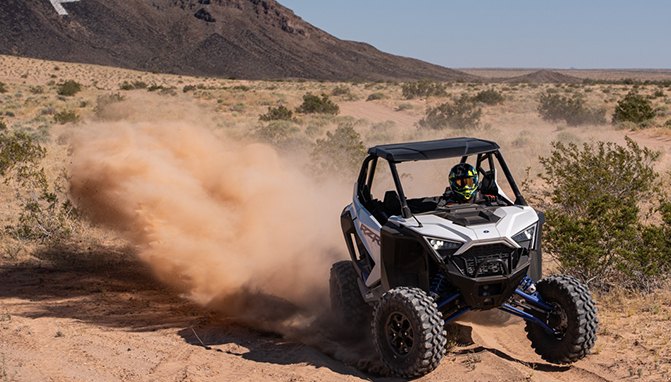 Rain or shine, you can't beat having a roof on your RZR
Fitting a Polaris RZR roof can mean the difference between a great day on the trail and one that left you all wet or sunburned. Some riders will appreciate the shade thrown (about the only type of shade throwing we welcome around here) if they're out in desert environments, explaining why a roof is all but essential in the American southwest.
In other parts of the country, like the soggy northeast, a roof can keep the rain off your helmet and prevent deluges of water from entering the cabin after your driver decides to nail it through a huge series of puddles. As a bonus, roof structures can provide a a bit of extra storage, a place for illumination, or simply a place to add a few stickers that'll annoy your significant other.
1. Editor's Choice: SAUTVs Aluminum Roof Top for Polaris RZR
Specifically designed for the psychotic Pro XP line, this Polaris RZR aluminum roof will cover the noggins of you and one speed freak passenger. Its slick shape complements the lines of a Pro XP, given that model's more rakish stance compared to other members of the RZR family. Soft foam seals are said to help to reduce noise and vibration, and the whole thing is made at the factory via a one-press mold process. This eliminates cut lines and seams, giving water and the like one less place through which to seep. Touted as having a quick and easy installation, the package includes all necessary mounting hardware. Total weight is about 22 pounds, if you're wondering.
2. Kemimoto Plastic Hard Roof Top for RZR
Here we find a Polaris RZR 1000 roof, one made of high-density TPE (thermoplastic elastomer) for outdoor use. If you're wondering about that term, this material has some properties of rubber but can act an awful lot like hard plastic and is in fact processed similarly. It has a good texture and is durable, plus it shouldn't age or crack within just a few months like some cheaper options. Those of you in the desert will appreciate knowing it is resistant to high temperatures. This UTV roof is designed for 2-seater models also work with most windshields. As a real bonus, it will also cover the front edge of the RZR stock visor, meaning it can be reused after moving it out of the way during roof install. That's important since it is a key part of how the RZR looks.
3. Kemimoto RZR 1000 4 Soft Top Roof
Sticking with the same brand, we find this soft top roof that covers everyone on board a two-row RZR model. This top has a couple of mesh windows for your 4-seater, reminding your author of a sunroof design in snazzy road-going cars. Those windows have zippered panels that can roll up and securely pack under the RZR roof to let in light, or simply draw back the curtain to provide shade. There's a small bag on board tin which one can store small personal belongings such as phone or sunglasses. It installs with no fewer than 20 non-slip straps, so the chances of everything letting go and flapping in the breeze like a 4th of July flag is pretty slim. The design of Velcro and buckles apparently permits a complete installation in just a few short minutes.
4. Nelson-Rigg Black Convertible Soft Top
Taking the RZR convertible top to another level, this unit doesn't simply open to mesh windows - it opens the roof completely. Integrated zippered panel transforms the space into a convertible without removing the top; its panels roll up and securely pack under the roof. While having a couple of wide-open panels above one's head initially seems to defeat the whole purpose of installing a roof in the first place, it actually provides the best of both worlds. During the day, leave the panels closed for protection against the relentless sun or downpours of rain. On the flip side, these zippered panels are perfect for sunset or night rides when the sun isn't beating down, permitting a bit of stargazing from the comfort of those RZR chairs. The panels feature reverse coil zippers help keep out dust and dirt.
5. KIWI MASTER Hard Roof Top
Coming ever so close to a Polaris RXR stereo roof, this unit still brings the goods in the form of a handy LED light that can shine into the cabin to help you find those blasted keys that were just dropped. It apparently installs "quickly and easily" to provide shade and overhead protection, while blocking off-road obstacles as well as rain to enhance your riding experience. A 360- degree rubber seal cuts out a lot of noise and vibration, while adding a dose of weatherproofing. You've still got the open door areas to contend with, of course. The roof is constructed of high-quality plastic to save weight while also ensuring strength and durability. Black powder coating is the standard finish. All mounting hardware is part of the deal.
6. SA UTVs Aluminum Roof Top for Polaris RZR
Wait, didn't we cover this one already? Not quite. While the first entry on this list is indeed from the same company, this roof is for machines from the RZR 900 / XP / 1000 / Turbo line from model year 2014 all the way up to today. Most details are similar, though, with the roof being made of lightweight and high-quality aluminum. It protects 2-passenger RZRs all the way up to its stock front visor while also sticking out past the rear roll bar. A soft foam seal helps ward off annoying squeaks and rattles.
Additional Resources
We are committed to finding, researching, and recommending the best products. We earn commissions from purchases you make using the retail links in our product reviews. Learn more about how this works.
Will a Polaris RZR roof work with a windshield?
Some will, absolutely ... including a couple on this list. As with all items of this sort, it is an excellent idea to make sure you're buying exactly what you want, especially when getting into the price range in which these types of accessories reside. Pro tip: if you're already spending the money on a windshield and roof, go ahead and spend the few extra shekels on a wiper/washer combo. You'll agree with our assessment after splashing through the very first puddle.
What is the best roof material?
Your author is partial to an aluminum roof on his SxS, thanks to its smooth look and ease of cleaning after a run through nasty mud pits. They also arguably provide a bit more protection against flying rocks and debris, though if something is flying fast enough at you to puncture a poly or plastic roof then you've likely got more important things to worry about. However, metal roof units are generally more expensive than plastic ones, so judge yourself (and your wallet) accordingly. Published July 2nd, 2021 3:09 PM
Top Brands
Popular Articles