107 Views
Best Polaris RZR Windshield Options
April 12th, 2021 2:55 PM
Share
We're committed to finding, researching, and recommending the best products. We earn commissions from purchases you make using links in our articles. Learn more here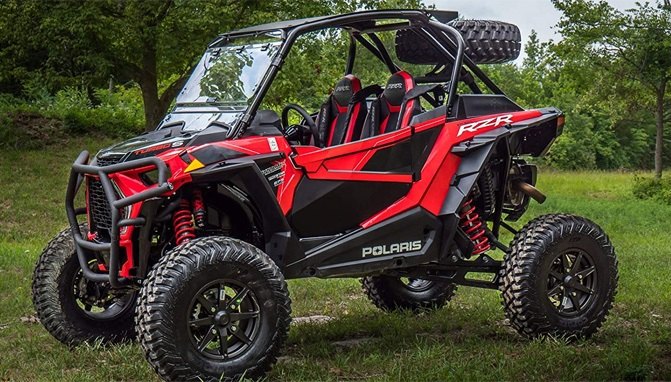 Keep the dust and cold out with one of these windshields
There is no denying the popularity of the Polaris RZR. Each year more RZRs are hitting the trails, and the unit has become synonymous with sport UTVs to the point that other brands are often referred to as "RZRs" by people when talking about them. The aftermarket for accessories is massive because if there's one thing people like to do with their RZRs after they buy them, it's to make them customized and unique. After wheels and tires, one of the most common accessories for the RZR is some form of wind protection. If you're wanting to add one of the best Polaris RZR windshield options to your ride, we've got you covered.
We combed the Internet in search of the top Polaris RZR windshield models available. We found more affordable polycarbonate options, crystal clear glass windshields, rear panels to help keep the dust down, and even an option direct from Polaris.
Table of Contents
1. Best Poly Windshield: Clearly Tough Folding RZR Windshield
This Polaris RZR windshield is made from 3/16" of high-impact polycarbonate with a scratch-resistant hard coat that has also been UV treated. The company claims it is 250 times stronger than glass. The important part for this windshield's materials is that it is hard-coated. This means it will outlast other non-glass windshields for clarity. It's a great folder, too, in that it is a true half-windshield folded down, and can be a full in moments. It takes just a few minutes to install and can be removed just as fast. It costs a fraction of what a glass windshield costs, and comes with a 5-year warranty. Good stuff!
2. Best Glass Windshield: ECOTRIC Full Glass RZR Windshield
Glass windshield typically aren't what you'd call inexpensive, but this option from ECOTRIC is very reasonably priced. In fact, it is comparable to some of the poly windshields we've tested. This windshield is built around a CNC cut aluminum frame with a black powder coated finish. There are also a pair of vents on the lower left and right sides of the windshields, but there are cover plates if you want to completely block airflow from the cab. A wiper also comes with the package, which can be installed at the very top center of the frame. However, you are responsible for buying and installing a motor if you want it to be functional.
One downside of this glass windshield is that the aluminum frame does block some of the field of view compared to no windshield or a frameless poly windshield. Not the end of the world, but it's something to consider. As well, this RZR windshield may not be compatible with some aftermarket roof options.
3. Super ATV Scratch-Resistant Vented Windshield
This Polaris RZR windshield is similar to the Clearly Tough unit in that it is hard-coated polyurethane to help prevent scratches and clouding. This one is a full windshield that has a flip-out vent panel on the bottom to allow airflow when you'd like some more of the summer breeze to hit you in the face. Close it back up if it gets chilly, or the trail gets too dusty with a perfect seal along the front. Simple mounting hardware lets you bolt it on in minutes and the sturdy construction means it'll last for years.
4. Polaris Lock & Ride Half RZR Windshield
If you want to go factory, try the Pure Polaris line of Lock & Ride accessories, including this half-windshield. RZR half windshields are great because they block a lot of the wind by forcing it up and over you, but they still allow enough to come in so it feels like you're one with the trail. Being a Polaris factory accessory, you know it'll fit absolutely perfect and perform as you'd expect. This unit is made from durable hard-coated polyurethane and goes on in minutes with a sweet, factory prep look.
A pro tip for you. If you're going to add a front windshield, it is recommended you add a rear panel, too. A front, full windshield creates a venturi effect as you ride down the trail. This creates a vacuum behind the machine, which pulls dust and debris from behind the RZR into the cab. No one wants that!. Luckily, Tusk makes a great polycarbonate rear panel that fits like a glove and keeps all that nasty dust where it should be - behind you for your buddies to deal with!
Recent Updates
April 12, 2021: Added the ECOTRIC glass windshield and updated the link on the Tusk rear panel.
We are committed to finding, researching, and recommending the best products. We earn commissions from purchases you make using the retail links in our product reviews. Learn more about how this works.
What should you look for in a Polaris RZR windshield?
A dealer once told me some great advice on windshields. Make it something you only have to buy once, as they aren't cheap. You can save a few bucks by going with a non-coated, poly one, but it'll be scratched up in no time, and then start to get that cloudy look that comes from UV damage. With the speeds RZRs are capable of, you don't want to take risks with your vision. Besides, that less expensive windshield isn't so great if you have to replace it in a couple years. Spend a little more up front and get maximum enjoyment from it for as long as you own your machine.
Do you need a roof to have a windshield?
Not at all. Most windshields work fine without a roof, and most will match up well if you do have one, or decide to add one later. The only thing you really do need if you add the full windshield is the back panel, so you can enjoy a dust-free ride. Derrek Sigler
Derrek's love for all things ATV started when he was a mere 11 years old, growing up on his family farm. His mom gave him and his sister a choice - get a horse, or a three-wheeler. The sister wanted the horse, and Derrek wanted the ATV. Luckily he won out, and was soon burning up the trails on a Yamaha Tri-Moto 200. By the time he was 14, he had saved enough of his own money by working on the farm and in his folks restaurant to buy a new 4-wheeler. That happened the day he and his mom were driving past the dealership and saw 1987 Banshee. His mom had no idea what he was buying, and he never looked back. He's been riding ever since, and been writing professionally for many years. He has ridden all over North America and been behind the controls of just about every machine out there. And yes, he still has his 1987 Yamaha Banshee.
More by Derrek Sigler
Published June 26th, 2020 3:11 PM
Top Brands
Popular Articles