1 View
HMF Offering Performance Products for Polaris General and Sportsman Touring
April 4th, 2016 3:46 PM
Share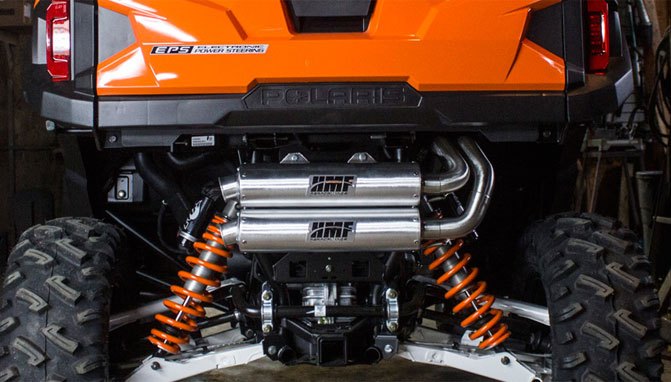 Give your General a power boost
If you've got a Polaris General sitting in your garage and are looking to beef up the already potent 100-horsepower machine, HMF has a couple of options.
"The Polaris General is available as a Dual Full System in the Performance Series, or as a single Slip-On in the Titan Series," HMF says on its website. "The Dual Full System picked up 5 horse power with 3lb of torque. The Titan-QS picked up 3 horse power and the Titan-XL picked up 4 horse. The Performance Full System weighs 17lbs (6lb less than stock). At idle, the stock muffler is sound level is at 84 decibels and the Performance Dual Full (with Quiet Cores) is at 88 dB (4dB more than stock). The Titan-QS is at 85dB and the Titan-XL at 88dB."
The slip-on Titan series exhaust retails for $399.95, while the dual full system Performance series retails for $894.95. Click here for more information.
Polaris Sportsman Touring
HMF offers both power and protection items for the Polaris Sportsman Touring ATV with exhaust and front bumper options.
"The Sportsman Touring ATV is the perfect blend between extreme performance and effective utility capabilities," HMF says in a release. "The Titan Slip-On exhaust generates 3-4 more horse power and adds an aggressive sound to the machine, while the new IQ Front Bumper adds durability with a mounting bracket for an LED light bar."
The Titan slip-on exhaust retails for $399.95, while the IQ front bumper sells for $149.95.
Published April 4th, 2016 3:46 PM
Top Brands
Popular Articles