1 View
Zap Dude electric ATV released
May 17th, 2010 10:22 AM
Share
Dude retails for under $5,500
Santa Rosa, Calif. based Zap Electric Vehicles has introduced a new electric ATV called the Zap Dude.
With an MSRP of just $5,495, the Dude is the least expensive electric ATV we've seen so far.
"Powerful and silent, the Dude climbs hills with ease and is great for working around ranches, outlots, corporate campuses, or on commercial farms," Zap Electric Vehicles says in a release.
According to Zap Electric Vehicles, the Dude can reach speeds of up to 25 mph and can carry a total of 290 pounds including rider. The front and rear racks each hold up to 100 pounds and the Dude can tow up to 650 pounds.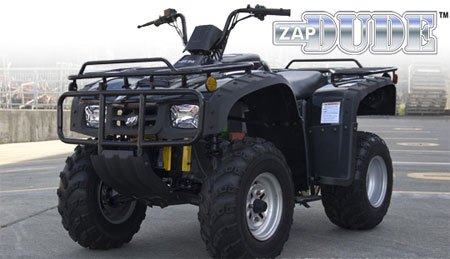 Powering the Dude is a 48v rare earth permanent-magnet brush DC motor, which gets its juice from a 65aH absorbed glass matt (AGM) lead acid battery that can be charged up in four to six hours. Vehicle range is a claimed 25 miles, but this number will vary significantly depending on terrain, speed, and rider weight.
The Dude features a steel frame, tips the scales at 707 pounds and is only available in black.
For more information, visit out ZapWorld.com.
Related Reading
Electric ATVs: A Consumer's Guide
Published May 17th, 2010 10:22 AM