1 View
American Landmaster Launches UTV Powered by Lithium-Ion
July 12th, 2022 3:55 PM
Share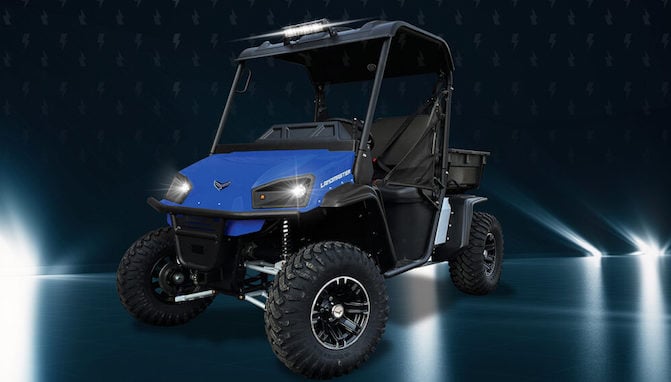 The number of all-electric side-by-sides announced for availability in America is piling up at a rapid clip, despite initial concerns about range and charging times. The latest is from an Indiana-based outfit called American Landmaster who have announced their latest offering – simply named the EV.
Assembled at their facility in the United States, this rig can be had as a two- or four-passenger two-wheel drive configuration or a two-passenger machine with power going to all four wheels. There are a couple of different battery options, the entry-level of which is apparently good for 45 miles on a full charge. Opting for the extended range pack bumps that figure to 65 miles and costs an extra $1,500. According to the company, their lithium-ion batteries are good for a decade or up to 3,500 recharge cycles. Speaking of, it should take about five hours to top off the smaller battery or eight hours for the big honker.
This isn't a toy-sized vehicle. Two-passenger models measure 58 inches wide and 110 inches long on a 73.5-inch wheelbase with 11 inches of ground clearance. Curb weight is listed as 1,350 pounds when fitted with the smaller battery and 4×4 models are rated to tow 1,500 pounds from either its front or rear hitch receivers. A stand-alone winch in available, meaning it runs off its own battery instead of the lithium-ion units which are responsible for getting you home. Top speed is an estimated 30 mph.
Prices start at $12,799 for a two-wheel drive two-seater with the entry-level battery and 8-inch front/10-inch rear wheels on 25-inch Max Terrain tires. Adding four-wheel drive to this mix increases the sticker price to $17,499. At these prices, there's no power steering and the standard suspension gubbins permit a bed payload of 500 pounds. A marine-grade vinyl bench seat is part of the deal. All 4x4s also get a beefier axle and standard diff lock, plus the aforementioned bigger battery.
Along with the typical accessories like mirrors and windshields, it's easy to increase the price of an American Landmaster EV. Want power steering? That'll be a tad over $850, please. Heavy-duty shocks to increase bed payload to 700 pounds are a $200 ask, 10-inch front/rear wheels are $600, and a deluxe seat is 500 clams. A check-all-the-boxes two-seat 4×4 with an enclosed cab and all manner of accessories easily blows past $30,000.
We can hear the derisive comments against all-electric side-by-sides before you even start to type them but there is a definite business case for these types of machines. Anyone working in enclosed environments (think warehouses, barns, even mines) will appreciate the lack of exhaust fumes, while those tasked with jobs around farm – or other – animals can be safe in the knowledge their UTV won't spook them at the worst possible time.
American Landmaster dealers are scheduled to have new EV machines in their showrooms this September.
Published July 12th, 2022 3:55 PM
Top Brands
Popular Articles