17 Views
Rigid Adapt Light Bar Series - Everything You Need To Know
May 25th, 2021 11:57 AM
Share
We're committed to finding, researching, and recommending the best products. We earn commissions from purchases you make using links in our articles. Learn more here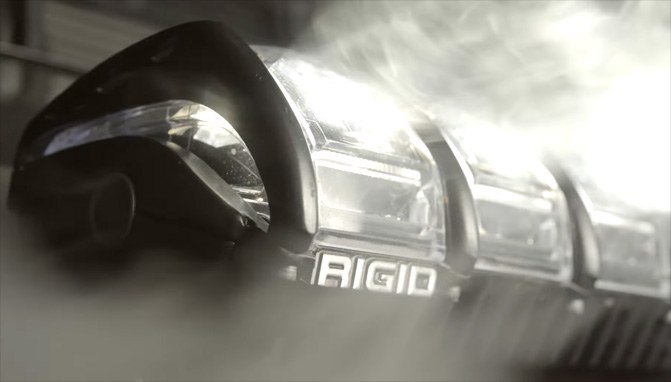 We take a deep dive into this innovative off-road lighting solution
The Rigid Adapt light bar series is one of the top off-road lighting solutions available. In this guide, we take a deep dive and look at features, specs, and user reviews.
Riding an ATV or UTV through the dark without proper auxiliary lighting equipment is like trying to ride with one hand tied behind your back; you can do it, but it's going to be messy. Enter the light bar. Since the light bar's introduction decades ago, different bulb technologies have come and gone, and the optics surrounding those bulbs have grown increasingly sophisticated so that today, the light bar represents the single best, most comprehensive off-road lighting solution available, putting out more light with less energy consumption, and casting it right where it's needed most. Of course, there are still plenty of choices to make. Should you stick with time-tested LEDs, or spring for an expensive, cutting-edge laser light bar? Is it better to go with a narrow spot beam pattern, a broad, shorter-range flood beam, or a combination light? That's why we're here with another installment of our "Everything You Need To Know" series, where we'll be taking a look at the Rigid Adapt light bar series – an innovative design that might just be the last light bar you'll ever need.
Table of Contents
1. Rigid Adapt Light Bar Features
The Rigid Adapt's biggest, most important feature is right in the name.
A true first of its kind, the Rigid Adapt light bar is capable of altering its light output according to conditions, with eight selectable beam patterns ranging from a broad, short-range 90-degree flood, to a focused 15-degree beam that shines well ahead of your ride, and everything in-between. Switching between those beam patterns can be executed at the push of a button using the illuminated, dash-mounted control panel, or it can be set to occur automatically as the vehicle speed changes – a feature Rigid calls "Active View Technology" – giving the user a broad view all around for low-speed maneuvers, and a far-reaching, focused beam when the vehicle is moving at a decent clip. It does this using a simple GPS module to gauge vehicle speed, rather than tying into any factory vehicle speedometer wiring.
Crucially, that adaptability isn't reliant on any moving parts within the Rigid Adapt light bar, which might have made it more prone to failure in the bumpy, high-vibration world of off-roading. Instead, it uses advanced LED technology and Rigid's own patented optics.
There's more to the Rigid Adapt light bar than just that, of course. The unit's array of LEDs are contained within a durable black housing with a strong, impact-resistant polycarbonate lens and integrated heatsinks to help cool the LEDs for better longevity. The unit offers expanded mounting options with black-coated L-shaped brackets that mount to the fixture's sides, and available low-profile mounts. And in addition to the eight selectable spot beam patterns, there's also an accent color mode that allows users to select from white or any color in the visible spectrum for stylish accent lighting around town.
The Rigid Adapt light bar is available in a range of lengths from 10 to 50 inches, although only the shorter end of that range will be of interest to ATV and UTV riders. Regardless of the length, all light bars in the series feature the same compact girth, measuring less than 3.82 inches tall, from the bottom of the mounting bracket to the top of the housing, and 4.79 inches deep.
| | | | |
| --- | --- | --- | --- |
| Light Length | Bracket (Mounted) Length | Weight (lbs) | Wattage |
| 10″ | 13.75" | 8 | 72 |
| 20″ | 24.07" | 13 | 161 |
| 30″ | 34.39" | 18 | 248 |
| 40″ | 44.70" | 23 | 318 |
| 50″ | 55.02" | 28 | 406 |
The Rigid Adapt light bar is tough to compare to other light bars on the market simply because its central technology is so unique. One potential alternative at a slightly higher price point is the Baja Designs OnX6 Hybrid LED and Laser light bar. The 10" model is about right-sized for an ATV and it puts out a total of up to 7,760 lumens of illumination, using a pair of laser chips and four LEDs. It offers only a spot beam pattern, with no wide-beam flood illumination to light up the immediate area, but what it does it does well, throwing light about 30 to 40 percent further than Baja's own OnX6 Hi-Power model. The housing is made of aircraft-grade aluminum with a hard Mil-Spec anodized coating, and Baja Designs claims the light bar is so weatherproof that it can be submersed in water.
A more general-purpose alternative to the Rigid Adapt light bar, and one that costs significantly less for an equivalent size unit, is the KC HiLites 275 Flex light bar. More of a flexible, customizable light bar system than a discrete unit, the Flex allows users to link together as many LED light sections as they want, horizontally or vertically, to create their own lighting solutions, with both spot and flood LED cores available to tailor the beam pattern. It looks better than just about any light bar on the market, with individual finned black aluminum housings and gold bezels, and it's more user-configurable, too, although on-the-fly adjustments like you get with the Rigid Adapt light bar still aren't possible.
Without being able to test a product firsthand, one of the best ways to get to know how it functions in the real world is to read reviews from actual, real-life users. We've done that, crisscrossing the web in search of any relevant Rigid Adapt light bar user reviews.
User reviews for the Rigid Adapt are surprisingly scarce considering that the unit has now been out for several years, but what we did come across seemed mixed. A majority of owners are pleased with the light, praising its versatility and usefulness as everything from a fog lamp to a simple marker light, with one even going so far as to say that owning multiple lights in one.
However, a couple of users reported experiencing a light bar failure within months of taking ownership. One of those owners claimed their light bar arrived defective, and another experienced a failure shortly after arrival following the intrusion of water into the housing. Take all this with a grain of salt, as we can neither verify nor negate these claims, and regardless of these experiences, the Rigid Adapt light bar still enjoys strong favorability among most owners.
We are committed to finding, researching, and recommending the best products. We earn commissions from purchases you make using the retail links in our product reviews. Learn more about how this works. Aaron Brzozowski
Aaron is a freelance writer, videographer and car enthusiast based out of the Detroit area. He has a special affinity for the Porsche 944 series, and once owned a Volvo 240 sedan with a Weber carb in place of the factory EFI system. His work has appeared on AutoGuide, GM Authority, /Drive, and VW Vortex, among other sites.
More by Aaron Brzozowski
Published December 16th, 2020 1:28 PM
Top Brands
Popular Articles