10 Views
Best Polaris RZR Skid Plate Options
October 27th, 2021 6:26 PM
Share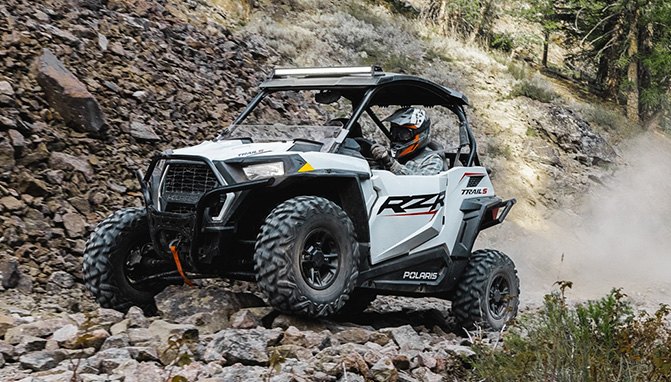 Protect the underside of your RZR with a new skidplate
Whether you're blasting through the dunes or tackling gnarly rock crawling trails, upgrading your Polaris RZR skid plate can be one of your best investments. If you haven't fallen victim to rocks or tree roots puncturing through the thin plastic OE skid plates, consider yourself lucky. It's not uncommon to see large rocks bust through mediocre stock skid plates and cause damage to the frame, transmission or engine cases, or even have sticks and branches puncture through the floorboards into the cab, dangerously close to its occupants.
By upgrading the skid plates in your Polaris RZR, you not only amplify the protection of your undercarriage and cab, but you can also improve its off-road capability. Yep, you read that right. Many aftermarket RZR skid plate options not only provide a thicker material, but often times a wider amount of coverage on the underside, allowing your RZR to easily glide over stumps, rocks and even sand dunes without worry of exposed frame bracing dragging or getting hung up.
Skid plates for a Polaris RZR come in different materials, with the most popular being ultra-high-molecular-weight-polyethylene (short for UHMW) and aluminum, both offered in a variety of thicknesses for the ultimate protection of your Polaris RZR. Both are great options for protection, but UHMW does have an advantage over aluminum in weight savings and its ability to glide over sharp objects easier. Regardless of which material you choose to protect the underside of your RZR, it's guaranteed to be an improvement over stock.
Our staff of experts have compiled a list of the best RZR skid plate options that you can't go wrong with. Whether you've got an older RZR 800, 4-seat RZR or one of the newest RZR offerings from Polaris, we're sure you'll find the perfect set of RZR skid plates for your ride here.
1. Editors Choice - SuperATV Heavy Duty 1/2" ARMW Polaris RZR Full Skid Plate
An industry leader, Super ATV has designed an incredibly durable line of RZR skid plate options. This skid plate is made from ½" ARMW materials (a proprietary blend of UHMW/polyethylene type materials), and offers total front to back protection, that resists bending and offers great wear protection. All mounting hardware is provided and every bolts fit flush with the skid plate for a smooth surface that minimizes the potential of getting hung up.
A company that stands behind the products they make, SuperATV offers a 100% fit guarantee, and boasts that this product is abrasion, break and bend resistant in order to handle harder impacts. Add in drain points to prevent mud and dirt from building up and getting stuck, and you have a solid performing skid plate. Available for most Polaris RZR models like the popular RZR XP 1000, RZR XP Turbo S, XP 4 Turbo S and many more, so if you don't see your model listed here just click the link below for a full list of machine options.
2. Best Value - Tusk Racing Quiet-Glide Polaris RZR Skid Plate
Just like the name indicates, this line of RZR skid plate options was designed to easily glide over rocks and other obstacles. Made from 3/8" thick UHMW, offering total underbelly protection, this skid plate is durable and much quieter than aluminum skid plates. Installation is simple since Tusk made the RZR skid plate package with as few overlapping pieces as possible and supplies all the hardware you need, that is countersunk to prevent it from catching on rocks or trees and ultimately breaking off.
Based off of reviews and feedback from users on various forums, the TUSK Quiet-Glide skid plate is popular, with lots of positive feedback with one user quoting "The Tusk plate in 3/8" has worked well for me. I have been bouncing it off rocks and logs for 2000 miles." It's hard to argue with real world testimonials like that.
3. Best Aluminum Skid Plates - Ricochet Aluminum Polaris RZR Skid Plates
A company that knows protection, Ricochet offers a durable line of aluminum protection with their RZR skid plate options. To keep the weight down, their 3/16" 5052 H-32 aluminum offers solid protection from trail debris and is available for the most popular Polaris RZR models. Their kit for the RZR XP 1000 (shown) is sold as a 4-piece kit, for full frame protection, but they also offer kits for the most popular RZR models and also have aluminum protection for a-arms and rear linkage. They're the only brand on our list that offers true complete undercarriage protection.
4. ECOTRIC Full Aluminum Polaris RZR Skid Plate
If budget is top of mind for you, consider this ECOTRIC full chassis aluminum skid plate. Made from durable high quality aluminum, this plate is sure to provide serious protection for your UTV. It was made to fit all existing mounting holes so no additional drilling is required. In addition, ECOTRIC has added additional holes on the back panel to drain oil and so you don't have to take the entire plate off in order to service your vehicle. While professional installation is encouraged, the company also offers technical support to customers as well.
It's best selling point is that it offers great protection at a stellar price point, but where it comes up short is fitment since the only model offering is the 2008-2014 Polaris RZR & RZR-S & RZR XC.
Additional Resources
Recent Updates
10/27/2021: Updated product descriptions, updated product links, added FAQ question and additional resources.
We are committed to finding, researching, and recommending the best products. We earn commissions from purchases you make using the retail links in our product reviews. Learn more about how this works.
Should I buy a UHMW plastic skid plate or an aluminum skid plate?
Oftentimes, price is a factor in evaluating whether to purchase a UHMW skid plate or an aluminum skid plate. Generally, aluminum plates are most cost effective and while they do provide great protection, many riders lean towards a UHMW skid plate which is regarded as better quality. Typically, aluminum plates can get hung up on rocks or stuck on a root, whereas a UHMW plastic skid plate has more absorbency and can slide over rocks more easily, and also more quietly.
How do you install a skid plate on your Polaris RZR?
Installation for your skid plate really varies depending on the type you purchased. Most RZR skid plate kits should come with instructions, that at times are supported with videos to watch for easy installation, and in some cases, the manufacturer may recommend professional installation as well. SuperATV, for example, provides brackets and hardware, along with easy to read instructions (and also online videos) to assist with installation.
Some skid plates are one-piece and others are segmented. Is one better than another?
Each has their own advantages from installation to replacement. Skid plates that come in multiple pieces, are likely easier to install, are less expensive because most you can purchase in sections, and can be replaced in sections. The large single piece skid plates minimize the potential getting hung up when sliding over objects because there are no seams to get hung up.
Published April 23rd, 2021 3:54 PM
Top Brands
Popular Articles