67 Views
Best Honda Pioneer 1000 Lift Kits
April 15th, 2021 3:00 PM
Share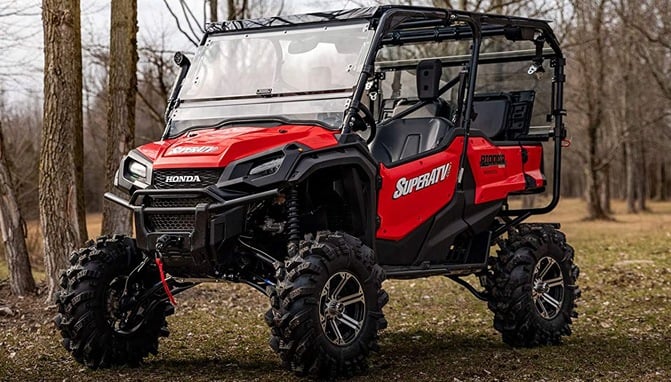 Take your Pioneer to new heights
Whether you're looking to gain some extra ground clearance, run bigger tires, or simply elevate your UTV's appearance, there are numerous Honda Pioneer 1000 lift kits on the market ready to help.
The Pioneer 1000 is an exceptional UTV right from the factory: practical, capable, and as reliable as any good Honda machine should be. Still, sometimes, a bit of extra ride height can be a godsend. Lifting your Pioneer improves the approach, breakover, and departure angles, rendering the agile little four-wheeler more able to tackle extreme terrain. By moving the body farther away from the wheels, a lift kit also means you can run bigger tires before scrubbing, and more tire equals more contact patch – essential for delivering optimal traction off-road.
Plus, a lift kit gives your Pioneer a more aggressive, imposing stature, which just looks cool.
Here, we've rounded up our top picks for the best Honda Pioneer 1000 lift kits available today, to help you find just the right package for your trusty UTV.
Table of Contents
1. Editor's Choice: Waverspeed Lift Kit
If you're looking for a modest suspension lift that won't break the bank, Waverspeed's Honda Pioneer 1000 lift kits should fit the bill. This kit is one of the more modestly priced options on this list, but it still comes with everything you need to add a couple of inches of clearance at the front and rear of your Pioneer, including zinc-plated steel brackets made to weather the elements, solid overbuilt bushings, and automotive-grade fasteners. About the only downside is that installation instructions aren't included, as the manufacturer recommending professional installation. But did we mention its modest price?
2. Best Extreme Lift: SuperATV 6" Lift Kit
The king of all Honda Pioneer 1000 lift kits, this 6" SuperATV kit is not for those shopping on a budget, but the best never comes cheap. And even with its large price tag, SuperATV gives you a lot for your money: high-clearance tubular chromoly A-arms, new Rhino drive axles with the option of upgraded Rhino 2.0 axles twice as strong as the stock units, extended Z-bend tie rods with heavy-duty tie rod ends – the works. It even ships with extended brake lines, which are a necessity on an extreme lift kit such as this. With all that, this SuperATV Honda Pioneer 1000 lift kit delivers more than 17 inches of ground clearance, reliably and with full camber adjustability, and it can accommodate tires up to 31 inches in diameter.
For the same price as the High Lifter Signature Series kit, you could have this 3" Honda Pioneer 1000 lift kit from SuperATV, which is built to last with durable, black-coated components and backed by SuperATV's legendary engineering expertise. It ships with all the necessary hardware and some easy-to-follow instructions, although you'll need a set of wheel spacers for the rear if you want to run stock wheels. The black-finished components look right at home underneath the Honda Pioneer 1000, and the manufacturer says that tires up to 28 inches in diameter can be used with this kit. That's a significant jump up from stock.
4. Rough Country 3" Honda Lift Kit
Rough Country is a well known company in the Jeep and off-road truck market, but it is also paying attention to the UTV business. Rough Country's 3-inch lift kit for the Pioneer 1000 features all-aluminum construction and includes a front and rear preload spacer that you install onto the factory strut. This will give you enough room to install taller tires to further increase ground clearance. The entire package is basked by a limited lifetime warranty.
5. Most Affordable: Silver Suspension 2.5" Lift Kit
This 2.5" Honda Pioneer lift kit from Silver Suspension is about as simple as it comes and it is priced to match. Designed to work with the Pioneers original shocks, the entire kit is comprises of four 6061-T6 aluminum spacers (one for each shock). Keep in mind that each spacer is not exactly 2.5" tall, as the ratio from lift height to spacer size is not 1:1. However, once installed you should see very close to a 2.5" increase in ground clearance.
To install the spacers, you will need a shock compressor tool. You can buy one yourself right here.
Recent Updates
April 15, 2021: Added the Silver Suspension kit and some FAQ info.
We are committed to finding, researching, and recommending the best products. We earn commissions from purchases you make using the retail links in our product reviews. Learn more about how this works.
Can I install a Honda Pioneer lift kit at home?
This all depends on your skill level and the equipment you have on hand. If you are going to install a lift kit at home, you need to be able to lift the Pioneer off the ground so no weight is on the wheels or suspension. You also need a shock compressor and enough knowledge to use it.
What to consider before installing a lift kit
A lift kit is not an insignificant change to your UTV and before you jump in, you need to know what exactly you are trying to get out of your machine. If you want to run large tires, know how much lift you will need to accommodate them. Also be aware that lifting your Pioneer will put the center of gravity a little higher and will affect how it handles. Aaron Brzozowski
Aaron is a freelance writer, videographer and car enthusiast based out of the Detroit area. He has a special affinity for the Porsche 944 series, and once owned a Volvo 240 sedan with a Weber carb in place of the factory EFI system. His work has appeared on AutoGuide, GM Authority, /Drive, and VW Vortex, among other sites.
More by Aaron Brzozowski
Published July 29th, 2020 5:11 PM
Top Brands
Popular Articles