55 Views
Best Honda Rancher 420 Lift Kits
March 16th, 2021 5:23 PM
Share
We're committed to finding, researching, and recommending the best products. We earn commissions from purchases you make using links in our articles. Learn more here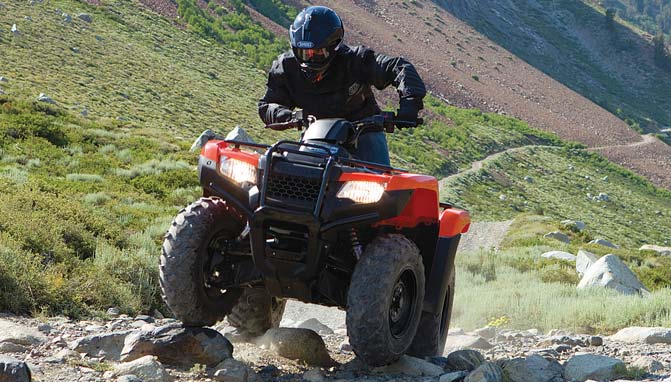 Get more ground clearance out of your Rancher
If you're upgrading your Honda Rancher for serious all-terrain duty, it's time to look at the best Honda Rancher 420 lift kits before spending your hard-earned money.
Whether you're hoping to fit larger-diameter tires under your Rancher for more contact patch and better traction, or you're just looking for a bit of extra ground clearance to improve your approach, breakover, and departure angles, a Honda Rancher lift kit can help you get there. Luckily, there are plenty of good, quality lift kits on the market today, coming from some well-known and reputable manufacturers, and available at prices that won't break the bank. Most of these are limited to just two inches of lift or so, but that's plenty enough to make a sizable difference in how your Rancher rides.
Here, we've rounded up the best Honda Rancher 420 lift kits available, encompassing numerous models and multiple manufacture date ranges.
1. Editor's Choice: SuperATV 2" Lift Kit for Honda Rancher 420
An affordable Honda Rancher 420 lift kit from one of our favorite go-to sources for all things ATV, this SuperATV 2" lift kit is a standout for its lifetime warranty and renowned SuperATV quality. On average, it gives you about a 2-inch increase in ground clearance on stock tires, and the parts are precision-machined and zinc-plated to ward off rust for years of reliable service. Sadly, the owners of newer Honda Rancher models will have to skip this one: it's compatible only with Rancher 420s from 2007 to 2013, with the straight rear axle.
2. Supreme Suspensions 2" Full Lift Kit for Honda Rancher SRA 420
Arguably the best put-together of the Honda Rancher 420 lift kits on this list comes from Supreme Suspensions. Different versions are offered for 2014+ solid-rear-axle and 2015+ independent-rear-suspension Rancher 420 models, this kit is formed from carbon steel with a 60,000-psi yield strength, the manufacturer says, and the parts are black coated atop their zinc coating, for unparalleled protection against corrosion. With the 2 inches of extra lift delivered by this kit, your Rancher will be able to accommodate tires up to 28 inches in diameter, and you should notice a firmer, more responsive suspension, to boot.
3. Waverspeed 2" Lift Kit for Honda Rancher 420
If you're shopping on behalf of a newer Honda Rancher model, the Waverspeed 2" lift kit might be up your alley. It delivers the same 2 inches of lift front and rear, affording you extra ground clearance and allowing you to fit larger-diameter tires, at a price that won't break the bank. More importantly, it covers more recent model years, being compatible with Honda Rancher 420 models from 2014 through 2018, and if owner reviews are anything to go by, it's easy to install and does the job. Simply put, this is one of the simplest and best Honda Rancher 420 lift kits you can buy.
4. Black Path 2.5" Lift Kit for All Honda Rancher
Looking for something inexpensive and dead simple that just works? Get a set of spring spacers – like these billet aluminum spacers from Black Path. They comprise just the one-size-fits-all Honda Rancher lift kit you've been looking for, the manufacturer claiming compatibility with Rancher 300, 350, 400, and 420 models from all years. They provide more lift than other kits on this list – 2.5 inches front and rear, on average – for even more ground clearance. And with so few parts, all of them made from non-ferrous material that won't rust out even with heavy use, you can be sure they won't let you down.
5. Autoslegend Lift Kits for Honda Rancher 350 and 400
Supremely affordable and compatible with all Honda Rancher FourTrax 350 and 400 models from 2000 through 2006, this Honda Rancher lift kit from Autoslegend is a no-brainer for the owners of older Rancher models. It delivers 2 inches of lift, front and rear, and relocates the shock mounts, allowing you to crawl over more difficult terrain and even fit larger tires if you want. The manufacturer makes a point to mention that no instructions are included and professional installation is recommended, but we have little doubt that fitting the kit is well within reach for the competent home mechanic.
Why do you need a Honda Rancher lift kit?
Any ATV mechanic who likes to make changes will often get asked why. The answer is usually simple…because it's awesome! In the case of a lift kit, though, it's easy to offer a bit more detail. Adding larger tires to your Rancher often necessitates the need for a lift kit. Those larger tires could mean better traction and improved performance in the mud and an easier time navigating over rocks.
Are there any issues with adding a lift kit?
Adding a lift kit (and larger tires) will raise the center of gravity of your ATV. Raising the center of gravity can make the ATV a bit less stable – particularly during hard cornering. Aaron Brzozowski
Aaron is a freelance writer, videographer and car enthusiast based out of the Detroit area. He has a special affinity for the Porsche 944 series, and once owned a Volvo 240 sedan with a Weber carb in place of the factory EFI system. His work has appeared on AutoGuide, GM Authority, /Drive, and VW Vortex, among other sites.
More by Aaron Brzozowski
Published March 16th, 2021 5:12 PM
Top Brands
Popular Articles