6 Views
Best Honda Foreman 500 Lift Kit Options
August 27th, 2021 4:05 PM
Share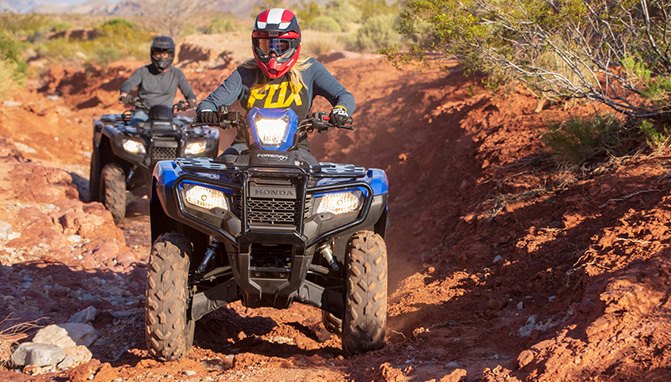 When your Foreman 500 needs some more clearance, these lift kits get the job done.
If you want more terrain-busting capability out of your Honda Foreman 500, a Honda Foreman 500 lift kit might just be the ticket.
Generally, when we think of ATV and UTV lift kits, we tend to think of them as modifications aimed more at sporty, recreation-focused models than at practical, reliable workhorses. In fact, fitting a Honda Foreman 500 lift kit to your ride can be a perfectly practical move, enhancing its go-anywhere-ability by raising its ground clearance and improving its approach, breakover, and departure angles. A Honda Foreman lift kit can also allow you to fit larger tires than you might otherwise be able to install, further raising the ride height and giving you a larger tire contact patch. A larger contact patch means added traction – something we could all use from time to time.
Convinced? Then check out this list of the best Honda Foreman 500 lift kit options on the market. Encompassing a range of price points and a couple of different styles, somewhere on this list is the right Honda Foreman lift kit for your needs.
1. Editor's Choice: High Lifter Signature Series Lift Kit for Honda Foreman 500
High Lifter is one of the best-known and most trusted names in powersports lift kits and other accessories, so it's no surprise that they make an excellent Honda Foreman 500 lift kit. Priced competitively considering the big brand name and the quality of the components, High Lifter's 2" Signature Series Lift Kit for the Honda Foreman 500 takes a traditional approach to raising your Foreman's ride height, relocating the shock mounts with precision-cut, zinc-plated brackets that are treated to withstand routine exposure to the elements without rusting to bits, carved from thick-gauge steel for durability.
2. Best Alternate Lift Kit: Supreme Suspensions 2" Full Lift Kit for Honda Foreman 500
If there's a Honda Foreman lift kit that can give High Lifter's package a run for its money, it's this one: the Supreme Suspensions 2" Full Lift Kit for the Honda Foreman 500. What makes it so good? Mostly, it's the three-part "MAX" anti-corrosion treatment, which sees to it that each bracket is sand-blasted, zinc-plated, and then powdercoated, delivering superior rust-resistance and extending the life of the kit. Otherwise, you can expect a similar install time and procedure to those of High Lifter's kit – about 2 to 4 hours – and the same 2 inches of lift, front and rear. Supreme Suspensions is a well-regarded brand in lift kits, not only for powersports machines like ATVs and UTVs, but also for regular passenger vehicles, making it a company you can trust. This kit comes in at least two different versions: AZM J31 for Foreman models from 2005 through 2011, and AZM J30 for 2012 and 2013 models.
3. Best Spacer Lift Kit: Motoku Suspension Lift Spacer Kit for Honda Foreman
Want to know the least expensive, fastest way to a lifted suspension? Spacers are the answer. These simple, inexpensive rings sit perched atop the springs in a coil-sprung vehicle and provide a modest amount of lift over stock. In the case of these Motoku spacers, you can get 2" or 2.5" of lift depending on the version you order, for a small fraction of the cost of a more traditional bracket-style Honda Foreman 500 lift kit. The spacers are made from 6061-T6 aluminum, and are about as easy as pie to install, making them perfect for the budget-conscious Honda Foreman lift kit shopper or the owner who might well choose to "un-lift" their Foreman later. And importantly, being made from aluminum rather than steel, these spacers won't rust, and they're especially lightweight. Of the Honda Foreman lift kit options Motoku sells, S060920SB grants 2 inches of lift, while S060925SB is good for 2.5 inches.
4. Waverspeed 2" Lift Kit for Honda Foreman 500
Not everyone wants to pay a big price for a big-brand name Honda Foreman 500 lift kit. Waverspeed knows it, and so, the company has concocted this: a Honda Foreman lift kit with brackets to relocate your machine's shock mounts, which costs roughly half of what similar kits from High Lifter and Supreme Suspensions cost. Granted, there's always some risk associated with going to a lesser-known brand, but this 2" lift kit appears very well made, with thick-gauge steel brackets and a sturdy hardware package. Waverspeed isn't especially forthcoming about how the components are treated, and the jury is still out on how long this kit will last in the wild. But with such a low purchase price, it almost doesn't matter. Sadly, this kit is only for Honda Foreman 500 models from 2014 on.
5. WSays Gloss Black 2" Full Lift Bracket Kit
Here's another supremely affordable bracket-style Honda Foreman lift kit, but with tried-and-true rust-resistance measures: the WSays Gloss Black 2" Full Lift Bracket Kit. Constructed using CNC techniques from thick, durable steel, this lift kit is powdercoated in black to resist abrasion and elemental exposure, and to look good while doing it, year after year. Sure, it costs a bit more than the Waverspeed kit above, but the extra cost is well worth it if you value the dependability of a powdercoat finish. The standard WSays Honda Foreman 500 lift kit is only compatible with solid-rear-axle models from 2014 and up, but a separate version accommodates independent-rear Foreman Rubicon models from 2015 on.
Can You Combine a Bracket-Style Honda Foreman 500 Lift Kit with Spacers?
The short answer: no. Please don't do this.
Why? Because that would push well beyond the limits that your Honda Foreman lift kit or coil spring spacers were designed for, and it could cause extensive damage to other parts of your suspension or to your drivetrain. You may have noticed that our list is full of kits that sit right at 2" of lift – 2.5" at the most. There are no commonly available Honda Foreman 6 inch lift kit options because it turns out that around 2" to 2.5" is the most you can safely raise the Foreman 500 without doing a number on parts like your ball joints and front CV axle joints, both of which can get stressed by excessive lift. In fact, your CV axles are of a fixed length, and while the joints at either end are designed to allow for some contraction and expansion to accommodate bumps and dips, they can only stretch so far.
In other words, in order to lift the Honda Foreman past 2"/2.5", you would need longer CV axles, different control arms, and likely a few other odds and ends, too. By the time all those costs are considered, you might just decide it's a prohibitively expensive endeavor.
What Are the Largest Tires You Can Fit with A Honda Foreman Lift Kit?
Most manufacturers offering a 2" Honda Foreman 500 lift kit cite a maximum tire height of 28". That's a good 3" taller than the factory tire size, although many owners have had success running 26" or 27" tires even without a lift.
Of course, any time you up the tire diameter, you must consider all the effects, positive and negative. On the one hand, you gain a bit more ground clearance and the ability to roll more easily over objects, along with a growth of the tire contact patch that grants additional traction. On the other hand, you're also introducing more rotating mass at each corner, which can contribute to reduced acceleration, braking, and turn-in immediacy. You're also effectively changing the gearing of your Honda Foreman, making it taller and reducing the amount of wheel torque at your disposal in any given gear. This, too, can cause more sluggish acceleration, and it can leave you with less obstacle-conquering grunt with which to tackle the trail.
Additional Resources
Become an ATV insider. Get the latest news first by subscribing to our newsletter here.
We are committed to finding, researching, and recommending the best products. We earn commissions from purchases you make using the retail links in our product reviews. Learn more about how this works.
Published August 27th, 2021 4:05 PM
Top Brands
Popular Articles