1 View
Best Honda Foreman 500 Accessories
August 10th, 2022 5:29 PM
Share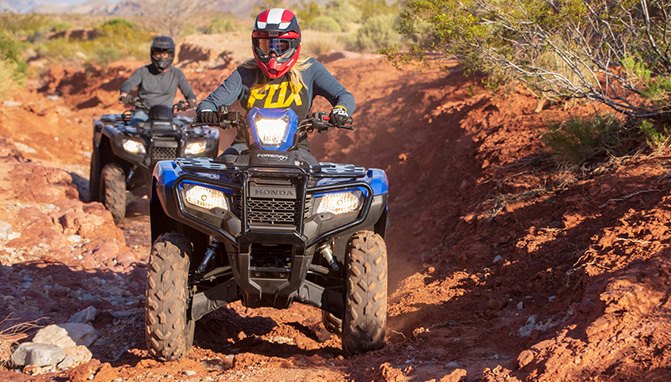 Maximize the potential of your Foreman with these accessories
Buying a few Honda Foreman 500 accessories is a great way to set your rig apart from the crowd. After all, what's the point of being a gearhead with the keys to a cool machine if it's identical to the one your disinterested neighbor owns? Accessories are our way of making a vehicle – including ATVs – uniquely ours.
Honda Foreman accessories run the gamut from seat covers to major suspension upgrades. As the middleweight offering in Honda's lineup of ATVs, the Foreman has a good history of combining the brand's top-notch all-terrain tech with legendary reliability and build quality. Adding a few accessories to make the thing stand out in a sea of four-wheelers at the next meet is just the icing on a very cool cake.
1. Editors Choice - KFI 3000 lb. Winch and Mount Combo
Regardless of what you're using it for, a winch is one of the best, and sometimes most important, Honda Foreman 500 accessories you can purchase. While the winch itself is universal, most places leave you to find your own winch mount to get it installed on your machine. The RPM Store simplified the process by making the perfect combo with the KFI 3000 lb winch and mount plate for your Honda Foreman 500. The winch features a combination of cast aluminum and high quality steel internals that are protected from the elements by water resistant seals.
This kit comes with everything you need from the model specific mount plate, wires, relay, to a 14' wired remote control to reel in the 45' of heavy duty steel cable. To top it off, you'll also get a 1-year warranty.
2. Best Performance Enhancer - DG Performance Slip-On Exhaust with Quiet Core
An engine, no matter its displacement, is essentially a big air pump. It inhales atmosphere, creates combustion, and exhausts the remainder. Improving either of those three steps will likely result in better performance. This slip-on exhaust from DG Performance is our choice as the best performance enhancer out of our list of Honda Foreman 500 accessories. This exhaust offers increased throttle response, power and torque, though we're always weary of the latter boast without trying it for ourselves on a dyno. It features a durable 4-inch diameter round steel muffler body and, interestingly, is repackable. Standard sound level is listed at 98 decibels, but the company offers 4 different core inserts to change the exhaust sound.
3. Best Boost for Bigger Tires - Supreme Suspensions 2-inch Full Lift Kit
Compatible with the 2005-2011 Honda Foreman (other kits available; check your application to be certain), this package includes a three-piece front lift bracket kit, five-piece rear lift bracket kit, and all the installation hardware your off-road heart desires. It offers two inches of lift both fore and aft, for those that want to increase the tire size of their Foreman. This is why it's on our list of favorite Honda Foreman 500 accessories. Easy bolt-on installation takes 2 to 4 hours without the need for special tools, though anyone who's tackled a job like this knows those estimates can be just that - estimates. For reasons needing no explanation, an alignment is recommended after install.
4. Dobeck Performance Injection Programmer
With the bad old days of carburation behind us (yes, carb zealots - I said what I said), there's plenty of room for finagling more power out of an engine from means that do not involve the tedium of rejetting a carburetor or dealing with a sunk float. This electronic upgrade does not interfere with stock ECU operation and can be installed quickly thanks to a plug n' play design. It is water resistant (that's not the same as waterproof, okay?) and comes with a two-year warranty. The seller smartly notes every machine is different but goes on to estimate that it is not unreasonable to expect a 10% bump in horsepower after fitting this item.
Moving from hyper-specific to one-size-fits-most Honda Foreman accessories, we find this backrest that attaches quickly to the cargo rack of your rig. It is listed as a 'heavy-duty' item with a two-inch thick cushion covered with durable, wear-resistant polyester. Associated hardware is included for installation, and the whole works can be folded flat when not in use. Its square tubular steel frame should endure most of the abuse you hurl at it during a trail ride, and the backrest is said to fit metal and composite racks alike.
6. Foreman ATV Genuine Honda Complete Seat
We're including this accessory on our list because any off-roader worth their salt has used their machine enough to wear out the seat. Fitting the Foreman range built between 2005 - 2011, this is a brand-new, gen-u-wine Honda product that was designed and engineered to fit your machine. The seller asserts that buyers can simply remove their old seat and plop this one in its place. Claims like these are often exaggerated but they seem to be backed up in here by a perfect 5 out of 5-star rating aggregated from nearly 150 customers. The phrases 'perfect fit' and 'as advertised' are scattered about the comments section like rice at a wedding. Customers also report the new seat is softer than the old one, but that could be chalked up to differences after a decade or more of wear on the original.
7. Freedom County Replacement Seat Cover
If you've neither the wherewithal nor budget to pop for an entire replacement seat, perhaps a replacement seat cover would be more up your alley (or trail, as the off-road case may be). And, it must be said, if the original seat foam is in good condition, this is a great option. Real world customers certainly seem to think so, with a handful of respondents making for a solid 4.4 out of 5-star rating on Amazon. Any scattered complaint is centered around difficult fit, a trait praised by many other customers, leading your author to believe this criticism stems from user error.
Additional Resources
Recent Updates
August 10, 2022: Removed promoted product recommendation
September 8, 2021: Added a promoted product recommendation.
We are committed to finding, researching, and recommending the best products. We earn commissions from purchases you make using the retail links in our product reviews. Learn more about how this works.
What are the largest tires you can install on the Honda Foreman?
With a good lift kit, such as the one conveniently spoken of earlier in this list, it is possible to fit 28-inch meats on a Honda Foreman 500 without difficulty. However, please note that is with a 2-inch lift. New machines are equipped with 25-inch tires from the factory, 8 inches wide in the front and 10 inches wide in the rear. Older models vary.
Does an extra seat affect weight balance?
It will if you put a person back there, especially if that person is the fullback on your rec football team. The seat itself isn't too heavy but consider an average Honda Foreman has a curb weight of just over 700 pounds, meaning the addition of a 250lb yokel is akin to adding 2500lbs of mass aboard a Ford Super Duty pickup. In short, it will affect handling. Use your good judgement and always try to evenly distribute new loads.
Can all these accessories be installed solo?
Most of them can. If you've even the slightest interest in wrenching, the vast majority of items on this list can be handled by one person. Always be sure to follow smart safety practices if the accessory involves lifting the Foreman off the ground, such as with the suspension kit mentioned above. And, if you're unsure about a procedure or are simply nervous about tackling a project, there's nothing wrong with phoning a friend or searching for online resources.
Published May 18th, 2021 3:49 PM
Top Brands
Popular Articles