4 Views
Best Honda Recon Accessories
June 30th, 2021 3:01 PM
Share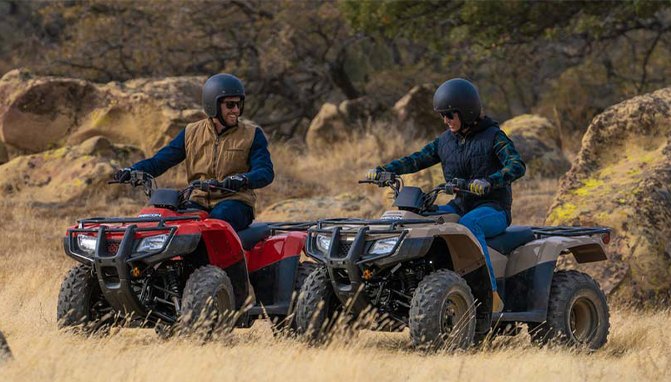 Top accessories that make using your Honda Recon even more enjoyable
If you're shopping around for the best Honda Recon accessories to turn your ATV into the perfect trail companion, you've come to the right place.
Here at ATV.com, we know ATV accessories. We've researched, tested, and reviewed countless OEM and aftermarket gadgets for ATVs and UTVs over the years; we know what works, what doesn't work, and which products offer you the best bang for your buck. And when it comes to the Honda Recon, there's a whole slew of helpful, reliable, well-built accessories available, whether you're simply looking to extract a bit more utility out of your ride, or you're determined to turn your Recon into a mean, green, trail-slaying off-road machine.
Our staff of ATV experts came together to list what we feel are the best Honda Recon accessories on the market today, covering everything from seat covers and heated handlebar grips, to winches and cargo baskets.
1. Editor's Choice: Nilight ZH007 Spot/Flood Combo LED Light Bar
As far as off-road auxiliary lighting goes, Nilight delivers one of the best bangs for your buck, and this 12-inch Nilight LED light bar might be just the Honda Recon lighting solution you've been looking for. It's more durable and well-built than it has any right to be at this price point, with a tough aluminum alloy housing and 24 3W LED bulbs arranged to give you a very useable combo spot/flood beam pattern. The unit is even water-tight, with an IP67 dust- and water-resistance rating, and a 2-year manufacturer warranty to back it up. It is, quite simply, one of the most useful, cost-effective Honda Recon 250 accessories you'll ever come across, hands down.
2. Best OEM Upgrade: Kenda Bearclaw K299 Tires
From a performance perspective, tires are among the most important Honda Recon accessories you'll ever buy. They're your interface with the road – the conduit for every touch of the throttle and turn of the handlebars. Make sure you're getting the most out of your Recon with the Kenda Bearclaw K299. One of the most popular go-to ATV tires in North America, the Kenda Bearclaw is a mud-capable all-rounder with a long-wearing tread, a tough, puncture-resistant carcass, and angled tread knobs that dig into the terrain and provide maximum traction. Using 6-ply-rated bias construction and a responsive compound, the Kenda Bearclaw delivers an excellent ride and handling, with countless loyal fans to back it up.
3. Best Accessory for Work or Play: WARN VRX 25 Powersports Winch
Even the most experienced riders get themselves into trouble from time to time. In those moments, a good recovery winch is a godsend – a good winch like the WARN VRX 25. It's almost hard to believe that you can get legendary WARN quality at this price, but with a 2,500-pound pull rating and bulletproof construction with an IP68 rating against dust and water intrusion, the WARN VRX 25 is the real deal, and one of the absolute best Honda Recon 250 accessories you can get. Fifty feet of steel cable is the default choice, with a roller fairlead and a corrosion-resistant zinc-plated hook, but if you can stomach the upcharge, we recommend springing for the 50-foot synthetic rope. Either way, you get outstanding performance, reliability, and the convenience of a handlebar-mounted rocker switch for a great price.
4. Guide Gear ATV Front Cargo Basket
There are plenty of Honda Recon ATV accessories out there to increase your trusty ATV's carrying capacity, but for our money, we're sticking with this Guide Gear ATV Front Cargo Basket every time. Why? Because it's affordable, well-made, and sized just right to deliver the perfect balance of carrying capacity and livability. The whole thing is made of rugged steel with a durable black powder coat finish to fight off corrosion, with a mesh bottom and sides to allow snow and water to drain, and the design makes it easy to secure your cargo with bungee cords or straps. Not only that, but the Guide Gear ATV Front Cargo Basket installs easily in just a matter of seconds, and take-off is just as simple.
5. Heat Demon Clamp-On Heated ATV Grip Kit
Seat comfort isn't the only potential pain point on a modern ATV, of course; in colder temperatures, it doesn't take much exposure before your fingers can start to feel a bit like popsicles, even with gloves on. Thankfully, adding heated handlebar grips has never been easier, thanks to these powered Heat Demon heated grips. Plenty affordable and easy to install with the included wiring and dual-level rocker switch, these universal-fit heated ATV grips can take your Honda Recon's handlebars from ice-cold to warm-and-toasty in no time, and the grips themselves are nice and, well, grippy, with plenty of cushion and raised molded blocks that give you plenty to hold onto.
6. PowerMotor Universal ATV Handguards
It's not just your face you need to be worried about protecting from flying debris out on the trail; your hands need a certain amount of defending, as well. That's what makes these PowerMotor ATV handguards one of the best Honda Recon ATV accessories. Unlike so many universal-fit handguards on the market, these PowerMotor ones include everything needed for mounting to your handlebars, and they're incredibly well-built for the money, with an aluminum alloy band surrounded by tough, durable polypropylene plastic for total hand protection wherever you ride. Available in six different colors to suit a range of factory Honda Recon colorways, these ATV handguards are practically a no-brainer.
7. North East Harbor ASP01-B ATV Seat Cover
For whatever reason, factory ATV seats – much like bicycle saddles – never seem quite as comfortable as you might like. There's a solution to this, and it won't cost you nearly as much as replacing your entire Honda Recon seat: the North East Harbor ASP01-B ATV Seat Cover. Simply put, it's one of the best Honda Recon accessories out there because it allows you to keep riding longer, without having to suffer a sore, bruised bottom afterward. Plus, it will shield your factory seat upholstery, helping to keep it in tip-top shape so your Recon can retain more of its resale value. This universal-fit ATV seat cover is made with a soft, molded foam cushion covered in an attractive, water-resistant outer shell that resists mold and mildew, and from the moment you sit on it, you'll be wondering why you didn't get one sooner.
What size tires come on the Honda Recon?
If a new set of rubber tops your list of Honda Recon accessories, it's important to know what size tires you're going to be replacing. From the factory, the Recon comes equipped with 22x7-11 tires in the front, and 22x10-9 tires in the rear. It's worth noting that the front wheels are a full two inches larger in diameter, even though those tires, naturally, have a narrower width.
Unfortunately, that unusual combination may narrow down your choices substantially when selecting new tires for your Honda Recon, which is why many owners simply replace their stock wheels with something aftermarket or nab the factory wheels off a Honda Rancher. That, too, has its issues; if equipped with the factory 24" tires, Rancher wheels can rub on the Recon 250's chassis without a lift, and any time you upsize the wheels and/or tires, you must consider how you're changing the rotating mass, unsprung mass, and gearing. You might be better off simply running different tire models in the front and rear of the vehicle if you can't find a single tire model that will suit you.
No matter which route you take, we recommend poking around on the Honda Recon web forums before making any big purchasing decisions. The Recon benefits from a large community of active, engaged owners who have tried just about everything when it comes to wheels and tires.
Additional Resources
We are committed to finding, researching, and recommending the best products. We earn commissions from purchases you make using the retail links in our product reviews. Learn more about how this works.
Published June 30th, 2021 3:01 PM
Top Brands
Popular Articles