102 Views
Best Honda Recon Battery Options
June 4th, 2021 4:35 PM
Share
We're committed to finding, researching, and recommending the best products. We earn commissions from purchases you make using links in our articles. Learn more here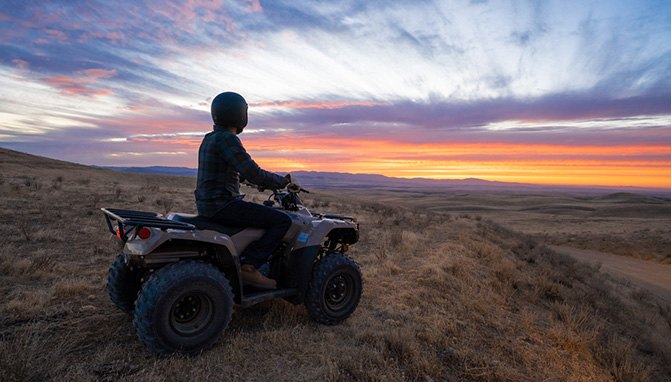 Batteries that keep your Recon cranking when you need it.
If your Honda Recon isn't firing up quite as readily as it used to, or it's having trouble coughing to life on a cold day, it's time to shop for a new Honda Recon battery.
The Honda Recon has long been a staple in Honda's all-terrain vehicle lineup, well-liked for its performance and reliability, which rank among the best in its class. But no matter what the ATV model, every battery eventually wears out after years of regular use and grueling temperature cycles. When that happens, reconditioning the battery can sometimes give you a bit of bonus service life, but the only true fix is replacement.
When it comes to powersports batteries, you have essentially three options: a sealed absorbed glass mat battery, a sealed gel battery, or a high-tech lithium-ion battery. Each type has its own pros and cons, although the biggest decider when it comes to Honda Recon battery options might just be the price: generally speaking, each of the battery types listed is more expensive than the one before it, with improved reliability and/or lower mass accompanying each uptick in price.
Still having trouble deciding on a Honda Recon 250 battery? Don't fret it. Here, we've rounded up the best Honda Recon battery options on the market today, including a range of different types and reputable manufacturers. Any one of the batteries on this list ought to give you years of reliable service.
Table of Contents
1. Editors Choice: Yuasa YTX-12BS AGM Battery
If you're the type of person who would rather pay more for superior build quality and proven reliability, the Yuasa YTX-12BS AGM battery is for you. For more than 40 years, US-based battery supplier Yuasa has set the standard when it comes to motorcycle and powersports batteries, and this YTX-12BS is the real deal. Manufactured in the USA, this Honda Recon 250 battery delivers up to 180 cold cranking amps and packs 10 Ah of capacity. This battery is also backed by Yuasa's legendary reputation, meaning you can expect faster starts and a longer service life than you might get with those other brands. Sometimes, it's better to spend more.
2. Best Lithium Battery: Antigravity ATX12-RS Lithium Motorsport Battery
Far and away the best battery on this list, this Honda Recon battery is also the most expensive: the Antigravity ATX12-RS Lithium Motorsport Battery. The manufacturers at Billet Proof Design have gone all out on this battery, giving it a full integrated Battery Management System (BMS) with overcharge and over-discharge protection, thermal protections, and automatic cell balancing. It also has a nifty "re-start" feature that sets the battery into sleep mode when it reaches a certain discharge level, saving enough charge to start your Recon again later when you need it. And that "antigravity" in the brand name? That's a reference to its featherlight weight of just 2 pounds, 6.4 ounces. Even at such a low weight, however, the Antigravity ATX12-RS manages to pack twice the cold cranking current of comparable AGM and gel batteries: 360 CCA. It might just be the best Honda Recon battery in the world.
3. Mighty Max YTX12-BS Gel Motorcycle Battery
Although "gel" and "AGM" are often used interchangeably, the truth is that gel is an entirely separate battery technology – one that offers superior deep-cycle reliability and lower self-discharge, but with a greater sensitivity to "improper" charging. If that doesn't phase you, you might want to give this Mighty Max YTX12-BS gel battery a look. The battery is an outstanding value, at around the same price as some of the most popular AGM Honda Recon 250 battery options, but with significantly more capacity and better deep-discharge resilience, not to mention slow self-discharge – a valuable trait for a battery to have if your Recon spends months out of the year sitting dormant. On top of all that, this Mighty Max battery still manages to deliver the same 180 cold cranking amps as its AGM competitors.
4. Weize YTX-12BS AGM Motorcycle Battery
This Weize AGM (absorbed glass mat) motorcycle battery is the perfect Honda Recon battery for owners who just want a reliable, hardworking replacement for not much money, without having to think too long and hard about brand, cell type, cranking amps, or any of that other stuff. It's a YTX-12BS replacement, meaning it should fit perfectly into the space occupied by the factory battery, delivering a sufficient 180 cold cranking amps (CCA) and 10 amp-hours of charge. The AGM construction is perfect for ATVs; it's sealed, maintenance-free, and spill-proof, so it can be mounted in any orientation and doesn't mind the occasional hard jolt. Best of all, the battery even ships with a 12-month warranty.
5. MMG YTX12-BS Lithium-Ion ATV Battery
Gel and AGM batteries are two time-tested and proven rechargeable battery technologies that have been around for decades, but if you want the best – the lightest, most powerful, longest lasting battery you can get – you need to step up to lithium-ion. This unit from MMG is a direct replacement for more conventional YTX12-BS Honda Recon battery options, coming in more than an inch shorter in height, with around half as much mass, and according to the manufacturer, it's good for roughly ten times as many cycles. The small size is such that this battery allows you to fit a Power Commander or some similar device within the same compartment, the manufacturer notes, and packaging efficiency is a beautiful thing on an ATV.
What Type of Battery Does My Honda Recon Need?
The question of which Honda Recon battery to get can really be split into two questions: what physical dimensions the battery must be, and what amperage battery goes in a 250 Honda Recon. The dimensions of the battery are given in a roundabout way by the battery's "format" – an alphanumeric code that describes the length, width, and height of the battery, as well as what type of construction it uses (i.e., flooded, AGM/gel, or lithium). The original factory Honda Recon battery is of the format 12-BS, measuring about 5.875" x 3.5" x 5.125", where "BS" stands for "battery sealed" and denotes that it is not a conventional flooded lead-acid battery.
A note: the battery format frequently includes a three-letter prefix, such as "YTX" or "GTX", which refers to the manufacturer and performance series. It's not worth losing much sleep over, so long as your chosen Honda Recon battery is of the right size and is rated to provide sufficient current.
As for what amperage battery goes in a 250 Honda Recon, Cold Cranking Amperage (CCA) is the most relevant measure. Cold Cranking Amperage refers to the maximum current rating the battery can sustain for 30 seconds in 0°F ambient conditions, while keeping a voltage of at least 7.2 volts per cell. In other words, it's a measure of how much starting juice the battery can output in frigid temperatures, and while you're probably not electing to ride very often when it's 0°F outside, if a given battery can meet the cold cranking requirements, it's almost certainly enough for more temperate conditions.
For the Honda Recon, you should seek out a battery rated for 180 CCA or so. That's more than enough to spin up the Recon's small sub-250cc engine in just about any temperature you're likely to ride in.
Additional Resources
We are committed to finding, researching, and recommending the best products. We earn commissions from purchases you make using the retail links in our product reviews. Learn more about how this works. Aaron Brzozowski
Aaron is a freelance writer, videographer and car enthusiast based out of the Detroit area. He has a special affinity for the Porsche 944 series, and once owned a Volvo 240 sedan with a Weber carb in place of the factory EFI system. His work has appeared on AutoGuide, GM Authority, /Drive, and VW Vortex, among other sites.
More by Aaron Brzozowski
Published June 2nd, 2021 2:48 PM
Top Brands
Popular Articles