1 View
Best Honda Pioneer Accessories
August 10th, 2022 5:28 PM
Share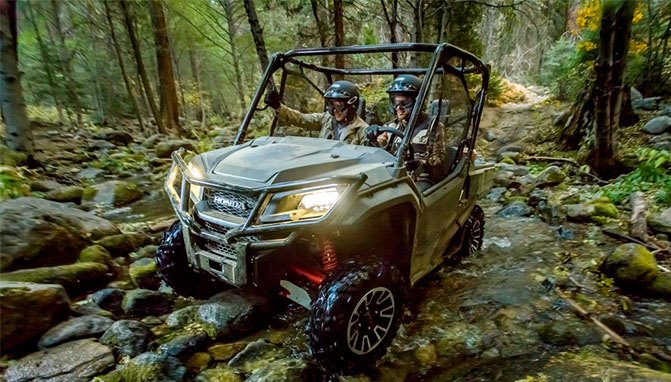 Take your Pioneer to the next level
The Honda Pioneer is one of the most popular Utility UTVs in the industry. Set up yours to perfectly suit your needs with these Honda Pioneer accessories.
Honda is one of the most revered companies in the off-road world. It was the leader in early ATV development and the term "Pioneer" was often associated with the brand. When the UTV became the machine of choice for many, Honda slowly entered the market by reviving the Big Red name for a machine that, while extremely capable, was not well received by the market.
Honda's next entry was the newly branded Pioneer, which has gained a foothold with the Pioneer 500, 700 and 1000 machines, each with a unique quality that makes them stand out in their classes. The 700 came out first and grabbed a foothold with versatility, simplicity and outstanding reliability. The 500 came next with a completely different take on the mid-sized UTV.
When the 1000 hit the scene, it brought a pile of technological advancements carried over from Honda's motorcycle racing division, including the DCT transmission, paddle shifters and a comfortable and versatile platform. There are plenty of ways to make your machine your own, too. Here are some of the best Honda Pioneer accessories available.
Table of contents
Every UTV really should have a winch on it. It adds a level of security against getting stuck and gives you a set of helping hands for pulling things out of the way - hands that can pull thousands of pounds. If you opt for a premium machine, like a Honda Pioneer 1000 Deluxe, you should also consider a premium winch. There is no better winch on the market than the Warn Axon.
The Axon is the newest series of winches from Warn and the Axon 45-S is the one of the best Honda Pioneer 1000 accessories going. It will pull 4500 pounds and the synthetic rope will not rust or warp like cable. Finally, Warn says the Axon is the most advanced and durable winch the company has ever made.
Promoted Product: Gold Shield 5L Honda Pioneer Covers at CarCover.com
One of the better recreation/utility UTV available today is Honda's awesome Pioneer. These machines can handle just about anything you can think of to throw at them, and can do so in style and comfort. When you're not out on the trails with your Pioneer, you should protect it with a Gold Shield 5L Honda Pioneer Car Cover from CarCover.com. These protective covers are made from five-layers of material with three layers of polypropylene, a single layer of microporous film, and an additional layer of soft fleece lining to keep you from scratching your plastics. The cover has strap and buckle cinches at each end and an elastic band for a snug fit around the bottom of your UTV. The Gold Shield 5L covers are 100% waterproof and are weather and UV-resistant to help keep the paint looking great, and it comes with a limited lifetime warranty The Gold Shield 5L also comes with a carry case that you can use to take it on the trail with you, or off to camp to help protect your Pioneer from the elements.
While the flagship Pioneer 1000 has a host of accessories available, don't forget the more affordable models. Honda Pioneer 500 accessories are readily available some of them are affordable additions to most economically friendly Pioneer. One of favorite Honda Pioneer 500 accessories is this half windshield. Install this and you can deflect some of the wind away from the driver and passenger. This windshield comes with four 1/34" metal/rubber clamps for mounting and requires no drilling whatsoever. Even shipping is free.
One thing Pioneer owners love to do is explore trails with their machines. Never get lost again and find new ways to explore different areas with a GPS unit made specifically for the off-road world. The Magellan TRX7 has a dual feature with trail maps and true off-road design functionality, mixed with street mapping and more, so you can use it in the truck on the way to the trail, and then along the trail to keep you going the right way. It has a built-in 3D basemap of the U.S. and Canada with free lifetime updates, and a built-in 5mp digital camera for saving moments along the way. If you like to explore new trails, this is one of the smartest Honda Pioneer accessories you can buy.
Keeping your Pioneer clean and safe when not in use can be a bit tricky. The machine is pretty tall, making covering it somewhat difficult. That is, unless you have the Genuine Honda Pioneer Accessory Storage Cover. Being a cover developed by Honda for the Pioneer, it fits perfectly, even if you have accessories. It has UV-resistant fabric and taped seams, so it will keep your Pioneer clean and dry. It seems simple, but a cover like this is one of the smartest Honda Pioneer accessories you can own to help protect your investment.
If you are looking for protection, one of the best Honda Pioneer accessories is a quality bumper. Honda offers a brush guard front bumper extension that is designed by Honda for the Pioneer. Being from Honda, you know it fits perfectly and it is made from durable, powder-coated steel. It wraps around the front end for additional protection and gives your Pioneer a tough, rugged look. The price isn't bad either for what you get. And when it comes to protection, this is one of the best Honda Pioneer 1000 accessories (or 1000-5 accessories) you can have.
6. KC HiLites 268 FLEX LED Dual Spread Lights
When you are out on an off-road adventure, you need to be able to see the whole trail. Adding additional lights to your machine is a great way to get more visibility on the trail while at the same time adding a cool custom look during the day. KC HiLites has been making quality off-road lighting solutions for a long time, and the legendary company has lights that are some of the best Honda Pioneer accessories you can buy. The 268 FLEX LED Dual Spread System lights can be mounted in multiple ways and for any need. It is a durable, race-tested design and can handle anything you can throw at it.
7. Maxxis Carnivore Tires
While the stock Maxxis Bighorn 2.0 tires are solid all-around performers (we will discuss those below), if you are looking for something a little more rugged you should take a look at the Maxxis Carnivore. The Carnivore features 8-ply construction and is designed for extreme terrain. Boasting what Maxxis calls "superb" tread wear, the Carnivore and should last you multiple years of hard use. One thing we really like about the Maxxis Carnivore is that you only need to keep one spare handy, as you can run the same tire on all four corners. This means you can also rotate your tires regularly to further extend their life.
Recent Updates
August 10, 2022: Removed promoted product recommendation
May 12, 2021: Updated with a new promoted product recommendation.
March 24, 2021: Added the Maxxis Carnivore tires to our list and updated links.
We are committed to finding, researching, and recommending the best products. We earn commissions from purchases you make using the retail links in our product reviews. Learn more about how this works.
What tires are best for the Honda Pioneer?
While there is a wide range of available tires for specialty riding, such as mud and rocks, for average trail riding and exploring the stock tires on a Honda Pioneer 1000 are a great choice. The Pioneer comes from the factory with Maxxis Bighorn 2.0 tires mounted on it, and these are really solid all-around tires with legendary durability and traction.
How Fast is a Honda Pioneer?
We get asked this question a lot. Honda doesn't officially publish top-speed numbers. Most manufacturers don't. All we can say is, we've had our Honda Pioneer 1000-5 test units going 64 mph according to the speedometer. That's unofficially, of course.
Published May 14th, 2021 4:00 PM
Top Brands
Popular Articles