27 Views
Best Honda Talon Accessories
August 10th, 2022 5:28 PM
Share
We're committed to finding, researching, and recommending the best products. We earn commissions from purchases you make using links in our articles. Learn more here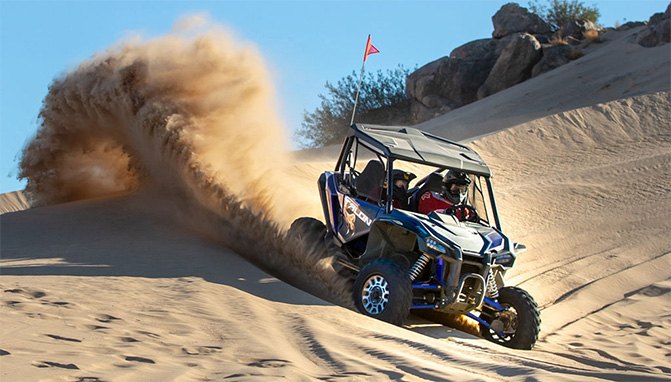 Make your rides more comfortable and enjoyable with these accessories for your Talon
If you're hunting around for the best Honda Talon accessories on the market, you've come to the right place.
With its impressive, 104-horsepower V-twin engine, six-speed dual-clutch automatic gearbox, and hardcore, performance-optimized off-road suspension, the Honda Talon is one unforgettable machine. We can't blame you for wanting to get the most out of it with a few practical accessories.
But if you're overwhelmed by the sheer volume of options available, don't worry; we've done the hard work for you. We've scoured the web for all the best Honda Talon accessories on the market today and rounded up our top picks in one handy list. Encompassing everything from storage bags to GPS units, you're sure to find a few Honda Talon accessories that suit your fancy.
1. SuperATV Vented Glass Windshield
Genuine glass windshields aren't a common sight on UTVs, and that's too bad, because they offer a crystal-clear view of the trail with superior optical quality and scratch-resistance compared to polycarbonate or acrylic pieces. That's why we're so enamored with this vented glass windshield from SuperATV. Made from laminated glass with a mild tint to reduce glare and featuring a black aluminum surround with sliding air vents to let some airflow into the cockpit on hot summer days, this windshield is DOT-approved and ready for action. It even features a manual windshield wiper for clearing away dust and mud from the driver's side, which solves one of the biggest problems with fixed UTV windshields. With all of the features you want in a UTV windshield, our staff of experts put this on top of the list of our favorite Honda Talon accessories.
2. Best Cab Storage - Kemimoto UTV Door Storage Bags
The Honda Talon doesn't come up short on much, but one area that could use a bit of help is storage. You can never have too many places to stow all your gear. That's why these Kemimoto storage bags rank high on our list of best Honda Talon accessories. They install directly over the Honda Talon's triangular lower door cutouts, and they're loaded with clever measures to keep your items dry no matter what sort of conditions you're driving in, like water-repellent 1680D fabric construction, water-repellent inner compartments, and water-repellent double-ended zippers. Each one packs a thick, supple knee pad, too, to keep your knee protected from banging against the door while you're driving hard. There aren't too many Honda Talon accessories out there that can improve both your comfort and your storage situation, but these door bags can.
3. Best Cargo Bed Accessory - HJSIUTV Honda Talon Bed Enclosure
The Honda Talon's open-cargo bed design is practical and sensible, but it can leave your cargo at risk of bouncing out and falling off on the trail. The fix? A bed enclosure, like this one from HJSIUTV. Made from sturdy 3/4" steel tubing and 1/16" steel plate, this bed enclosure is seriously strong, and it installs easily in a matter of minutes with just a few bolts. The steel is finished with a UV-resistant black powder coat for years of protection and rugged good looks, and the bed enclosure even features a built-in anchor to keep your items in place when the ride gets bumpy. Compatible with both 2- and 4-seater Talon models, at a price that's just a fraction of what competing enclosures cost, this bed enclosure is far and away one of the best practical Honda Talon accessories we've come across.
4. Genuine Honda Talon 1000R Storage Cover
The market is chock full of perfectly great, well-made aftermarket UTV covers, but given the option, we'll take an OEM cover nine times out of ten. This storage cover from Honda Genuine Accessories makes our list of the best Honda Talon accessories because it's manufactured with the same quality and attention to detail as everything Honda makes, and it's even covered by the same warranty terms as the vehicle. Guaranteeing a perfect fit for your Talon, this storage cover is made from a weather-resistant synthetic material with taped seams to keep rain, snow, and other moisture sources at bay, while allowing condensation to evaporate off with its vented design. A pair of side zippers permit access to the cabin without the need to remove the entire cover, and it even ships with a handy storage bag for when it's not in use. It's far and away our preferred cover for seasonal Talon 1000R storage.
5. Honda Talon R/X Stereo Bluetooth Sound Bar
Bring the party with you wherever you go with four booming Kicker speakers and plenty of amplifier power, with this Honda Talon R/X Sound Bar. Featuring four crystal-clear 6.5" full-range speakers with solid bass response, integrated dome lights, and a high-quality head unit with AM/FM, Bluetooth, aux, and USB inputs, this sound bar installs neatly and easily overhead, clipping onto your Talon's factory roll cage and giving your Talon world-class audio wherever you drive. With a reasonable price tag, impressive build quality, and from what we can tell, decent weather-resistance, this sound bar easily earns its place as one of our most recommended Honda Talon accessories.
6. Rough Country 30" Chrome Series Single-Row CREE LED Light Bar
You can only drive as well as you can see, so if you plan on being out in your Talon after dusk, you're going to want some good, quality auxiliary lighting. This 30" Rough Country light bar sits right in the sweet spot of light output, build quality, and price. With a durable diecast aluminum housing rated to IP67 for its dust- and water-proof measures, and an impressive 12,000 total lumens of illumination, this LED light bar is about all your Talon could ever need, and it's backed up by a 3-year manufacturer warranty. It's also sleek and endlessly adjustable, and a snap-on cover keeps the lens clear when not in use. Add all that up, with Rough Country's solid quality reputation and a price that just about anyone can afford, and you get one of the best overall Honda Talon accessories we can recommend.
7. Garmin Overlander Off-Grid GPS
It's nice to know where you always are, but unfortunately, ORV parks and state-owned trails aren't really covered by your typical run-of-the-mill GPS unit, let alone your favorite navigation app. You need a special, overlanding-focused GPS unit – like the Garmin Overlander. The most expensive item on our list Honda Talon accessories, it's also perhaps the only one that could potentially save your life, with a full set of topography maps covering both North and South America so you can better navigate off-road; a large, easy-to-read 7" color touchscreen; and a full list of public campgrounds and other points of interest. It's a truly sophisticated unit, capable of displaying public land boundaries and 4x4 roads, and even generating routes based on your vehicle's height, length, and weight. There are less expensive overlanding GPS units out there, but none of them can hold a candle to the Garmin Overlander.
Additional Resources
Recent Updates
August 10, 2022: Removed promoted product recommendation
September 8, 2021: Added a promoted product recommendation
We are committed to finding, researching, and recommending the best products. We earn commissions from purchases you make using the retail links in our product reviews. Learn more about how this works.
What's the Largest-Diameter Tire I Can Fit on My Honda Talon?
From the factory, the Honda Talon 1000R, 1000X, and 1000X 4 appear to be able to accept most powersports tires measuring up to 30 inches in diameter, so if you were looking to add a bit more contact patch and ride height to your Talon, there's plenty of room to do that. For reference, the factory tires measure an already-impressive 27 inches in diameter. However, that 30-inch figure is simply the largest tire diameter that we can confidently confirm works with the factory suspension; there may be room to go even further. We have encountered reports of owners fitting 31- and even 32-inch tires with no rubbing or interference. But bear in mind that these claims aren't gospel, and that interference isn't the only potential issue that can crop up as soon as you start upsizing your tires. Each step up or down also effectively changes the gearing of your machine and moving too far up the size chart can make for compromised acceleration in the higher gears.
How Fast Is the Honda Talon?
The Honda Talon has a governed top speed of 74 mph, or 119 kph, which – most would agree – is more than fast enough for a UTV. That's true for both the Talon 1000R and Talon 1000X, and both share a common powertrain consisting of a 999-cc overhead-cam V-twin sending as much as 104-horsepower through a six-speed dual-clutch automatic transmission. For those who want even more thrust, with or without an increase in top speed, a turbocharger kit is available from Jackson Racin Aaron Brzozowski
Aaron is a freelance writer, videographer and car enthusiast based out of the Detroit area. He has a special affinity for the Porsche 944 series, and once owned a Volvo 240 sedan with a Weber carb in place of the factory EFI system. His work has appeared on AutoGuide, GM Authority, /Drive, and VW Vortex, among other sites.
More by Aaron Brzozowski
Published May 14th, 2021 3:45 PM
Top Brands
Popular Articles