36 Views
April 12th, 2021 11:56 AM
Share
We're committed to finding, researching, and recommending the best products. We earn commissions from purchases you make using links in our articles. Learn more here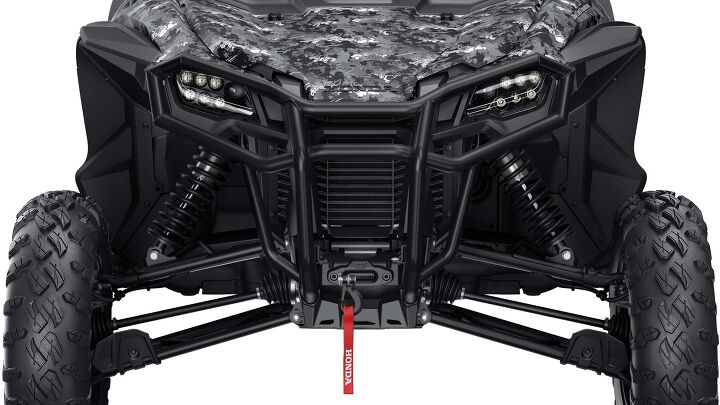 Protect your Talon with these front and rear bumpers
The right Honda Talon bumpers will help protect the front and rear of your rig from damage and even add a little curb appeal.
After finding success in the side-by-side market with its versatile Pioneer, the crew at Honda decided to jump into the performance SxS game in a big way. Boasting a 1000cc-class engine, the new Talon took Honda's typical penchant for engineering and applied it to the off-road world.
Rather than a bog-standard CVT-style transmission as found in the majority of its competitors, customers will find a six-speed dual-clutch transmission which throttle position, RPM, and brake input to establish a driving style. Short of the satisfaction provided by an old-school five-speed manual (hello, Roxor), it's about the most engaging way to get up to speed in a side-by-side.
There is no shortage of accessories available with Honda Talon bumpers being very popular. They'll help save the bodywork should you misjudge the distance to that tree, help provide a solid winch mounting point, or simply amp up the rig's visual appeal. Here are some of our favorites.
Table of Contents
1. Editor's Choice: HMF Defender HD Front Bumper
Built from steel tubing, this brute of a Honda Talon front bumper from HMF offers an increased form of front end protection while also providing a place to install a winch. That top bar is designed to support a 4500-pound winch and 6-inch fair lead, though you'll have to source those yourself. A 3/16-inch aluminum skid plate is added for those times you didn't see (or didn't care about) that big rock in the trail.
This thing is said to weigh 36 pounds and actually measures nearly four feet tall from tip to tail. Of course, it doesn't stand that high since its lower part curves underneath the rig. We recently got an HMF bumper in for another vehicle for review and the build quality is definitely impressive.
2. Honda Genuine Accessories Aluminum Rear Bumper
It's never a bad idea to buy one's accessories directly from the people who built your machine in the first place - even if they're a bit more expensive. They built the thing, after all, suggesting they should know best about what fits it after departing the factory floor. This is a Honda Talon rear bumper, one designed to help protect the aft end of your fancy new Talon.
The bumper attaches to clamps that are installed on the Talon's rear tube, making it a serious piece of hardware and not just something flimsily attached to a bit of plastic. It also comes branded with the Honda Racing Logo, which affirms our thoughts that this would be a smart piece of kit for those who want to protect the rear end of your Talon from some bumper-to-bumper racing damage.
3. Honda Genuine Accessories Steel Front Bumper
Those brush guards one generally finds on brodozers aren't limited to just mall crawlers. Turns out, there are units available for those of us who actually, you know, go into the brush - making the headlight guards an actual useful tool and not just a bit of pointless posturing.
Made from heavy duty steel tubing and powder coated black, this Honda Talon front bumper was designed to match the body contours of the machine. As this is another product made by Honda, there is no drilling or cutting to install the thing, and will affix directly to factory mounting points. Fun fact: those brush guards are actually called 'integrated headlight protection loops', How fancy.
This option is markedly similar to the bumper with which he kicked off this post, but there are a couple of design differences. The Talon is not really built for slamming hard into trees or boulders, explaining why the SuperATV Honda Talon front bumper is designed to take those hits - it'll save your Talon's front end and look good while doing it.
Made of 1.75-inch x 1/16-inch wall steel tubing, it protects entire front end including bodywork and grille. The bumper is finished with UV-resistant wrinkle black powder coating and includes all hardware for installation. Joy of joys, no drilling is required. SuperATV is among our favorite ATV/UTV accessory brands and this one definitely belongs on a list of the best Honda Talon bumpers.
Staying with SuperATV, this Honda Talon rear bumper is made of 1.75" steel tubing that is finished with a UV-resistant powder coat and designed to take a beating. But more than just a rugged piece of protective kit, it carries the Talon's aggressive lines for a streamlined look.
We are committed to finding, researching, and recommending the best products. We earn commissions from purchases you make using the retail links in our product reviews. Learn more about how this works.
How do I install a Honda Talon bumper?
The flippant response would be to RTFM. However, it is a bit more nuanced than that. High quality Honda Talon bumpers, like those on this list, will bolt up directly to the rig itself without the need for drilling more holes. This is comforting to those of us who don't want to take a power tool to our $20,000 machine. It also provides the assurance that the bumper is now part of the Talon, instead of a hastily installed accessory flapping in the breeze.
What tools will I need to install a Honda Talon Bumper?
For installing Honda Talon bumpers, you'll likely need an assortment of basic tools. Namely, be sure to break out your ratchet set, as a 10mm or 12mm socket will likely be required. A box-end wrench of the same dimensions will surely be useful. Don't be surprised if you also need a small hex wrench to take care of some fiddly little bolts. It would be a bonus if you also used a torque wrench to get those bolts snugged into their new homes at the proper spec.
Will these bumpers alter my rig's weight distribution?
It might, but only a little bit. Curb weight of a Honda Talon is in the ballpark of 1600 pounds, so adding 30 pounds or so to its nose won't be detrimental for most riders. If you're using a Honda Talon for competition, however, it wouldn't be the worst idea in the world to check out the aluminum options on this list, since they would be lighter compared to steel units. In those situations, ounces and grams matter. Published April 12th, 2021 11:56 AM
Top Brands
Popular Articles