1 View
Best Polaris Ranger Lift Kit Options
April 19th, 2021 6:06 PM
Share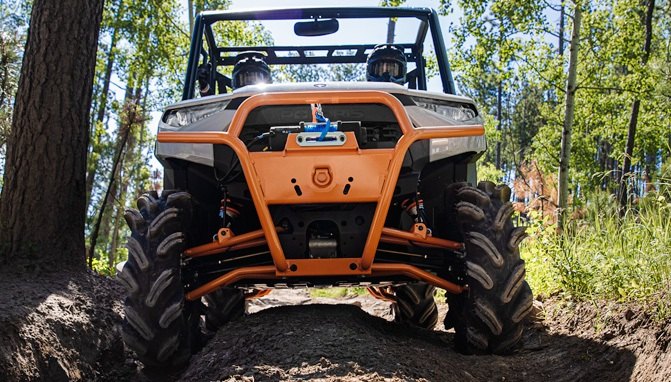 Take your Ranger to new heights
When it comes time to upgrade your Polaris side-by-side, a Polaris Ranger lift kit is one that can pay immediate and noticeable dividends. Raising the suspension doesn't just give you more ground clearance; it gives you more tire clearance, too, allowing you to run bigger, beefier tires with more tread and contact patch. All of that equates to more off-road performance, enhancing your UTV's ability to clear the most difficult terrain and not get stuck.
The Polaris Ranger series of UTVs was made to work and to roam, and there's a reason it's the industry's most popular UTV model line. But even the Ranger can use a boost, and shoppers will find plenty of durable, high-quality Polaris Ranger lift kit options on the market at price points that won't break the bank. In addition to the boost in performance, a Polaris Ranger lift kit can elevate your side-by-side to a more imposing, aggressive height. Lifted off-road vehicles definitely get noticed.
But with so many options available, and so many models – past and present – in the Ranger model line, it can be hard to know where to look. That's why we've rounded up the best Ranger lift kits on the market, in one comprehensive list, to make the job of finding the right one for you a little bit easier.
1. Editor's Choice: High Lifter 4" Lift Kit
Any time we go looking for an ATV or UTV suspension lift kit, High Lifter is one of the first brands we scope out. This Polaris Ranger lift kit is compatible with numerous 900 and 1000-class Rangers, as well as some full-size 570 models. It was also designed to be easy for the home mechanic to install (High Lifter claims it can be done in 1-2 hours). This kit relocates the shock mounts to help make room for larger tires and it comes with zinc-plated components and a clear-coated High Lifter name plate.
The bottom line is that nobody knows ATV and UTV lift kits quite like High Lifter. If you are looking to add some height to your Ranger, this is a great place to start.
2. SuperATV 2" Polaris Ranger Lift Kit
Another superb option in the 2" lift category, this Polaris Ranger lift kit from SuperATV is available for midsize Ranger 500, 570, and 800 models, including the 570 Crew. Typical for SuperATV, the parts are all top-notch in terms of quality, with heavy duty zinc-plated steel that will stand up to the elements for years without suffering any premature rust-related failures. SuperATV's instructions and customer support are equally good reasons to buy, and the parts are designed to maintain proper suspension angles for a predictable, great-handling ride.
3. Waverspeed 3" Lift Kit
Raise the ride height on your Polaris with this very affordable 3" Polaris Ranger lift kit from Waverspeed. This particular kit fits a wide variety of full-size Ranger models from the Ranger 570, Ranger XP 900/900 Crew, XP 1000/1000 Crew, and 1000 Diesel/Diesel Crew. It lets you lift your Ranger three inches, allowing you to run up to 28.5" tires. The kit comes complete with every bolt, nut, spacer, and bracket you need to lift your Ranger, along with complete instructions. It might be the best bang-for-your-buck on this list.
4. Ranger Prolift Polaris Ranger 3" Lift Kit
Ranger Prolift isn't a brand you've probably ever heard of before. As a matter of fact, they only make a handful of products, all of them lift kits for the Polaris Ranger model line. And yet, the kits are made in the USA, and all highly regarded by Ranger owners. This 3" lift kit fits older body style Ranger models, and has some of the thickest, heaviest-duty brackets we've ever seen on a UTV lift kit. Those brackets are coated in gloss black for resistance to the elements, and the lift is good for tires up to 28.5 inches in diameter, for plenty of trail-conquering performance.
5. S3 Power Sports 5" Lift Kit with A-Arms
You know what they say: go tall, or go home. At least, maybe they would say that if they'd ever ridden a UTV with a mondo 5" lift. This Polaris Ranger lift kit from S3 Power Sports offers one of the biggest lifts in the business, with high-arch replacement control arms for extreme clearance. It's the priciest option on this list, but that distinction is earned; the kit is designed to make use of the factory axles with no binding, which is a feat at that height, and with this equipped, S3 Power Sports says your Ranger will be able to accept up to a 30-inch tire. The kit is compatible with numerous Ranger models, from the 570, XP 900, and XP 1000 ranges, including Crew models.
6. If Money is No Object: High Lifter 6" Big Lift Kit with RCV Axles
A lift kit like this is not for everybody. Unlike the more affordable High Lifter kit above, this is a major overhaul and comes with a price tag to match. But what you get is an insane 6 inches of lift that lets you install massive 34.5-inch tires! The kit comes with front Max Clearance control arms with a 2" forward sweep for added clearance and a longer wheelbase. The rear Max Clearance control arms offer a 3" rearward rake for even more tire clearance.
Also included in this Polaris Ranger Lift kit are four Outlaw RCV axles or Outlaw DHT XL axles, heavy duty front and rear shock relocation brackets, custom tie rod set up, custom rear brake line kit, all necessary brackets and hardware, and detailed instructions with step-by-step photos to help you (or your shop) with installation.
This kit is designed specifically for the Ranger XP 900 High Lifter and XP 1000/1000 Crew High Lifter models.
Recent Updates
April 19, 2021: Replaced the High Lifter and Waverspeed kits with in-stock systems. Added some FAQs.
We are committed to finding, researching, and recommending the best products. We earn commissions from purchases you make using the retail links in our product reviews. Learn more about how this works.
How long does it take to install a Polaris Ranger Lift Kit?
This depends on the type of lift kit you buy, your skill level, and the equipment you have. Most of these are designed to be pretty easy to install, unless you are getting a kit that replaces the A-arms. High Lifter says its kit can be installed in an hour or two. Just make sure you have a way to lift the weight of your Ranger off the shocks and get yourself a quality shock compressor tool.
What size tires can you add to your Ranger after installing a lift kit?
There's no one answer here, as different Ranger models and different lift kits allow for different sized tires. Your best bet is to contact the lift kit manufacturer and ask what size tires you can safely add when using their system.
Published September 16th, 2020 11:31 AM
Top Brands
Popular Articles