2 Views
2014 Kubota RTV X-Series Review
June 19th, 2015 2:31 PM
Share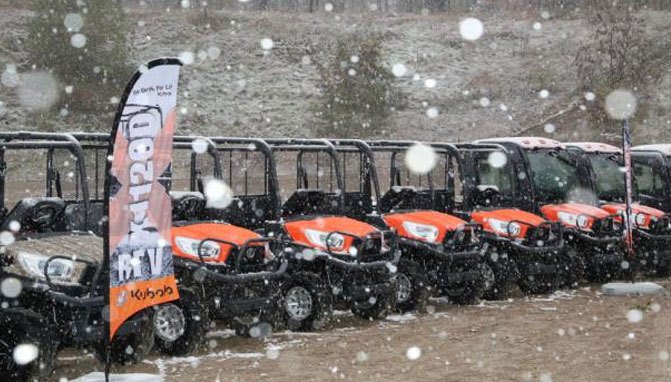 We test a trio of new Kubota diesel UTVs
On an unseasonably cold and snowy October morning, Kubota Canada gave us the opportunity to get behind the wheel of its new RTV X-Series of diesel-powered UTVs. The Series consists of the entry level RTV-X900 (Worksite and General Purpose models), more powerful RTV-X1120D and cab-equipped RTV-X1100C.
While we often sing the praises of sporty trail-oriented UTVs, Kubota has a different mission in mind with the RTV X-Series. First and foremost, these are working vehicles. While none of the three feel out of place on the trail, these machines are at their best when they're helping make your job easier. Kubota boasts the top selling diesel UTV line in North America and wasn't shy about making significant updates for 2014.
Available in both Worksite and General Purpose versions, the RTV X900 is the smallest of the new RTV X-Series models. It's powered by a three-cylinder, four-stroke, liquid-cooled, 898cc diesel engine that offers up a claimed 21.6 horsepower and 40.4 ft-lbs of torque.
COMPARISON: Read our review of the John Deere 825i
Both the RTV X1120D and RTV X-1100C are powered by three-cylinder, four-stroke-liquid-cooled, 1123cc diesel engines that produce 24.8 horsepower and 52.7 ft-lbs of torque.
New for 2014 is a 20% larger radiator. Kubota says the radiator's wide fin pitch design minimizes clogging and it's placed up high in the vehicle where the air is cleaner.
Kubota moved the radiator up high and made it 20% larger.
Also new, transmission gearing now features just two forward speeds (High and Low), along with Neutral and Reverse, so users have to shift less.
Suspension is provided by independent dual A-arms front and rear, controlling eight inches of travel and 10.4 inches of ground clearance. CV joint protectors and skid plates will help protect the underside of the RTV X-Series should you misjudge the size of the debris in front of you.
Other features found across the RTV X-Series include dynamic braking, 60:40 bench seats, power steering, digital meters and glove box. As well, the under seat storage is a great place to store your tools or anything else you don't want rattling around on the floor.
A true work vehicle, the Kubota RTV X-Series vehicles can haul up to 1,100 pounds in the bed while towing 1,300 pounds.
Two-inch hitch receivers are standard front and rear. You can tow 1,300 pounds out back and 650 pounds up front. If that's not enough utility for you, RTV X-Series UTVs can haul up to 1,100 pounds in the 15.2-cubic-foot cargo box. Dumping the cargo box is as simple as flicking a lever and letting the hydraulic lift take over (RTV X900 General Purpose available in manual lift only). We'd recommend the optional spray-on factory bed liner for some added protection.
Both the RTV X900 and X1120D are built on a high-rigidity steel frame, which is designed to lessen noise, vibration and harshness. The RTV X1100C, meanwhile, is built around a unibody cab and chassis frame.
Ride Impressions
We didn't get to spend a great deal of time in any one unit, but we did get to flog all three around some trails to develop some ride impressions.
COMPARISON: Read our review of the Kawasaki Mule 4010 Trans4x4
While the RTV X1120D and X1100C are equipped with three-point seatbelts, the X900 only has a lap belt. While the lap belt makes getting in and out easier, we prefer the security of a three-point harness.
While capable of inducing grins on the trails, the Kubota RTV X-Series is at home on the jobsite.
All three units have a very similar feel inside. The first thing we noticed was how comfortable the throttle pedal felt. This may not sound like a big deal, but taller riders often feel cramped in a UTV. This was not the case with the RTV X-Series. Leg room was generous and it was easy to push down on the throttle to find a consistent speed without your foot/ankle being in an uncomfortable position.
Expect plenty of hard-pulling torque from any of the three diesel-powered RTV X-Series machines. These machines are designed to haul big loads and operate heavy implements.
As expected, neck-snapping throttle response isn't on the menu. While the RTV X1120D boasts a top speed of 29 mph (46 kph), it doesn't get there quickly. This is due in large part to the heavy-duty construction of the RTV X-Series. The RTV X900 General Purpose tips the scales at 1,907 pounds, while the cab-equipped X1100C weighs in at 2,370 pounds.
All that weight, however, isn't a bad thing. The weight feels nice and low in the chassis, which makes the entire RTX X-Series feel very planted. This is a huge bonus for anybody who has to work around uneven terrain as the vehicles are exceptionally stable.
Kubota's power steering system is perhaps the lightest we've ever felt.
Speaking of dealing with uneven terrain, the power steering system in the RTV X-Series is about the lightest we've ever tested. Though we didn't get to test out a unit loaded to its full capacity, turning the steering wheel could be easily one with one finger – even at low speeds. We generally prefer a little less power steering input for sporty trail UTVs, but for a work vehicle the lighter the steering the better. This system is really impressive and we can only imagine how much better your shoulders would feel after spending a day behind the wheel operating a big rotating sweeper.
Another home run for Kubota is its dynamic engine braking. We pointed the RTV X1120D down some very steep hills, took our foot off the pedals and let the dynamic braking take over. The machine crawls slowly down the hill every time, allowing the user to concentrate on pointing the tires in the right direction. When combined with the vehicle's low center of gravity, the dynamic braking makes descending even the nastiest hills simple and worry free.
COMPARISON: Read our review of the Polaris Big Boss 6×6 800
While the diesel-powered RTV X-Series models have the torque to push up most any hill, we did have some trouble when the ground got a little muddy and we were operating a unit with Turf tires. If you think you'll be working around muddy areas with big hills to climb, just opt for one of the more aggressive tire choices.
When the temperature drops, you'll wish you had the RTV X1100C.
As the mercury was hovering around freezing during the day of our test, we were excited to climb into the cozy confines of the cab-equipped RTV X1100C. The cab features both heating and air conditioning, so it's comfortable no matter the season. It got warm enough in the cab where we were able to roll down the windows a crack to let in some fresh air. As an added bonus, the cab was also quiet. We expected more vibration and general noise, but the cab felt like part of the machine, rather than just an add-on. We came away very impressed.
Implements
Kubota has a host of implements available to help you get the job done.
A series of work vehicles would not be complete without a line of implements and attachments and Kubota does not disappoint. We saw a commercial V-blade, sweeper and sprayer that are all controlled from inside the cockpit with a joystick, but Kubota has many more attachments to offer for its RTV X-Series.
Published November 12th, 2013 11:50 AM
Top Brands
Popular Articles