18 Views
Mahindra Ready to Take on UTV Market
July 31st, 2015 12:00 PM
Share
We're committed to finding, researching, and recommending the best products. We earn commissions from purchases you make using links in our articles. Learn more here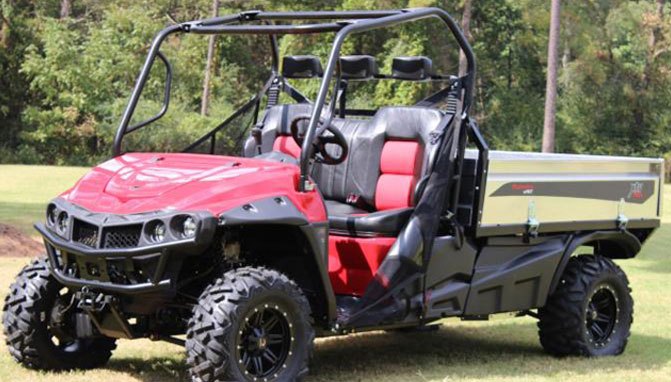 Top-selling tractor company to release six-UTV lineup
While Mahindra may not be a name the off-road community is familiar with, that may change in the very near future. The tractor manufacturer is throwing its hat into the UTV world in 2015 with an ambitious six-vehicle lineup.
Mahindra is not just any tractor manufacturer – it is the top selling tractor in the world. While it is very much an international company with deep roots in India, North America will be the testing ground for the new mPACT XTV lineup.
Despite Mahidra's international ownership, the mPACT XTVs are being made in the United States by Intimidator, Inc. out of Batesville, Ark. Intimidator is a name that may ring a bell as it has been building exceptionally tough UTVs for years, which the mPACT lineup is based off.
It is the relationship with Intimidator, Inc. that ensures the mPACTs are not just any run-of-the-mill UTVs. Each machine can tow up to 2,100 pounds and haul between 1,000 and 1,200 pounds in the cargo bed. Also, each machine sold will be backed by a three-year powertrain and one-year full vehicle warranty. Only Kawasaki offers comparable warranty protection on its UTVs.
COMPARISON: 2014 John Deere Gator XUV Lineup
Two different Kohler powerplants are available for consumers to choose from – a 1000cc diesel or a 750cc gas engine. These engines will power three different body styles – Standard, Crew, and Longbed.
mPACT XTV S (750 and 1000)
The most compact UTV in the lineup, the XTV S has seating for three and is capable of towing up to 2,100 pounds.
mPACT XTV S (Standard) models include single-row seating for three, 1,200 pounds of cargo capacity, 2,100-pound towing capacity, 16 cubic feet of cargo volume, and is 113 inches long. MSRP = $12,999 (750) and $15,999 (1000)
mPACT XTV C (750 and 1000)
The XTV C has room for six.
Featuring two rows of seating for six people, the XTV C (Crew) models offer 1,000 pounds of cargo capacity, 2,100 pounds of towing capacity, 16 cubic feet of cargo volume, and is 149 inches long. MSRP = $14,999 (750) and $17,999 (1000)
mPACT XTV L (750 and 1000)
Mahindra's ultimate work machine is the XTV L.
The hardest worker in the mPACT lineup is the XTV L (Longbed). It offers single-row seating for three, 1,200 pounds of cargo capacity, 2,100-pound towing capacity, 34 cubic feet of cargo volume (including storage compartments under the bed), and is 149 inches long. As well, the sides of the bed can be folded down to create a flatbed, giving users the ability to carry larger items that wouldn't fit in a standard size cargo bed. MSRP = $15,299 (750) and $18,299 (1000)
If you fold down the sides of the XTV L's bed, it turns into a flatbed that is capable of hauling large items.
All mPACT XTVs come with preload adjustable shocks with additional mounting points, front and rear independent suspension with 10 inches of travel, 14-inch aluminum wheels, 27-inch tires, 12 inches of ground clearance, all-wheel disc brakes with 10.25-inch rotors, and two-inch front and rear receiver hitch. Other features include standard front bumper, electric power cargo box lift, digital display gauge, tilt steering, 12v outlet, auto-lock front differential, push-button rear differential lock, and 36:1 low gear ratio. As well, a host of accessories are available, including cab systems, nerf bars, heater, speaker bar, roofs, and windshields.
COMPARISON: 2015 Gravely Atlas JSV Review
On paper, these look like impressive machines. We reached out to Mahindra USA's Chris Karibo (Senior Business Manager) and Cleo Franklin (Vice President – Marketing and Strategic Planning) to get a little more information and they were kind enough to answer our questions.
Mahindra says the mPACT XTV lineup is very comfortable for driver and passengers. We are looking forward to finding out for ourselves.
ATV.com: Will the mPACT XTVs be markedly different than the Intimidator UTVs already available?
Mahindra USA: Yes, styling cues and color will be markedly different. Additionally, the Mahindra units will have a number of standard features not included on the base Intimidator units such as electric power cargo box lift, aluminum wheels, and front receiver hitch.
Electronic power cargo assist comes standard on all mPACT XTV models.
ATV.com: Approximately what percentage of current Mahindra tractor dealerships will carry the mPACT XTV lineup?
Mahindra USA: Our goal is to have all of our dealers ordering to stock and sell. From our RDM orders…we feel confident we will have good coverage.
ATV.com: Can Intimidator production keep up with the demand of Manindra's dealer network if the mPACT XTVs are successful?
Mahindra USA: Yes, Intimidator has committed to accelerated ramp up plans and additional capacity in 2015. Additionally, Intimidator has a plan and ability to continue to scale up accordingly over the next several years as dictated by demand.
Mahindra is hoping its tractor owners will be interested in a Mahindra UTV for the ultimate work fleet.
ATV.com: What kind of warranty will come standard on the mPACT XTVs? Are extended warranties offered?
Mahindra USA: Our Warranty leads the industry! 3-YR Powertrain Warranty and 1-YR Full Vehicle. Similar to our position with tractors, Mahindra units are positioned to be reliable and durable machines and, accordingly, will carry industry-leading warranty programs to back it up. We expect to offer extended warranty packages later in the year.
COMPARISON: 2014 Kubota RTV X-Series Review
ATV.com: Who is the target buyer for the mPACT XTVs? Is Mahindra targeting current UTV owners or focussing on its tractor clientele?
Mahindra USA: Although it will be a natural extension to the Mahindra tractor portfolio, the Mahindra mPACT XTV lineup will have the range of features to be satisfy the needs of numerous user segments in the Utility Vehicle category (farmers, property owners, hunters, and commercial users to name a few). As we explored potential opportunities to expand into adjacent categories, Mahindra dealers provided strong support for Utility Vehicles as this product is a strong complement to tractors with a shared customer base.
ATV.com: Are the mPACT XTVs designed as pure working vehicles or is Mahindra trying to capture some of the trail riding segment as well?
Mahindra USA: The Mahindra mPACT XTVs are designed to offer exceptional work capability, but can still provide the ability to comfortably and reliably traverse challenging terrain. Accordingly, the Mahindra mPACT brand proposition is 'Haul More, Tow More and Go More'. This promise is supported by class-leading features such as 1,200 lbs Cargo Box capacity, a unique 34 cu ft cargo box that folds down to a flatbed, 2,100 lb towing capacity, and 12" of ground clearance – all backed by a 3-YR Powertrain Warranty.
You expect to see Mahindra mPACT XTVs in dealerships in the near future. Visit MahindraXTV.com for more information. Lucas Cooney
I have been working exclusively in digital media since 1997. I started out with TSN.ca, spending nearly nine years creating and editing content on Canada's leading sports website. I left to join VerticalScope, Inc., one of the world's largest online publishers, to start a number of powersports publications. While at VerticalScope, I've helped create and oversee content for a wide variety of different publications, including ATV.com, Off-Road.com, ArcheryTalk.com, Tractor.com, RVGuide.com, and many more.
More by Lucas Cooney
Published February 24th, 2015 5:01 PM
Top Brands
Popular Articles