1 View
Best Food Plot Implements For ATVs and UTVs
April 26th, 2021 7:03 PM
Share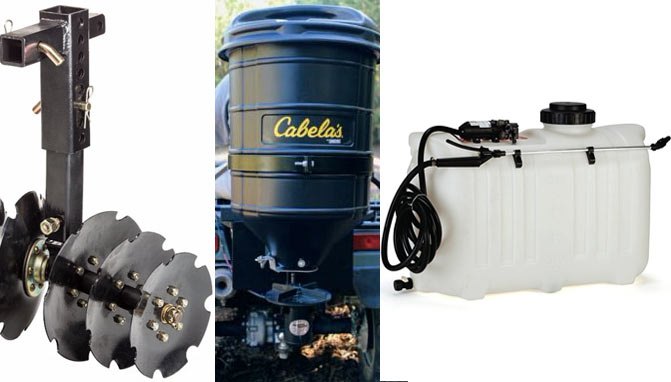 Use your ATV or UTV to prepare for hunting season
Food plots have become as much a part of the hunting landscape as the tree stand, it seems. The use of ATVs and UTVs in making and maintaining food plots is also a major part of that landscape as they are a natural fit and there are a number of food plot implements to help you on your way.
From plows to spreaders to sprayers, we are showcasing some of our favorite food plot implements that can be attached to your Utility ATV or UTV. You'd be surprised just how much your machine is capable of when it comes to maintaining your hunting food plot. Pick up a few of these and see how much better your next hunting season goes.
Table of Contents
1. Editor's Choice: Kolpin DirtWorks System
Kolpin makes a lot of great products, but its new DirtWorks system is simply awesome. It converts the two-inch receiver on your ATV or UTV into a three-point system like on a tractor, complete with an electronic control to raise and lower the implement. From there, you can select disc-plows, harrows, chisel plows and more. It is a one-stop setup for making an entire food plot. Look for more on this system down the road.
Sometimes you just need something simple, and the Groundhawg is that – a simple disc-plow that connects to your vehicle's receiver. It uses the weight of the machine to push into the ground, so you'll need ramps to set the depth when you plow. We've used one of these plows for two years and have been impressed with how well it works. You need a machine with a strong two-inch receiver. These are also extremely durable, as after two years of use, ours still looks as good as new.
After you get your plot tilled up, it's time to spread the seed. This spreader from Moultrie has a hopper than can hold up to 100 pounds of seed, lime or fertilizer. It is powered by a 12-volt motor. Other features include an easy on/off lid, abrasion-resistant deflection shield, adjustable shut-off gate to regulate the amount of product dispensed, built-in quick release for simple detachment, and a universal mounting bracket that is compatible with most ATVs.
4. North Star High-Pressure Spot Sprayer
There are a lot of great ATV sprayers on the market and our favorite is this North Star High-Pressure spot sprayer. This sprayer can deliver up to two gallons per minute at full open flow and has a maximum pressure of 200 psi that allows you so spray up to 30 feet away. Other features include an adjustable spray nozzle (atomized mist/wider cone/narrow stream), commercial grade plunger pump for easy priming, 35-foot hose, and a tank that holds up to 16 gallons.
5. Swisher 14.5HP Finish Mower
Whether you have let your food plot get overgrown or you want to expand, having a pull-behind mower will be a huge help. This finishing mower from Swisher has a robust 603cc Kawasaki V-Twin engine that will blast through brush and long grass with ease with its 60-inch cutting surface. It is outfitted with three mulching blades, simple-to-use height adjustment (1.0 to 5.5 inches), and 2.5-gallon fuel tank.
From personal experience, we can say that a winch is a must have implement. As you're going along plowing, it is entirely possible to get stuck, and we do mean STUCK. It happened to us just last year. Another plus to having a winch is that it can be very helpful in clearing debris, such as a fallen tree, from the area you want your plot.
Recent Updates
April 26, 2021: Added the Swisher mower to the list and two FAQs at the bottom of the article.
We are committed to finding, researching, and recommending the best products. We earn commissions from purchases you make using the retail links in our product reviews. Learn more about how this works.
What is the best ATV for food plots?
If you are going to be hauling plows and using an assortment of implements, going with a larger-displacement ATV or UTV is wise. It won't hurt to have too much machine for the job, but it sure will be a problem if you don't have enough. Something in the 700 class or larger would be ideal. We wouldn't say one brand stands out, but if you are going to be relying on your ATV to help you work, stick with the brands that have proven reputations for making ATVs that last.
What are ATV implements?
ATV implements are attachments or accessories designed to help you get work done. This could be a plow or a snow thrower or a brush cutter or anything else you see on our list.
Published May 24th, 2017 11:09 AM