4 Views
2018 Kawasaki Mule SX 4×4 XC SE vs. American Landmaster Landstar 677EPS: By the Numbers
July 17th, 2018 11:33 AM
Share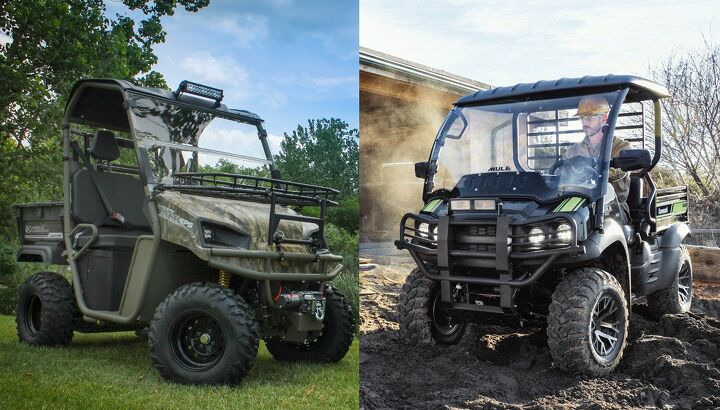 Kawasaki's mighty mini Mule SX has some competition coming from the Midwest – Indiana, to be exact – in the form of the American Landmaster Landstar 677EPS. How do these small work machines stack up? Let's take a look by the numbers.
Kawasaki has pretty much owned the utility market with the mighty Mule lineup over the years. The Mule Pro series is now the flagship for the brand, and Kawasaki brought that technology and styling down to the smaller, all-new Mule SX machine a couple of years ago. This smaller Mule is just right for getting the job done when you need a compact, do-it-all machine. No other manufacturer really has a small machine to compete for the market share, that is, until now.
How many of you have driven past a farm supply store or other outlet and seen the UTVs being sold there? Have you ever wondered if they're really any good? It's a question I've been asked more often that I can even remember. Most of the time, those machines are imported and look suspiciously like older versions of popular major brand machines. The lower price hooks people into buying them and then they spend countless amounts of frustration dealing with repairs from machines that frequently break down but are scarce on available parts. There is, however, a shining star among the wreckage. American Landmaster is a company making great strides to be a serious contender in the Utility UTV segment, and coming at it from an entirely different angle.
Midwest Origins
Kawasaki, as most of us know, builds the Mule machines in its amazing factory in Lincoln, Neb. The only truly "imported" part is the engine, which comes from the Kawasaki factory in Japan. The machine was designed completely in the U.S. and thoroughly tested here as well.
The American Landmaster, or ALM, has origins spread across the country. It started as a Texas-based company with a factory in Indiana. Recently, it has reorganized and rebranded, completely relocating to the Indiana facility. The machines are built in that small factory, with engines coming from Kohler in Wisconsin.
Engines
The Kawasaki Mule SX has a near bulletproof 401cc air-cooled single cylinder motor. It runs through a CVT transmission with high and low range as well as neutral and reverse. It has two- and four-wheel drive with a dual mode locking rear differential. The motor has a lot of torque and will chug along quite well. Top speed is a blistering 25 mph. Well, maybe not blistering, but you get the idea.
The ALM runs a 694cc Kohler LandMAXX air and oil cooled, V-Twin motor rated for 20.5 horsepower that runs through a CVT transmission. It has a switch-operated on demand four-wheel drive with fully locking differentials and a gear-driven Schafer/DANA oil-cooled transaxle. This machine will run up to 24 mph and offers a lot of thump for the money.
Capabilities
Kawasaki offers the Mule with its Kawasaki Strong three-year warranty. The Mule SX can handle 400 lbs in the steel dump box and a total load capacity of 926 lbs. It'll tow 1,100 lbs with a two-inch receiver hitch standard. The fully-loaded XC SE has four LED headlights, stylish graphics, a hard roof and aluminum wheels.
American Landmaster offers its machine with a 12-moth bumper-to-bumper warranty and a three-year warranty on the drivetrain. It has a 500 lb. poly dump box and a total load capacity with people included of 1,000 lbs. It has a 2-inch receiver built into the frame and will tow 2,000 lbs. It comes standard with LED headlights, a folding windshield and a hard roof.
Cost is pretty comparable with both machines. The Kawasaki has an MSRP of $9,399 for the Mule SX 4×4 XC SE, though there are a variety of trim levels available. ALM asks $8,599 for the 677EPS. The Kawi comes in any color you want as long as it's black. You can get other color combos with different packages. ALM offers the 677EPS in red, green, black, white and Realtree camo for an extra charge. Being a smaller company, ALM can also do special editions at a quicker pace, too. It recently offered customers the chance to special order the Untamed edition machine with camo trim, a special tan powder-coated frame and a serious hunting accessory package.
For info on the Kawasaki Mule, go to www.kawasaki.com or to your local Kawasaki dealer.
To learn more about the American Landmaster, go to https://americanlandmaster.com/american-built-utvs/ls-677-eps/ or stop by your local dealership and check them out.
Published July 17th, 2018 11:33 AM
Top Brands
Popular Articles