7 Views
2011 Polaris Ranger RZR XP 900 Unveiled
June 17th, 2015 4:51 PM
Share
We're committed to finding, researching, and recommending the best products. We earn commissions from purchases you make using links in our articles. Learn more here
88 horsepower and 14 inches of travel among highlights
Though 2011 is still in its infancy, we can say with some confidence that it won't be easy for any manufacturer to top what Polaris did on the opening day of the year. On January 1, 2011 Polaris unveiled the latest and greatest member of the RZR family – the Ranger RZR XP 900.
Polaris had been hinting at a significant new machine for a couple of weeks, but when it was finally revealed our jaws dropped and little pools of drool formed at our feet. Simply put, no major manufacturer has ever come up with a side-by-side like this. It's got a huge amount of power and more suspension travel than anything else on the market. We can't wait to get our hands on it.
Power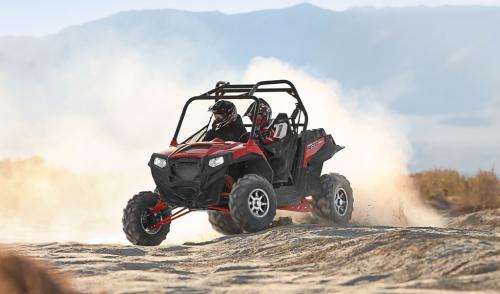 That sound you hear is the off-road community letting out an audible gasp.
You might be inclined to look at the name – Ranger RZR XP 900 – and assume it's just a RZR S 800 with a slightly bigger engine. You would be sorely mistaken. Beyond the brand new 875cc mill (more on that in a second) the RZR XP has a new transmission and a new rear suspension that looks like it will take this RZR to a whole new level of sport performance. Power, however, is still the headline grabber so let's start there.
Polaris says the new ProStar 900 engine was designed specifically for a sport side-by-side.
"When picking the powerplant for a new side-by-side some would have thought that the Sportsman 850 engine would have been a great choice, but we knew we wanted to go further … way further," says Roger Hapka, director of product planning off-road vehicles division. "We made the decision to pursue an all-new engine design that would enable us to achieve our definition of extreme power without any compromises."
The result is the new ProStar 900 EFI Twin, which according to Polaris is the first engine specifically designed for a sport side-by-side vehicle. It features dual overhead cams and four valves per cylinder, along with a 750-watt charging system designed to power a wide assortment of accessories.
"This lightweight, high-output design provides a class-leading, ground-pounding 88 horsepower," boasts Hapka. "You get acceleration that is 29 percent faster than the next closest side-by-side on the market."
To complement the potent powerplant, which pushes the RZR XP to a claimed top speed of 73 mph, Polaris designed an all-new transmission. According to Polaris, efficiency has been maximized by eliminating all right angle drives to the rear axle resulting in less friction and more power delivered directly to the rear wheels. Polaris also claims the design results in a very quiet transmission.
We're eager to try out the trailing arm IRS.
Suspension
All this power has to be safely harnessed so Polaris took to redesigning the rear suspension. Gone is the traditional dual A-arm independent rear suspension we've all grown accustomed. In its place is a new 3-Link Trailing ARM IRS. The 3-link design consists of two radius rods and a far forward-connecting trailing arm.
"The trailing arms connect forward in the chassis to provide an awesome 14 inches of terrain-absorbing rear travel," says Hapka. "Radius rods extend deep into the wheel hubs and feature geometry that optimizes camber. Tires lean into the corner through the suspension travel and plant more tire surface on the ground for maximum control."
Complementing the new rear suspension is a set of two-inch Fox Podium X 2.0 piggyback reservoir shocks. Those same shocks can also be found up front, mated to the traditional dual A-arm design. The front A-arms were extended to help provide a whopping 13.5 inches of travel. This new suspension works to provide an impressive 13 inches of ground clearance.
Fox Podium X 2.0 piggyback reservoir shocks are found on all four corners.
"This combination of premium Fox shocks and 14 inches of trailing arm suspension travel provide handling and control in rough terrain like you've never experienced on a sport side-by-side," says Hapka. "There is nothing in the recreational side-by-side market that even comes close to suspension capability of the Ranger RZR XP 900."
The RZR XP 900 leaves a very wide footprint.
Other Features
Like the other members of the RZR family the RZR XP features Polaris' patented engine-behind-the-seat design and rear weight bias. Polaris boasts that this delivers "extreme, razor-sharp agility and performance."
Helping further set the RZR XP apart are the industry's first factory LED headlights, which are designed to throw light forward beyond conventional halogens. As well, the RZR XP features cast aluminum wheels wrapped in ITP XCT 900 tires – the same ones found on the RZR S.
A quick glance at the spec sheet reveals a few other items of note. Due to the beefed up suspension, the RZR XP is now the widest in the family at 64 inches – 3.5 inches wider than the RZR S and RZR 4. The wheelbase measures in at 81.4 inches – 4.4 inches longer than the RZR and RZR S. Additionally, the RZR XP tips the scale at 1,190 pounds dry – 190 pounds heavier than the RZR S. Also, unlike every other member of the RZR family the RZR XP does not come with a standard receiver, but seeing as this is about as far from a utility vehicle as you can get we don't think it will be missed very often.
The Ranger RZR XP 900 is offered in Indy Red and a White Lightening limited edition model, which includes black aluminum rims, cut-and-sew seats, a painted Indy Red suspension, and a Hot White paint job. Consumers will be able to find the RZR XP at dealerships in January and more than 70 Pure Polaris accessories are already available, including cargo boxes, winches and protection items.
Pure Polaris already has more than 70 accessories ready to fit the RZR XP 900.
As you may suspect, a machine like this won't come cheap. The Ranger RZR XP 900 has an MSRP of $15,999 ($16,599 for the LE model). As a comparison, the 2010 RZR S retailed for $13,999 before Polaris took off the Fox shocks in 2011 and Can-Am's top end Commander (Commander 1000 X) has an MSRP of $14,699.
It may be pricey, but we can't remember being this excited to test out a new product since the original Ranger RZR came out in 2007.
We'll get a chance to step behind the wheel of the RZR XP in a few weeks. You can expect a full report shortly thereafter on ATV.com. You should also keep an eye out on the ATV.com Blog and the ATV.com Twitter feed for updates from the official launch. This should be exciting!
2011 Polaris Ranger RZR XP Specs
Engine Type:
4-Stroke DOHC Twin Cylinder
Displacement:
875cc
Fuel System:
Electronic Fuel Injection
Cooling:
Liquid
Transmission:
AutomAtiC PVT P/R/N/L/H; Shaft
Drive System:
On-Demand True AWD/2WD
Front Suspension:
Dual A-Arm 13.5 in. Travel
Rear Suspension:
Trailing Arm, Anti-Sway Bar 14.0 in. Travel
Front/Rear Brakes:
4-Wheel Hydraulic Disc with Dual-Bore Front Calipers
Front Tires:
27 x 9-12; ITP 900 xC
Rear Tires:
27 x 11-12; ITP 900 xC
Wheels:
Cast Aluminum
Wheelbase:
81.4 in.
Dry Weight:
1,190 lbs
Overall Size (L/W/H):
108.4 in. x 64 in. x 73 in.
Ground Clearance:
13 in.
Fuel Capacity:
7.25 gal.
Bed Box Dimensions (L/W/H):
23 in. x 38 in. x 10 in.
Box Capacity:
300 lbs
Payload Capacity:
740 lbs
Cargo System:
Lock & Ride
Lighting:
White LED, High/Low
Instrumentation:
Digital Gauge, Speedometer, Odometer, Tachometer, Tripmeter, Hour Meter, CloCk, Gear Indicator, Fuel Gauge, Hi-Temp/ Low-Batt Lights, Coolant Temp, DC Outlet
Colors:
Indy Red, white Lightning (LE)
MSRP:
$15,999 ($16,599 LE)
Related Reading
2011 Polaris RZR S 800 Review
2010 Polaris Ranger RZR 4 Review
2010 Polaris Ranger RZR Review
2009 Polaris Ranger RZR S Review
2011 Can-Am Commander Preview Lucas Cooney
I have been working exclusively in digital media since 1997. I started out with TSN.ca, spending nearly nine years creating and editing content on Canada's leading sports website. I left to join VerticalScope, Inc., one of the world's largest online publishers, to start a number of powersports publications. While at VerticalScope, I've helped create and oversee content for a wide variety of different publications, including ATV.com, Off-Road.com, ArcheryTalk.com, Tractor.com, RVGuide.com, and many more.
More by Lucas Cooney
Published January 3rd, 2011 2:03 PM
Top Brands
Popular Articles