12 Views
2011 Can-Am Commander Preview
June 17th, 2015 4:52 PM
Share
We're committed to finding, researching, and recommending the best products. We earn commissions from purchases you make using links in our articles. Learn more here
Can-Am joins the side-by-side party
For model year 2011 BRP has come to market with a sporty new side-by-side that is sure to be the talk of the industry for quite some time – the Can-Am Commander.
BRP is clearly gunning to take over some of the lucrative side-by-side market currently dominated by Polaris, Yamaha, Kawasaki, and Arctic Cat. To appeal to as many consumers as possible, the Can-Am Commander is available with two different V-Twin engines. The Commander 800 features a 71-horsepower Rotax 800 EFI, while an 83-horsepower Rotax 1000 EFI powers the Commander 1000. Prices start at $11,699.
If you want further proof that BRP has big expectations for its new side-by-side, the Commander 800 is available in two different packages, while consumers can choose between three different Commander 1000 models.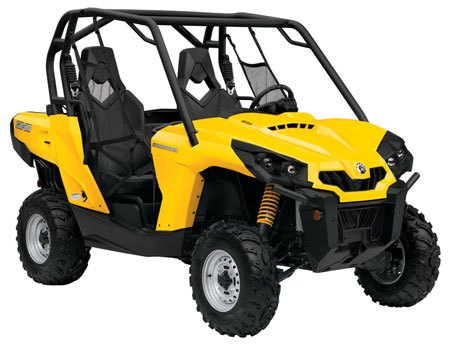 The Can-Am Commander 800R is the lowest spec of the five available models for 2011. MSRPs have not yet been released.
Engine
According to BRP, the Rotax 800 EFI engine is the most powerful side-by-side mill under 1000cc in the industry, while the Rotax 1000 EFI V-Twin is purported to be the most powerful engine in any side-by-side. Each features electronic fuel injection and BRP claims that both offer class-leading fuel economy.
The Can-Am Commander family also features Intelligent Throttle Control (ITC). This new throttle-by-wire system works in conjunction with the throttle body to produce smooth throttle delivery even if one foot is bouncing due to the terrain. BRP says the ITC system detects unwanted bounces and filters the input. This is designed to result in more throttle accuracy, especially at low speed. Also, the system has no cables to adjust or replace.
Dual-Level Cargo Box
The dual-level cargo box offers a unique way to separate what you're hauling around.
Five-way pre-load adjustable gas shocks are found at all four corners.
BRP took advantage of every inch of available space for storage.
Another very cool feature on the Commander is the Dual-Level Cargo Box. This is the industry's first cargo box with two levels separated by a removable, water resistant panel. This offers the user the opportunity to have an upper and a lower bed with an independent tailgate.
The box has an impressive carrying capacity of 600 pounds – 400 pounds on top, 200 pounds underneath. It's built using high-strength, anti-rust and anti-dent composite. Both the upper and lower tailgate can be removed without tools and feature a truck-like single latch. There are also integrated vertical grooves for plywood dividers and an optional trunk lock is available as an accessory to secure the lower level.
Suspension
Up front the Can-Am Commander is cushioned by double A-arm independent suspension with dive-control geometry, which is designed to eliminate diving under heavy braking and rough terrain. Out back you'll find Torsional Trailing Arm Independent (TTI) Rear Suspension, which BRP says was inspired by off-road trophy trucks. This system is designed to provide excellent control, especially in rough terrain. Wheels move rearward as they move up and down to produce a smoother ride. Plus, TTI has up to 75 percent fewer parts than competitive designs and should reduce tire wear significantly.
At all four corners you'll find five-way pre-load adjustable gas shocks the manufacturer says have the largest diameter in the industry (36mm/1.4 in.) and provide 10 inches of suspension travel.
Other Features
Each Commander also comes with a Visco-Lok front differential, which progressively transfers power from a slipping front wheel to a gripping one automatically. The system can lock up to 100 percent with no rev or speed limiter. It also requires no switches to flip – simply put it in four-wheel drive and go.
The Commander also boasts a two-inch diameter, high-strength steel ROPS-approved cage, a 240-watt lighting system, quick-attach side nets, three-point seatbelts with anti-cinch, 214mm disc brakes with twin-piston calipers, two-inch rear hitch receiver, removable comfort seats (driver seat is adjustable) that feature lumbar support, adjustable tilt steering, dual cup holders, and a huge 10-gallon gas tank.
Additionally, the Can-Am Commander offers 31.6 liters (nearly 2,000 cubic inches) of cockpit storage, 11 inches of ground clearance, 1,500 pounds of towing capacity, and a 650-watt magneto.
Cam-Am Commander 800R and Commander 1000
These base model Commanders are available in yellow for 2011 and come with all the features mentioned above, along with 26-inch Carlisle Black Road radial tires on 12-inch steel wheels. The Commander 800R retails for $11,699, while the 1000 has an MSRP of $12,799.
Can-Am Commander 800R XT and Commander 1000 XT
All the standard elements of the base models with the addition of the XT package items installed at the factory. The XT package includes a 4,000-pound winch, 26-inch Maxxis Bighorn 2.0 tires (6-ply), 14-inch cast aluminum wheels, upgraded gauge with analog and tachometer and speedometer, heavy-duty front bumper, rugged bed rails, mud guards on the wheel wells, and premium leather-wrapped steering wheel. Both are come in yellow, red, or an industry-exclusive NEXT G-1 Vista camouflage. The Commander 800R XT retails for $13,199 ($13,799 for camo), while the 1000 XT has an MSRP of $14,299 ($14,899 for camo).
BRP gives the XT treatment to the Commander 800R (pictured) and the Commander 1000.
The Can-Am Commander 1000 X
This is the high-performance sport model we're most excited about. It comes with all the standard elements of the base model with the addition of the sporty X package. The most notable feature of the X package is the 47mm aluminum piggyback shocks built by Fox Racing Shox. The shocks are fully adjustable with high- and low-speed compression, high- and low-speed rebound and multi-position pre-load adjustment. Both front and rear shocks offer 10 inches of travel. With advanced high- and low-speed tuning available, users can dial in suspension performance to their preference. The large-diameter design and piggyback construction is intended to help dissipate heat. The Commander 1000 X has an MSRP of $14,699.
Thanks in large part to its aluminum piggyback shocks from Fox Racing Shox, the Commander 1000 X looks to be Can-Am's answer to the Polaris Ranger RZR S and the Arctic Cat Prowler XTZ 1000.
Other features in the X package include 12-inch Aluminum beadlock wheels, 26-inch Maxxis Bighorn 2.0 tires (6-ply), updated gauge, heavy-duty front bumper, rock sliders, leather-wrapped steering wheel, X-package seat trim and graphics. The Commander 1000 X is available in black with yellow accents.
Wait, There's More!
While most of the focus on the 2011 Can-Am lineup is understandably on the new Commander side-by-side, BRP also unveiled two new Outlander ATV models – the Outlander 800R X xc and the Outlander 800 R X mr.
Can-Am Outlander 800R X xc
If you follow Grand National Cross Country (GNCC) ATV racing at all, you'll notice that Can-Am basically dominates the 4×4 classes, thanks in large part to the Outlander 800R. Of course, most of those models have been heavily modified for racing and often look little like a stock machine off a showroom floor. For 2011, BRP aims to change that by offering a new Outlander that is designed to be the ultimate racing 4×4.
The new Outlander 800R X xc (MSRP $12,499) was inspired and tested by Can-Am's factory racers on the GNCC circuit. According to BRP, it has been designed to provide unprecedented trail performance direct from the dealership.
If you're looking for a race-ready utility ATV, Can-Am offers its new Outlander 800R X xc.
To make this Outlander "race-ready" BRP has added premium features like DPS power steering, premium aluminum beadlock wheels, 25-inch ITP Holeshot ATR tires, embroidered gripper seat cover, and an aluminum skid plate. Also, this new Outlander is outfitted with a fully adjustable suspension package. KYB piggyback shocks with high- and low-speed compression adjustability and preload adjustment are found in the front, providing 8.5 inches of suspension travel. The rear also features KYB shocks with remote reservoirs and high- and low-speed compression modification with preload adjustability, providing 9 inches of travel.
Can-Am Outlander 800R X mr
Mud racing seems to be growing in popularity every year and Can-Am has clearly taken notice. For 2011, BRP is offering a mud-specific ATV – the Can-Am Outlander 800R X mr (MSRP $13,099). This new mud machine was developed with one of the most famous names in ATV mud performance – Gorilla Axle.
The X mr starts with the longer wheelbase of the Outlander 800R MAX platform to offer improved performance in the deep stuff. Additionally, the radiator has been relocated to the front rack, keeping it high up on the ATV and out of the mud and water. Also, the CVT intake, CVT exhaust and engine air intake were placed as high in the machine as possible to keep mud and water out of important components. As well, an air-control suspension system (ACS) was added (high-pressure Fox Racing Shox front and rear), which allows users to dial in their preferred ride height: high for when getting into the mud hole and lower for riding to and from the mud. As an added bonus, the ACS system comes with an air hose from the compressor than can be used to fill up the tires. Finally, no mud machine is complete without oversized wheels and tires – this new mud-killer features premium 14-inch ITP cast-aluminum wheels and massive 30-inch Gorilla Axle Silverback tires.
The Outlander 800R X mr is Can-Am's first mud-specific machine.
More Changes for 2011
Beyond the two new models we've already mentioned, the Outlander family has a few new touches for 2011. The gauge features a new clock function, graphics have been updated, and a new sliver and black painted option is available for XT-P package. The Renegade family also received the new clock function in the gauge, as well as a new white color option, updated graphics, and new graphics package for the Renegade 800R X xc. Finally, the Outlander 800R MAX LTD received a new Metallic Blue painted color.
For a closer look at Can-Am's new Commander and Outlander models, check out our photo gallery for dozens high-resolution pics.
Comparable Vehicles: Polaris Ranger RZR, Polaris Ranger RZR S, Arctic Cat Prowler 1000 H2 XTZ, Kawasaki Teryx 750, Kawasaki Teryx 750 Sport, Yamaha Rhino 700, Yamaha Rhino 700 Sport
Related Reading
2010 Can-Am ATV Lineup Unveiled
2010 Can-Am Outlander 800R EFI
2009 Can-Am Outlander MAX 800R EFI XT Review
2010 Polaris Ranger RZR Review
2009 Polaris Ranger RZR S Review
2010 Arctic Cat Prowler XTZ 1000 H2 EFI Review
2010 Kawasaki Teryx 750 FI 4×4 Review
2009 Kawasaki Teryx 750 FI 4×4 Sport Review
2009 Yamaha Rhino 700 FI Sport Edition Review Lucas Cooney
I have been working exclusively in digital media since 1997. I started out with TSN.ca, spending nearly nine years creating and editing content on Canada's leading sports website. I left to join VerticalScope, Inc., one of the world's largest online publishers, to start a number of powersports publications. While at VerticalScope, I've helped create and oversee content for a wide variety of different publications, including ATV.com, Off-Road.com, ArcheryTalk.com, Tractor.com, RVGuide.com, and many more.
More by Lucas Cooney
Published June 8th, 2010 3:09 PM
Top Brands
Popular Articles