1 View
2010 Can-Am ATV Lineup Unveiled
June 17th, 2015 4:19 PM
Share
Can-Am adds air-controlled suspension and power steering
Never a company to shy away from innovations, BRP certainly did not disappoint when it unveiled its 2010 Can-Am ATV model year lineup.
For 2010, Can-Am introduced the industry's first air-controlled suspension system, a new Dynamic Power Steering, and next-generation Visco-Lok QE automatic front differential. Those options, as well as winch, premium tires and wheels, are available in the XT and new XT-P packages.
"Our brand is more than ever poised to give the consumer what they demand most right now: value and innovation," says Yves Leduc, vice-president and general manager, North American sales & marketing Can-Am and after-sales operations. "In 2010, BRP brings exclusive technologies to the industry and strengthens its position as the brand that continues to innovate while delivering on its promise as the choice for the ATV enthusiast."
"In 2010, BRP once again proves to the world that the product is king," says Chris Dawson, vice-president and general manager, BRP International division. "Can Am provides greater power, better control and even more stunning looks than ever with its 2010 ATVs. It is what we believe ATV enthusiasts are looking for."
Air-Controlled Suspension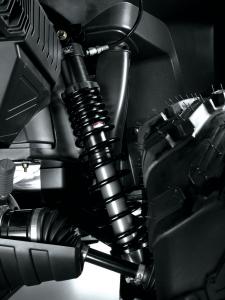 Can-Am's new ACS adds a lot of adjustability to the Outlander MAX Ltd line.
Power steering was the next logical step for the innovative minds at Can-Am.
One of the most intriguing new options we've seen in quite some time is Can-Am's Air-Controlled Suspension (ACS).
The ACS adjusts the rear high-pressure gas Fox Racing Shox-build suspension to six available settings. This allows the rider to quickly adjust the suspension depending on trail conditions, riding style or if a passenger is on board. According to Can-Am, even while fully loaded the handling characteristics will stay consistent.
As an added bonus, the ACS air compressor comes equipped with a hose that can be used to fill tires while you're out on the trail. So if you lowered your tire pressure to navigate some gnarly rock crawls and want to fill them back up to ride on some quick fire roads, it's as easy as pulling out the air hose.
ACS is available on the 2010 Outlander MAX LTD line.
Dynamic Power Steering
You knew it wouldn't take long for Can-Am to match Yamaha, Honda, Polaris and Suzuki with its own power steering. Can-Am's Dynamic Power Steering (DPS) is available with an industry-exclusive two rider selectable modes ("Min" and "Max"), allowing for more or less steering assist depending on rider preference or terrain.
According to Can-Am, the DPS has a quicker response to steering torque input than other power steering systems and features more kickback damping than the competition.
"In short: Less kickback, more feedback. And you can be assured the high-capacity, fade-resistant 50-amp motor means the steering assist level will never change no matter how hard you use it – unlike some competition's systems that fade with constant heavy use," Can-Am says in a release. "If you need more convincing our system stands up to whatever the trail bring, Can-Am racers have already proven DPS in the grueling GNCC race series."
DPS is available on all Outlander XT/XT-P models, the Outlander MAX LTD models and the new for 2010 Renegade X xc.
Visco-Lok QE
All DPS-equipped models also come standard with Visco-Lok QE. Can-Am says this engages the Visco-Lok progressively locking front differential even quicker – as soon as there is a speed difference between the two front wheels. This is the only fully-locking front differential in the industry that has no speed-limiting drawback.
Renegade 800R X xc
Building on the race specific DS 450 X xc and X mx released last year, Can-Am upped the ante for 2010 with a race specific Renegade – the Renegade 800R X xc.
The new Renegade 800R X xc will be tearing up cross country courses everywhere.
BRP engineers consulted with some of the world's top 4×4 woods racers to develop the new Renegade. The Renegade 800R X xc comes equipped with the new DPS and Visco-Lok QE, as well as full beadlock wheels and an industry first front swaybar. It also features high-performance KYB shocks, X xc package graphics and seat cover.
Exclusive front swaybar featured on the Renegade 800R X xc.
Renegade Pricing: 800R ($9,699), 800R X xc ($12,199), 500 ($8,049)
Outlander MAX Ltd Models
The Outlander MAX Ltd adds another engine choice for 2010. Joining the Outlander MAX Ltd 800R is the Outlander MAX Ltd 500.
Both Ltd models get an updated Garmin Nüvi 500 GPS unit with full touch-screen functionality. The user can easily take the removable GPS unit from the trail to the street. Both models also come standard with the Can-Am-exclusive XT package (premium painted plastic, XL3000 winch, front and rear bumpers, premium tires and hand guards), as well as an exclusive cast-aluminum wheel finish, premium seat cover, mud guards and painted plastic.
Outlander MAX LTD models feature an updated Garmin GPS unit.
Outlander MAX LTD Pricing: MAX 800R LTD ($13,449), MAX 500 LTD ($11,999)
XT-P Package
In addition to the popular Outlander XT package, Can-Am is offering additional upgrades with the new XT-P package for 2010.
The XT-P package includes all the benefits of the XT package, but with a premium painted plastic yellow / black finish, mud guards and black XT-P specific cast-aluminum wheels with color-matched inserts. The XT-P package is available on the Outlander 500, 650 and 800R family.
The color-matched inserts on the cast-aluminum wheels really stand out.
Outlander XT-P Pricing: 800R XT-P ($11,249), MAX 800R XT-P ($12,099), 650 XT-P ($10,399), MAX 650 XT-P ($11,249), 500 XT-P ($9,799), MAX 500 XT-P ($10,649)
DS 450
The DS 450 X mx receives updated heel netting for 2010. Can-Am says it is the first production ATV in the industry to come with factory-equipped nerf bars and heel nets. According to Can-Am, the netting is an added feature that many of the top Pro ATV motocross racers run on race ATVs.
The entire DS 450 family also features a redesigned radiator grill. Can-Am updated the grill for added protection and cooling performance.
A redesigned radiator grill can be found on all the DS 450 units, while the motocross specific 450 X mx features updated heel netting.
DS 450 Pricing: DS 450 ($7,799), DS 450 X xc ($8,949), DS 450 X mx ($9,149)
More Outlander 650 Power
The already-powerful Outlander 650 family gets even more power from the engineers at Rotax. The 650 engine gets a seven-percent increase in power bringing its horsepower total to a claimed 60. According to Can-Am, this makes the 650 engine the most powerful engine of any ATV below 800 cc on the market.
More Outlander Upgrades
All the Outlander 500, 650 and 800R models feature an updated front fascia and cast aluminum wheels.
For 2010, Can-Am has decided to outfit all Outlander, Outlander MAX and Outlander MAX LTD 500, 650 and 800R models with cast aluminum wheels.
Last year the Outlander 800R family received an updated front fascia. This year all Can-Am Outlander ATVs get the updated fascia, which Can-Am says allows for more airflow to the radiator and better cooling.
All Can-Am Outlander ATVs now have the industry-exclusive D.E.S.S. security system. The acronym stands for Digitally Encoded Security System, which means only the owner's key can start the ATV. According to Can-Am, with D.E.S.S., the ATV will not start by any other means other than its matched key.
Outlander and Outlander XT Pricing: 800R ($9,249), 800R XT ($10,749), MAX 800R ($10,099), MAX 800R XT ($11,599), 650 ($8,399), 650 XT ($9,899), MAX 650 ($9,249), MAX 650 XT ($10,749), 500 ($7,799), 500 XT ($9,299), MAX 500 ($8,649), MAX 500 XT ($10,149), 400 ($6,799), 400 XT ($7,849), MAX 400 ($7,649), MAX 400 XT ($8,699)
DS 250, DS 90 and DS 70
The DS 250 was unchanged for 2010, but it did receive a new T-class designation, meaning it is designed for riders 14 and older with a maximum regulated speed of 38 mph.
While the DS 90 and DS 70 were also unchanged for 2010, but the DS 90 received Y10 designation, meaning it is designed for riders 10 and older with a maximum unrestricted speed of 30 mph. The DS 70 retains its Y6 designation, meaning it is designed for riders aged six and older with a maximum unrestricted speed of 15 mph.
The DS 90 X received new X-package graphics and color scheme for 2010.
Can-Am gave its DS 90 X new graphics and an updated color scheme.
DS 250, 90 and 70 Pricing: DS 250 ($3,699), DS 90 ($2,499), DS 90 X ($3,349), DS 70 ($1,999)
Published June 1st, 2009 4:08 PM