127 Views
What is the Difference Between an ATV and a SxS?
October 2nd, 2023 11:16 AM
Share
We're committed to finding, researching, and recommending the best products. We earn commissions from purchases you make using links in our articles. Learn more here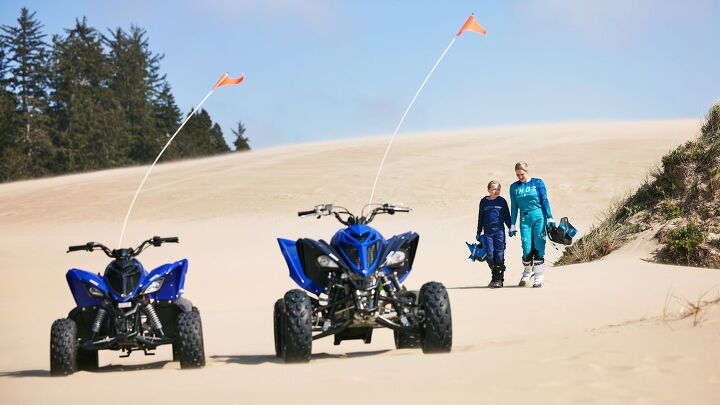 If you're looking for a new way to explore the great outdoors and have some fantastic adventures, then getting a new (or new to you) ATV or Side-by-Side (SxS) might be what you're looking for.
ATV.com thanks Yamaha for sponsoring this New Rider series.
Either of these machines allows you to see the roads less traveled across terrains that you'd never think about taking your daily driver through. They're a great way to take a break from everyday life and see nature like you've never seen it before. With so many different options available, the toughest decision you'll likely have to make is which machine is right for you. Things you need to take into consideration when making your purchase are the types of terrain you're planning on riding in, whether you're planning on taking someone with you or riding solo with a group of friends, and how you're planning to get to any of these riding areas.
These are key factors you need to take into consideration when making the decision to purchase an ATV or SxS. Fortunately for you, we have plenty of experience with both and are here to help make your decision easier by breaking down the pros and cons of both.
ATV 101
Before SxS vehicles were ever around, ATVs were the norm to see out and about. Even with ATVs, you have a wide variety of options to choose from. If you want that E-ticket riding experience, a Sport ATV like Yamaha's YFZ450R or Raptor 700R might be what you want to get. They're fast, nimble, easy to transport, and really do provide an experience that you can't get on any other machine. These are the machines you primarily see in the western states since there is plenty of wide open desert terrain and great sand dune recreation areas where these machines really shine. We're not saying that you won't find them in the central and eastern states, because plenty of people ride them there on some of the most popular trail systems in the US.
The downside of these machines is that you are limited to the terrain you can ride on because of the design. These machines have a low ground clearance, are only two-wheel drive, and by design have a smaller fuel tank, which means less range. Additionally, Sport ATVs are only designed for one rider, so if you're planning to take a friend for a day of riding, you'll need to have two machines.
Now if you want something that is a little more comfortable and much more capable, a Utility ATV might check all of the boxes for you. Don't let the word Utility fool you, though. Utility ATVs were primarily designed for working purposes, meaning that comfort was a large focus while riding. Add the fact that most have four-wheel drive ability, and can carry a substantial load on the luggage racks, you can enjoy a long day out on the trails in style and comfort on a machine that is capable of handling extremely tough terrain.
Depending on what brand of ATV you're considering, you might have an option of a 2-up model, meaning it was designed on a longer chassis to accommodate a second seat for a passenger. While these ATVs can go pretty much anywhere Sport ATVs can go and beyond, they're not as nimble, nor do they provide the same level of excitement. The tradeoff is comfort, load capacity, ability to carry a passenger, and finally the capability to tackle some of the most difficult terrain you can find.
Just like with Sport ATVs, these types of machines have their disadvantages. First is that they're priced substantially more, which is understandable since there is more to the assembly and they come with some features like a winch, power steering, etc. They are also substantially larger, meaning they can be more difficult to load into your average pick-up truck, so you might be better off with a trailer to make transport easier.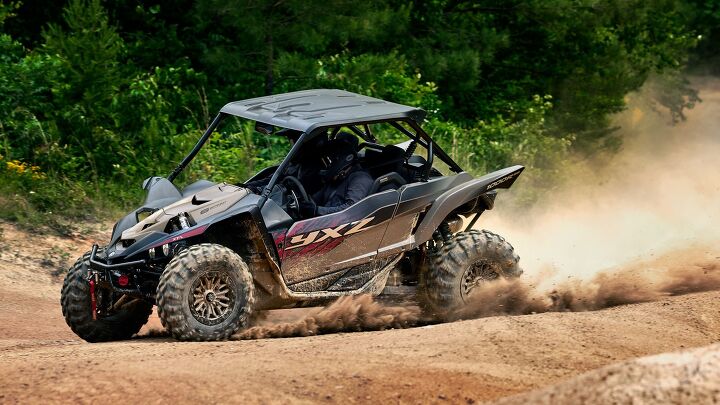 The Case for SxS Vehicles
Today's SxS vehicles are extremely comfortable whether you're purchasing one that was designed for high performance or recreation. Second, it doesn't matter if you want to head out solo to ride with friends or if you want to take a passenger or three since you also have the option of 4-seat or even 6-seat models. Additionally, these machines offer an added level of safety and security since they're equipped with seat belts and ROPS (roll over protection system).
We're pretty hardcore ATV enthusiasts, but one of the big advantages of a SxS over an ATV is that many of them come with a fairly large cargo bed. This gives you the option to securely carry a good size load, making it perfect for those that might want to take their machine for a weekend camping adventure. Load up a tent, cooler, chairs, and anything else you can think of to explore remote areas for some peace and quiet.
Finally, late model SxS vehicles are as comfortable as a sports car. Most have a base package with bucket seats, while many offer factory installed stereo systems, and even leather wrapped steering wheels. These kinds of features make sense since manufactures want you to be comfortable for a long day, or days behind the wheel.
One potential downside to a SxS compared to an ATV is the price tag. Where you could get a highly capable Utility ATV, you could pay more than double for some SxS vehicles. In addition to the higher price tag, unless you already have a trailer that is another expense that you'll need to take into consideration.
The Choice is Yours
Regardless of which style of machine you opt to go with, you're guaranteed to have a great time getting outdoors and getting away from your screens. Published September 1st, 2023 4:44 PM
Top Brands
Popular Articles