60 Views
Five of the Best ATVs for Mudding
July 4th, 2018 10:59 AM
Share
We're committed to finding, researching, and recommending the best products. We earn commissions from purchases you make using links in our articles. Learn more here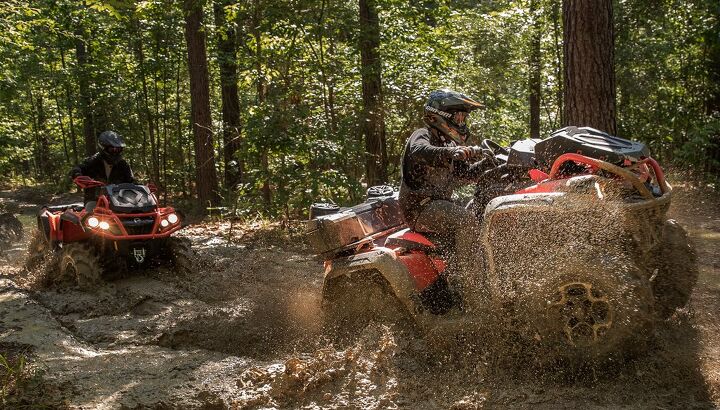 Playing in the mud is something we never want to outgrow. With that in mind, here are five of the best ATVs for mudding you can find at your local ATV dealer.
Several huge down-pouring thunderstorms went through my area recently and turned the big pit out on the backside of my property into a seemingly bottomless quagmire of dark, thick muck. There's a good chance I'm going to ride an ATV through it enough times that I'll get completely covered in filth and get the machine dirty enough to have to spend several days washing and rewashing it to try to get all the mud out. With this in mind, I decided to look at the best ATVs for mudding that you can currently find at your local dealer.
Mud riding on an ATV is a whole lot of fun and such a big pastime that the manufacturers offer some machines specifically designed for going through the nasty stuff. When looking at what makes a machine the best as a straight-up mud monster, there's a few things to consider. Horsepower is a big one, at least to some folks. Set-up is another area that is of consideration. Some of the specialized mud machines have high-mounted radiators, mud tires and more. All things to consider. One thing that is of special importance to me is handling. To make a list of the best machines, it's got to handle great. Of the machines currently available that would make you a good mudder, here are five of the best ATVs for mudding.
The Renegade is already a great performance machine, but the mud-specific design is really something to behold. It is powered by an 89-horsepower 976cc Rotax V-Twin and runs on 30-inch ITP Cryptid tires on 14-inch beadlocks. It's got extra skid plates, and specialized bumpers with a high-mounted air intake. There's a 3000-pound Warn winch mounted up front, too for those times when the mud is just a little too much for you. The CVT transmission has an extra low gear for crawling through and getting all the torque the motor can muster. This is a beast of a machine and definitely not for beginners. But for seasoned riders, it's definitely one of the best ATVs for mudding you can find anywhere.
Polaris teamed up with the mud specialists at High Lifter to create a factory-prepped mud edition of the popular Sportsman XP 1000. This muck master runs an 88-horsepower 952cc ProStar Twin-cylinder engine. It runs on 29.5-inch High Lifter Outlaw 2 tires and much more. Polaris shields the clutching and intakes to keep mud out and it mounted the radiator to the front rack and routed twin cooling fans to keep the machine running cool. Polaris also mounted up a 3500-pound Polaris winch and a special high-center mud handlebar along with high mounted bumpers and stiffer spring to boost ground clearance. The CVT transmission is geared low especially for mud running too, to help get that power to the ground, or rather, mud.
Somethings never seem to change, and we're okay with that, especially when we're talking about ATVs that work. The Textron Alterra MudPro has been around for a while. It was here when Textron went by another name and will continue to be around for a while. Why? Because it is a simple, strong-running machine that works for what it was intended for. It has a 675cc H1 Single-cylinder motor with closed-loop EFI. It has a snorkel air intake and has Maxxis Zilla tires mounted on 14-inch beadlocks. The best part is the price, as you can get this specialized mud machine for under $10,000. This was one of the first ATVs of its kind and is still one of the best ATVs for mudding you can buy.
I know what you're thinking – this isn't a mud-specific machine, Derrek. Just what am I thinking? That's easy, actually. The Grizzly is a near bulletproof with a legendary 708cc single-cylinder DOHC motor that makes tons of torquey horsepower. The Yamaha benefits from having the best CVT system in the industry, too. You're not going to burn up a belt with the Yamaha unless you really try to ruin it. The other thing that Yamaha has going for it is amazing handling. The Yamaha has always been one of the most fun ATVs to ride and you feel almost invincible on it. Knowing your machine is reliable and dependable, as well as great handling makes the Grizzly an easy choice when you want to realize your muddy adventure.
Can-Am is pretty serious about mud. It offers more mud-specific machines than any other OEM and have a wide range of models to fit lots of budgets. So, why would I include the Outlander X mr 1000R when I already had the big-bore Renegade? That's easy. The Outlander is a different animal than its cousin. This machine is longer, using the Outlander MAX as a base. This gives the MR a longer, 59-inch wheelbase to give you extra leverage and improved mud performance. You also get the passenger foot-wheels to use for leverage when you're riding with the front wheels up through the mud hole. The Outlander has extended bumpers and a relocated radiator for extra cooling. It has Fox Podium QS-3 shocks for superior handling too. A 3000-pound Warn winch and an extra-low transmission are also standard equipment on the muck-master Outlander, making it one of the best ATVs for mudding you'll ever see. Derrek Sigler
Derrek's love for all things ATV started when he was a mere 11 years old, growing up on his family farm. His mom gave him and his sister a choice - get a horse, or a three-wheeler. The sister wanted the horse, and Derrek wanted the ATV. Luckily he won out, and was soon burning up the trails on a Yamaha Tri-Moto 200. By the time he was 14, he had saved enough of his own money by working on the farm and in his folks restaurant to buy a new 4-wheeler. That happened the day he and his mom were driving past the dealership and saw 1987 Banshee. His mom had no idea what he was buying, and he never looked back. He's been riding ever since, and been writing professionally for many years. He has ridden all over North America and been behind the controls of just about every machine out there. And yes, he still has his 1987 Yamaha Banshee.
More by Derrek Sigler
Published July 4th, 2018 10:59 AM
Top Brands
Popular Articles