1 View
How To Load an ATV on a Truck Without a Ramp + Video
July 8th, 2015 4:58 PM
Share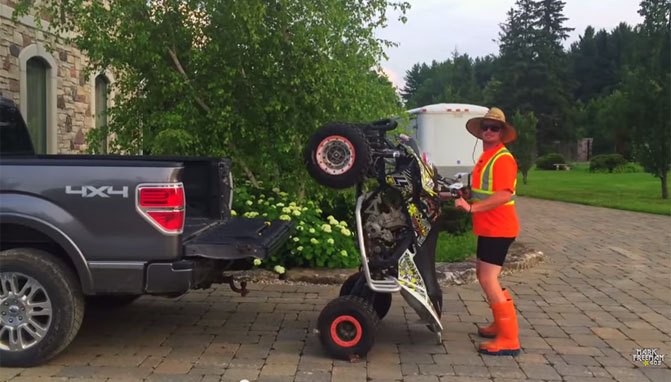 Don't try this at home
So you just bought yourself an ATV, but you forgot to get a ramp. While you could simply go out to your local dealer and purchase an appropriate ramp, YouTube star Mark Freeman has offered up an instructional video showing how you can load your ATV onto your truck without one.
We don't want to spoil too much of the video, but it's worth noting that Freeman also shows you how to unload your ATV without a ramp as well.
While we would recommend a quality ramp, should you want to follow Freeman's advice, you might want to invest in a weightlifting belt and a good supply of Advil.
Get the Flash Player to see this player.
If you enjoyed this instructional video as much as we did, it would be worth your while to check out his YouTube channel. He is a prolific poster of videos with ATVs, dirt bikes, and snowmobiles.
Published July 8th, 2015 4:54 PM