24 Views
Best Titan Ramps for Loading ATVs and UTVs
February 12th, 2021 2:28 PM
Share
We're committed to finding, researching, and recommending the best products. We earn commissions from purchases you make using links in our articles. Learn more here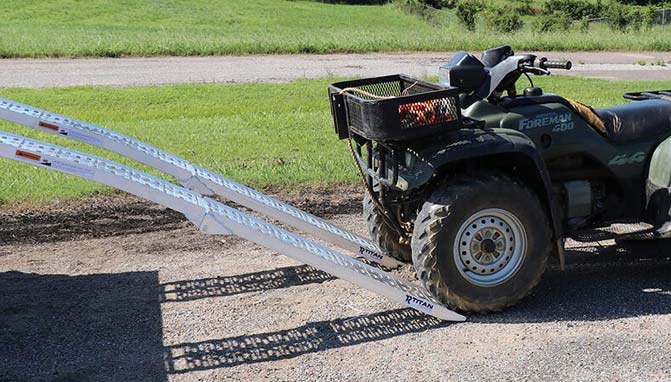 The biggest name in ramps has plenty of options for off-road vehicles
If you spend any amount of time loading and unloading your ATV or UTV, a good pair of Titan ramps is worth its weight in gold.
Titan is one of the leading manufacturers of loading ramps, with a full suite of products encompassing everything from lawn mowers to wheelchairs, and from cars to heavy equipment. ATV and UTV loading ramps are something of a specialty for the company, too, with a range of options of different lengths and weight ratings so that no matter what you drive, you'll be able to find a pair of Titan ramps to load it.
A quick note on safety: different Titan ramp models are designed and built to support different peak weights. Great care must be taken to ensure that whatever ramps you choose to buy are rated to support the full weight of your vehicle. That means the manufacturer's reported curb weight, plus the weight of any modifications, cargo, and gas.
With that in mind, we've rounded up the best Titan ramps for the avid ATV or UTV owner, so that you can pick out exactly the right set of ramps for your needs.
1. Editor's Choice: Titan 10-Foot Folding Aluminum Arch ATV Ramps
Some ATVs require more clearance than others, and in cases like those, we might recommend these 10-foot folding aluminum Titan ramps. They fold out to an impressive 10 feet in length, maintaining a narrower angle with the ground for extra clearance, and the tops are arched. They're the perfect solution if, say, the truck your loading into has a suspension lift, raising the bed higher than stock, or if your ATV gets a flat out on the trail. And while they don't have the grippy plate tops featured on the 7.5-foot ramps listed above, they do feature serrated crossbars, helping your ATV's tires maintain traction in slippery conditions, and they weigh a combined 45 pounds with a 1,200-pound weight rating.
2. Budget Option: Titan 7.5-Foot Aluminum Plate Top Ramps
Steel is a versatile material, but when it comes to delivering maximum strength at a given weight, it's got nothing on aluminum alloy. These aluminum plate-top Titan ramps fold out to 7.5 feet in length and they support a combined 1,500 pounds, but tipping the scales at just 33 pounds, they're far lighter – and thus, easier to deploy – than a comparable pair of steel ramps. Plus, they fold down to less than 4 feet long, making them easily stowable, and they're the only ramps on this list to feature aluminum plate tops with traction cut-outs designed to grip your ATV's tires even in the rain and snow.
3. Most Versatile: Titan Wide Truck Loading Ramp
If you are looking for a ramp that will work for your ATV or a large motorcycle, the Titan 8-foot aluminum HD 4-beam wide truck ramp is a great option. This is technically three ramps in one. Tied together, you get a single ramp that is 40 inches wide and eight feet long. That's great for loading a riding lawn mower or a motorcycle, but a little narrow for most ATVs. However, if you separate the pieces, you can use the two outside sections to load your ATV onto a truck or trailer. Weighing in at 86 pounds, this is no lightweight setup, but it has a total capacity of 2700 pounds and the versatility you need if you need to load up more than just an ATV. It also features an arched design for better clearance, serrated crossbars for traction, and a pair of included safety straps that tie the three pieces together.
4. Best UTV Ramps: Titan 10-Foot HD Wide 4-Beam UTV Loading Ramps
If your UTV requires a bit more clearance than the 8-foot heavy-duty Titan ramps can provide, there's a 10-foot model available, as well. It boasts all the same great features – a strong, four-beam design with a 2,700-pound combined weight rating, grippy serrated crossbars, included safety straps – but with a bit more runway for vehicles with less ground clearance. Chances are your UTV won't need that extra clearance, but if you're looking for a single set of ramps that can also handle your golf cart, your mower, and whatever else, these 10-foot HD Titan ramps are perfect. Keep in mind that this is a heavy duty ramp and it doesn't come in light, tipping the scales at 102 pounds.
5. Titan 8-Foot HD Wide 4-Beam UTV Loading Ramps
As great as the above Titan ramps are, they're just not going to cut it for most modern UTVs. If you've got a Polaris Ranger, a John Deere Gator, or something similarly sized, we'd recommend these 4-beam heavy duty loading ramps. As a rule, more beams equals more strength, and that rule holds true here; these ramps are rated to a combined 2,700 pounds, despite weighing in at a very manageable 90 pounds. Each ramp measures 4 feet long when folded, or 8 feet deployed, providing enough runway for most UTVs. The tops are arched for a bit of extra clearance, and they feature serrated crossbars for traction.
How heavy are Titan ramps?
There is no one answer to this question, but generally speaking heavier ramps are able to carry heavier loads. So if you only have a mid-size ATV to load, you can get away with the 7.5-foot aluminum ramps we talked about above, which only weigh 33 pounds. However if you have a UTV loaded with accessories, you'll need something a little more robust, like the 8- and 10-foot UTV ramps listed above, which weigh between 90 and 102 pounds.
Do you need longer or shorter ramps?
There's a give and take when it comes to choosing the right length of ATV or UTV ramps. Longer ramps offer a more gradual climb into your truck or trailer than shorter ramps. Personally, we prefer longer ramps when loading into the back of a truck (ideally around 10 feet). Just keep in mind that longer ramps are a little more cumbersome to handle and you need more space for storage. But if you are just loading into a trailer, which is typically lower to the ground than a truck bed, you can get away with much shorter ramps. Six to 8 feet is usually plenty in this case.
We are committed to finding, researching, and recommending the best products. We earn commissions from purchases you make using the retail links in our product reviews. Learn more about how this works. Aaron Brzozowski
Aaron is a freelance writer, videographer and car enthusiast based out of the Detroit area. He has a special affinity for the Porsche 944 series, and once owned a Volvo 240 sedan with a Weber carb in place of the factory EFI system. His work has appeared on AutoGuide, GM Authority, /Drive, and VW Vortex, among other sites.
More by Aaron Brzozowski
Published February 12th, 2021 2:26 PM
Top Brands
Popular Articles