80 Views
Mad-Ramps ATV and UTV Pickup Loading System Review
March 4th, 2021 3:01 PM
Share
We're committed to finding, researching, and recommending the best products. We earn commissions from purchases you make using links in our articles. Learn more here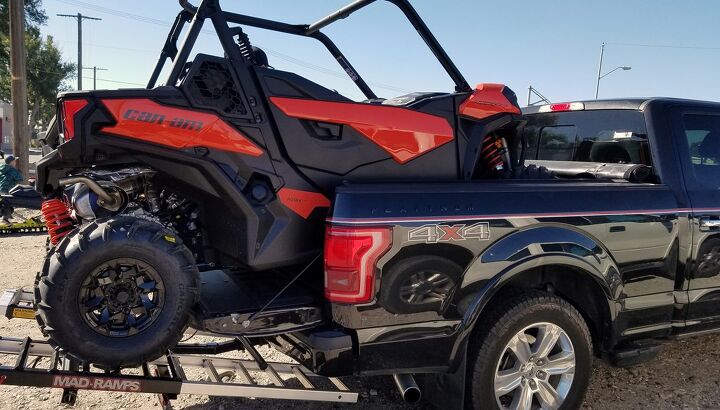 We had a chance to test out the Mad-Ramps pivoting ramp system, which allows you to load an ATV or UTV in the back of your pickup while still leaving some room for storage.
Do you have a short-box four-door pickup and a trailer to haul your ATV or side-by-side? Which do you mostly use, the pickup bed or trailer?
With the advent of four-door pickups, pickup boxes shrank from eight-foot beds to beds that are either 5.5- or to 6.5-feet, generally. The utilitarian pickup, with a short box became almost a car truckup; sort of to say.
Off-roader ATV junkies, farmers, elk hunters and snowmobilers are pickup folk. We get that, we truck owners. As off-road toys – such as ATVs and UTVs become more expensive, protecting these investments while towing is crucial. The explosion in covered trailer sales is a self-sustaining fire. However, off-roaders have reached a crossroad where a $50,000 pickup and an $18,000 covered trailer make it financially difficult to purchase the toys to stuff in the trailer.
But, why do we have a pickup? To haul stuff like an ATV or a 50-inch trail-rated UTV. Right?
Enter Mad-Ramps from Des Moines, Iowa, a company that allows ATV and 50-inch UTV owners to maximize the haul-purpose of their 5.5- or 6.5-foot bed pickup. Mad-Ramps is a product designed by one of America's hardest working and most ingenious worker – the farmer. No one can test harder or break something quicker than a farmer. Companies who promote something as being "farmer tough," better have the proof. Now, a functional product designed by a farmer, who understands load capacity, strength and durability and ease-of-use (farmers don't like wasting time fixing a poorly-designed product, or hooking onto an implement when one implement should do the work of two), is a product we pay attention to.
Back to the short bed four-door pickup discussion. Many ATV and 50-inch trail-rated UTV owners purchase ramps from either eBay, an off-road dealership or from a farmer-owned Co-Op. Then with these, they load their toy, place the ramps inside the pickup box and lose most available box space. Or, the ATV or 50-inch trail UTV owner hooks onto an open or enclosed trailer, loads their toy, to pull the trailer through the mud and muck with the possibility of becoming stuck. They may tow their trailer over a snowy highway where salt or any ice-thaw product slowly eats away the trailer's metal.
Mad-Ramps with its unique load-and-lock-and-stow system allows the ATV or 50-inch trail-rated UTV operator to drive into their pickup's box and securely lock down the dirt wheels toy with the back one-third remaining over the tailgate, resting on the reinforced and heavily supported ramps. This keeps the pickup's front box area available for tools, a storage box or fuel cans. Furthermore, the slide and hideaway ramps allow one person to load, store, haul and unload the vehicle with ease.
Here is Matt Pelzer, Chief Executive Officer for Mad-Ramps, giving his own testimony about how the Mad-Ramp system came to fruition:
I grew up on a farm in Iowa where ATVs are often used for daily work and are transported to other farming locations, sometimes multiple times a day.
We started buying four-door short bed trucks in the mid-2000s. They usually had a tool box, a fuel tank or some sort of equipment or tools in the box, thus not leaving enough room to haul our 4wheelers. We owned multiple trailers, which was a hassle: flat tires, failed wheel bearings and navigating in tight spaces to turn around the truck and trailer.
Around 2007 I and my father, Dave, assembled what is now known as a 'tailgate extender.' That somewhat worked, but we had to deal with ramps; almost everyone who has used ramps has had a close call whether, it's the ramp kicking out or slipping to the side. In addition to the safety issues, we also had to carry the ramps with us which didn't solve the space problem.
So around 2012 we invented the now patented 'Pivot Bar' and 'Pivot Cages' which are integrated with the ramps into a tailgate extender offering a stable all-in-one system that allows the ramps to telescope and then lock under the 'Bumper Guard.'
Back to the early days, the original tailgate extender used ¼-inch wall and two-inch square tubing, robust enough only for small and light ATVs. So after multiple attempts to reinforce the lighter material, we finally decided to go with a solid two-inch tube coming from the receiver hitch which then transitions down to a smaller size to keep the weight down. The reason Mad-Ramps uses 6061-aluminum is great strength-to-weight ratio. If the ramps were steel, some of the smaller lighter ATV's wouldn't have to leverage to pivot the ramps into the cradle position.
Not only did Mad-Ramps create a system that works with most ATVs and 50-inch trail-rated UTVs, but Mad-Ramps achieved its goal of creating a product that is engineered to last a lifetime.
Assembly
When the Mad-Ramps kit arrived, it came in four boxes. We don't know who packages the Mad-Ramp system, but the boxes and packing foam are tough. We can always tell who cares about their products by how well it is packaged for an 1,100-mile trip.
Prior to assembling the Mad-Ramps, read the instruction manual, go to Mad-Ramps' website, watch the video tutorials and then go to work. When we unpacked the components, we laid them out behind the truck, right-side and left-side components, and read the manual again.
Then we began the assembly. After our initial attempt, the telescoping aluminum ramps would not store under the truck's rear bumper as we wanted. With a phone call to Pelzer and some pictures pumped through email, Pelzer discovered we incorrectly installed the Bumper Guard. Our bad.
This can be a common mistake, when installing the bumper guard, slide it over the hitch from the front, not the back. After installing the Bumper Guard, move to the system's tail end, slide on the Light Bar, which will be bar number two – middle bar – then lastly, the pivot bar. Follow the instructions on distance measurements for the three bars, especially the distance between the metal ramp cages/pivot bar and tailgate (once dropped).
When making adjustments, be aware of all pinch points. We caught a finger or two until we wised up. Word to the wise, don't rush manipulating the telescoping load-and-store system. Methodically work all pivot points, slides and locks to ensure you have an injury-free time. We not saying Mad-Ramps is dangerous – just be aware the system has moving parts, like any off-road recreation product has.
The Mad-Ramp system comes with wires and lights that plug into the female-end trailer light plug. With U.S. Department of Transportation approved lighting, following vehicles can see the load system from afar.
Being the Mad-Ramp system is a pickup bed extender, know your truck will grow 4.5 feet when installed; backing up can be a bit dicey. We take two stalls at a grocery store. (Our truck is four-door F-150 with 6.5-foot bed.)
With the Mad-Ramp system installed and all measurements correct, we made our way to Bott Yamaha, Ski-Doo, Can-Am, and Sea-Doo in Idaho Falls, Idaho for some load and haul tests. Our first vehicle from Bott was the all-new 2018 Can-Am Maverick Trail. A beautiful critter. With fresh air in his lungs, salesman Derek Cox slipped the Can-Am Maverick Trail into low and 4WD and drove up into the ATV.com F-150. As the Maverick Trail moved forward, with a mild clatter and clunk, the ramp cages and ramps rotated up on the Pivot Bar as Maverick's load shifted. The rear tires locked down, via load-weight, on to the loading ramps and cages. The Can-Am was loaded. We tested the telescoping system by sliding the aluminum ramps through the metal ramp cages, to pressure lock them against the Bumper Guard. This too worked as designed.
Dang, that was sweet.
A crowd gathered as we repeated this for a two-up Can-Am Outlander. In concert, the Bott sales staff and customers said:
"That's slicker than… (your favorite poop word goes here).
"How much?"
"Where can I get this system?"
"These are safe."
We answered their comments and questions with " MadRamps.com."
With the load secure and room to store products in the box's front and side, we were off. By the way, Mad-Ramps ships with its system, strong ratchet tie-down straps. They thought of it all.
Conclusion
Mad-Ramps are, what we consider, ATV.com tough and secure. We receive many products to test. Some live up to expectations, some fall short, then some kick the doors down. Mad-Ramps is a door buster.
Other than our build screw up, and not understanding the ramps' pinch points – though these are clearly marked and discussed in the installation manual – the Mad Ramps system is perfect, we repeat, perfect for truck hauling that ATV or 50-inch trail rated UTV.
What about storing the Mad-Ramp system? Sold separately, but recommended, Mad-Ramps has an upright storage system – garage or shop wall mounted hooks that keep the ramps off the floor.
The Mad-Ramps system sells for $995.00. Optional ramp extensions are available.
Mad-Ramps also has a snowmobile system that we hope to test, being we live in the Rocky Mountains and we do it all.
Go to www.madramps.com for prices and information videos. Published October 13th, 2017 11:17 AM
Top Brands
Popular Articles