1 View
How To Build an ATV Camping Kit
December 28th, 2021 7:07 PM
Share
Tips, tricks, and quality items you should take on your off-road camping trip
When it comes to building your ATV camping kit you are faced with a long list of options. Our guide will help you get started on your next adventure.
If you haven't figured it out already, getting your family outside to enjoy the great outdoors is something you should do on a regular basis! The fresh air, new experiences, and best of all, lifelong stories that come out of these adventures are something to revel in.
The fact is, it's hard to know exactly what you should and shouldn't include in an ATV camping setup. A lot of it comes down to experience – if you've been camping before then you can use this as a guide for some of the latest gear. If you haven't been camping with your ATV or UTV before, use this as a guide of what you should have with you on your off-road camping adventure. This guide is coming from a person who has been setting up camp hundreds of times over the past 25+ years, and I just used many of these items on a recent 7-day, 710-mile UTV ride in the middle of the Arizona desert. The items that we used proved to be very durable and great for all conditions. So, rest assured that the items in this guide are worth your hard-earned money.
Remember, the trick is this: don't get too many things that overwhelm you when assembling your ATV camping kit. Remember to be purposeful with everything you buy! The neatest part about a camping kit like this is that you can either use this as your full weekend camping setup that you would use for a home base, or you could use this in/on your ATV or UTV to take with you on the trail and enjoy a night outdoors in solitude. Either way, all of these items are essentials for living it up on the trail.
ATV Camping Kit Essentials
First, allow us to expand upon the items that you're going to want in your own camping kit:
Sleeping: Tent, sleeping bags, sleeping pad, sleeping pillow, LED night light, bug spray (especially for mosquitos)
Cooking: Portable stove top, assorted pots and pans, reusable silverware, camp table, cooler
Trail: Water bottles, water filter, multi-tool, emergency poncho, emergency blanket, fire starters AND flame, tow rope, off-road capable GPS, multi-piece tool set, portable jump starter, jackets for warmth will include FXR jackets, Rotopax fuel containers for extra fuel, first aid kit, duffel bag for storage, axe and shovel combo
Sleeping Essentials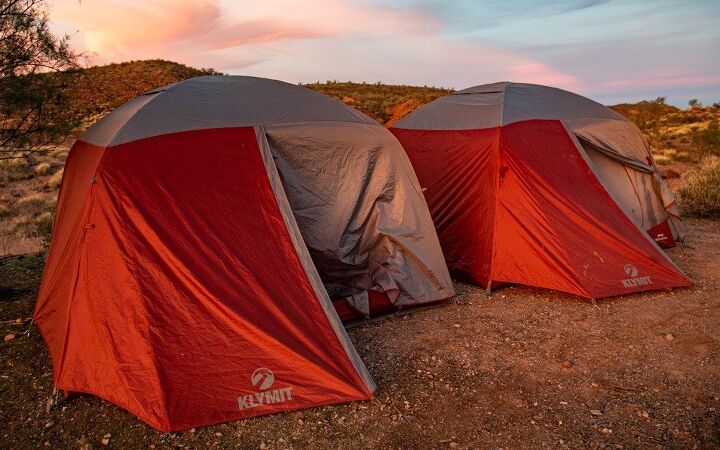 Start simple and get yourself a great sleeping setup. Don't fool yourself – a great night's sleep will encourage you, and the entire family, to keep getting out and enjoying the outdoors! One bad night's sleep or one bad experience can literally ruin camping for kids for years; don't let this be you! It's good to spend a little extra on your sleeping setup so that you're comfortable for one night, or several for that matter. You can buy a tent or sleeping bags from Walmart, but those aren't going to last. Save up and buy quality gear the first time so you can be comfortable from the start.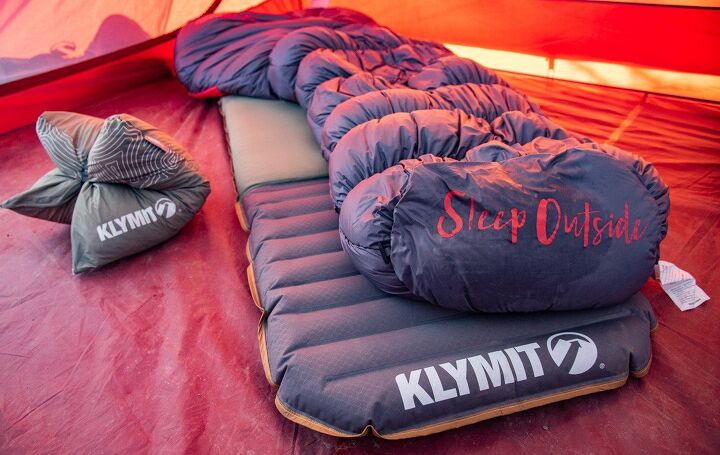 I just spent 7 days on the trail, and 5 of the nights were spent in Klymit tents and sleeping gear. There wasn't a night that I woke up in the morning tired, sore or longing for my real bed back home. That's saying something! Much of the credit is due to their incredible, thick sleeping pads. Plus, even in freezing 20-degree temperatures at night (Fahrenheit), I was warm and cozy in the KSB Large sleeping bag (I'm 6'3" and had plenty of room) without any additional clothes on to bundle up. Here are some helpful links for Klymit's camping products: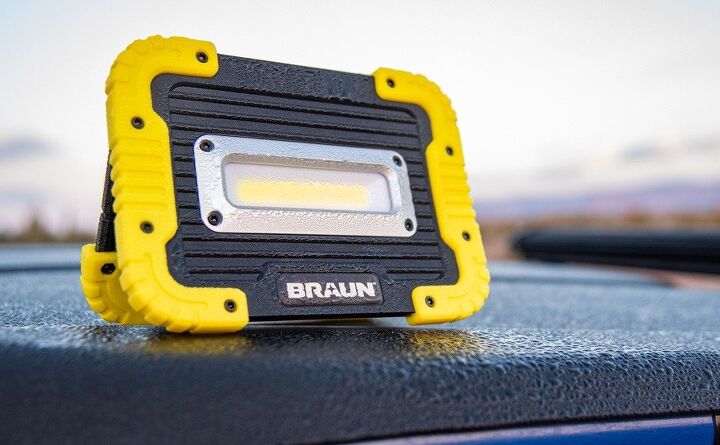 LED camping lights have long-lasting bulbs and extremely long-lasting batteries. It's always a good idea to have a lantern for your outside tables, along with a flashlight (or two) in your tent. These are generally affordable and it's worth picking up extra lighting for your ATV camping kit.
Bug Spray should always be on hand as well. If your family doesn't want to carry spray while camping, you can pre-treat clothes now with insect repellent before you leave the house. This is rated to last 6 washings and will not stain or damage your clothes.
Sawyer Products Insect Repellent: check price
In the event you don't want to spray chemicals on yourself or your family memebers, Thermacell products offer both portable personal insect repellers as well as tabletop models. These units use a built-in element, powered by a safe and compact 12-hour fuel cartridge, that heat up wafers that have been saturated with natured-inspired repellant and provide a 15-foot zone of protection against mosquitoes and other pests that love to feed on us. Take our advice…. these things are a godsend in buzzing buggy places.
Cooking Essentials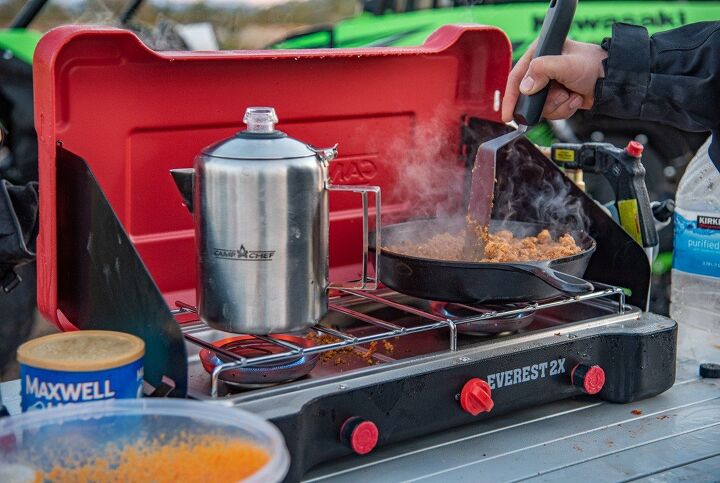 After you have your evening essentials assembled, the next thing that will keep you comfortable is having the right equipment to have a great meal (or 3 per day). Having a camp stove is essential, and you'll appreciate having a more powerful unit like the Camp Chef Everest 2x, which has 20,000 BTU burners instead of the standard 10,000 BTU's found in many others. It's one of the most invaluable items for any ATV camping kit. Your cooking times will decrease, and you'll be a happier camper. You'll also need pots and pans, silverware, and maybe even a way to make portable coffee, if you like that stuff. You'll also want a collapsible portable table to put these items on, and the Camp Chef Mesa Aluminum table folds up nice and tidy, extends upward when set up for taller people, and has plenty of working surface. I used 2 of these tables on our trip.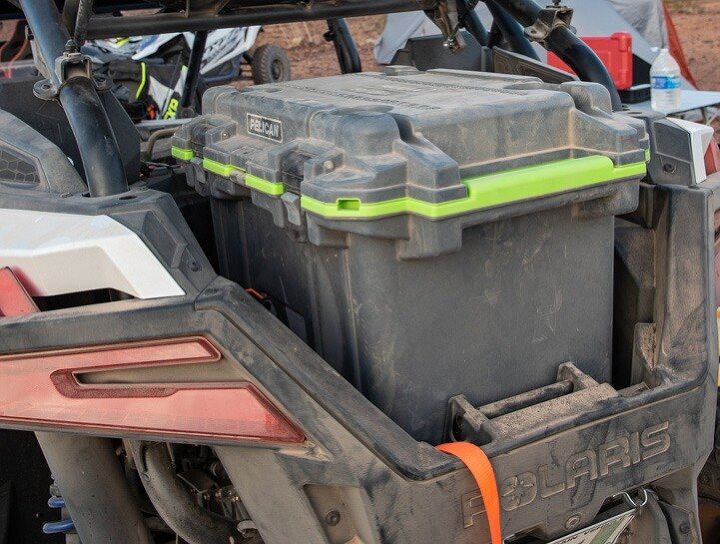 Last but not least, you need something to keep everything cold! We have used SO many coolers, but our 7-day trip consisted of 710 miles on the trail. We needed a cooler that could hold up to the abuse of being hauled in the back of a UTV, while also being able to keep all of our essentials cold. We only had to fill up this Pelican 50qt Elite cooler once on the trip, and it was sitting right above the engine the entire trip. I'd say that is excellent insulation and a great addition to any ATV camping kit.
Trail Essentials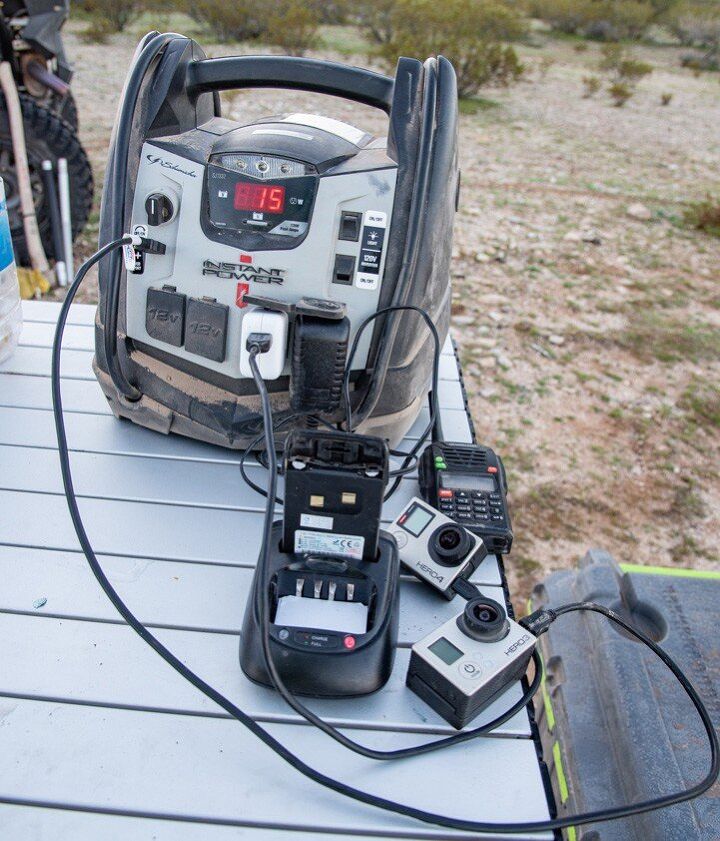 Now that you have your sleeping and cooking accessories, make sure you have items that help assist you while out on the trail. Storage is a bit more compact on an ATV, so we've made sure that these items are compact and able to fit in a backpack or duffle on a rack.
Obviously, don't feel like you need to go out and spend thousands on all of these items at once. However, all of these items represent what it would be like to have a fully stocked camping kit. It's taken me years to assemble a list of camping gear that closely resembles all of these items. Save this list and do your research – you'll be happy when you buy these items once and don't have to spend money repeatedly on good-quality items. Once you have many of these items in your ATV camping kit, you'll be sure to have a great, safe time out in the wilderness!
Happy shopping, and, even more so, happy camping! We'll see you on the trail…
Additional Resources
Recent Updates
12/6/2021: Updated product links, updated product descriptions, added new products, and additional resources.
Become an ATV insider. Get the latest news first by subscribing to our newsletter here.
We are committed to finding, researching, and recommending the best products. We earn commissions from purchases you make using the retail links in our product reviews. Learn more about how this works.
Published February 25th, 2020 5:37 PM
Top Brands
Popular Articles