126 Views
Best Coolers for Your Off-Road Adventures
April 1st, 2021 2:08 PM
Share
We're committed to finding, researching, and recommending the best products. We earn commissions from purchases you make using links in our articles. Learn more here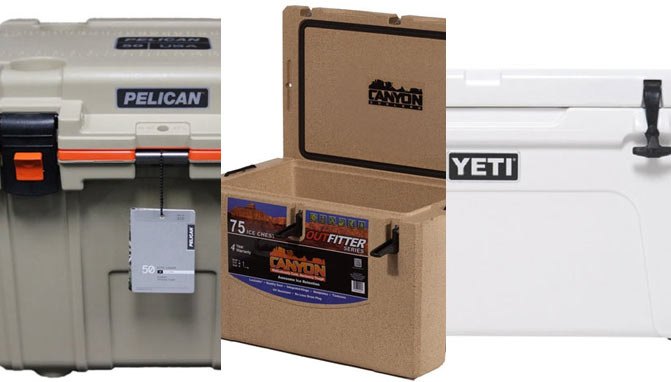 These coolers are designed to withstand the rigors of ATV and UTV riding
With the summer months just around the corner, it's time to get things ready for your riding adventures. Having a good ATV or UTV cooler is important for those epic rides. You want to have cool drinks and good food for the stops along the trail. The hot trend these days are the rotomolded, rugged coolers.
These ice chests start out with the same molding process used to make kayaks. They are then filled with dense foam, and they have a thick rubber seal around the lid to keep cold in. You'll often see boasts of being "bear proof" and this means that the lid can withstand a hungry bear – and yes, they do test them.
We've done our research (and some testing with a few of these) to find the best coolers for strapping down to the back of your ATV or in the bed of your UTV. Here are our favorites.
Table of Contents
1. Editor's Choice: SuperATV Cooler
SuperATV is not exactly the first brand that comes to mind when considering coolers, but it would be a mistake to overlook them. SuperATV makes UTV coolers specific to a variety of vehicles - you won't get that from regular cooler manufacturers. So whether you've got an older RZR 800 or a modern Maverick X3, you can find a cooler that will fit perfectly in the back. Each SuperATV UTV cooler is built with up to 3" thick insulating foam, rugged rubber latches, lip seal on the lid, 30-liter capacity, built-in drain plug, and all necessary mounting hardware. The coolers also double as a cargo box when you need a place to keep your gear dry.
Yeti started the cooler revolution with the first commercially successful rotomolded cooler. It has two inches of polyurethane foam insulation in the sides and three inches in the lid. The 75-quart model will hold 50 cans, enough for everyone on the trail to have a cold drink. They have built-in slots for tie downs to secure the cooler in the bed of your UTV and Yeti makes several brackets and locks to secure the expensive cooler in your machine.
3. Canyon Coolers 74 Qt. Outfitter
Canyon Coolers are one of the newer companies on the market and it came out swinging. Canyon Coolers originally designed its products for river rafters, so you know how tough the cooler is. The company is so confident in its products that it offers a lifetime warranty with the coolers. Ice retention is amazing - between 7 and 16 days. The latches are recessed, so they won't snag on anything and hold the lid securely.
4. Polaris Northstar Coolers
You just knew Polaris would get in the cooler game. Its Northstar coolers have all the features you'd expect from a rotomolded cooler, with the addition of being designed for off-road use. If you're driving a RZR, General or Ranger, there's no doubt the Northstar cooler will fit in the back. And if you're buying a new ride, maybe get the cooler as an accessory?
Pelican makes many of the gun cases and other containers for the U.S. Military, so while it doesn't go around saying its coolers are "military grade," they really are. With a 360-degree freezer-tight seal and 10-day ice retention, the Pelican has a ton to offer. What's better, the cooler is up to 30% lighter than competitors' coolers and still just as durable if not more.
When there are so many cooler companies out there, you have to do something to stand out. Orion did so by adding metal bottle openers on the four corners and including a padded, non-slip surface to the lid so the cooler can be stood upon. Ice retention is 7+ days and the Orions come with a light for inside the cooler. These are big, tough over-built coolers that will last for years.
7. Best Budget Cooler: Kemimoto Under-Seat Cooler
Kemimoto is another familiar brand for ATV and UTV enthusiasts and it makes a number of different UTV coolers. We like this 11-quart under-seat cooler, but Kemimoto also makes larger 26-quart and 20-quart coolers. The 11-quart rotomolded cooler can support up to 700 pounds of weight, so it can be used as a cooler or a seat when you get out of your UTV. Features include a built-in bottle opener, T-latches and gasket that create a tight seal, max-flow drain, stainless steel carrying handle, integrated fish ruler on the lid, and molded tie-down slots with lock plates.
Recent Updates
April 1, 2021: Added two new coolers to the list and included information on securing your cooler to the bed of a UTV.
We are committed to finding, researching, and recommending the best products. We earn commissions from purchases you make using the retail links in our product reviews. Learn more about how this works.
How do you tie down a UTV cooler?
Having a cooler sliding around the bed of your UTV every time you take a corner or accelerate is no good. Investing in a set of tie-down straps is a great way to keep your cooler safe and secure, but that can be annoying, as you have to take them off to get inside. But if you get the SuperATV cooler or something sold directly by the ATV manufacturers, they will often allow you to lock them down without blocking the lid from being opened. Derrek Sigler
Derrek's love for all things ATV started when he was a mere 11 years old, growing up on his family farm. His mom gave him and his sister a choice - get a horse, or a three-wheeler. The sister wanted the horse, and Derrek wanted the ATV. Luckily he won out, and was soon burning up the trails on a Yamaha Tri-Moto 200. By the time he was 14, he had saved enough of his own money by working on the farm and in his folks restaurant to buy a new 4-wheeler. That happened the day he and his mom were driving past the dealership and saw 1987 Banshee. His mom had no idea what he was buying, and he never looked back. He's been riding ever since, and been writing professionally for many years. He has ridden all over North America and been behind the controls of just about every machine out there. And yes, he still has his 1987 Yamaha Banshee.
More by Derrek Sigler
Published May 10th, 2017 3:59 PM
Top Brands
Popular Articles