87 Views
5 Essential Items for Your Off-Road Adventures
October 23rd, 2023 10:22 AM
Share
We're committed to finding, researching, and recommending the best products. We earn commissions from purchases you make using links in our articles. Learn more here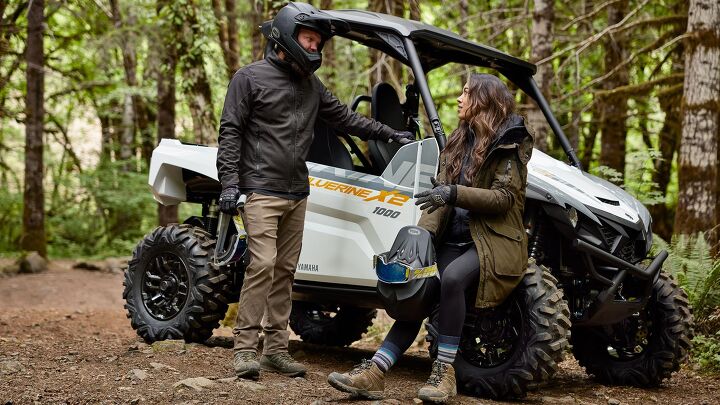 When you're getting ready for a ride, do you have a laundry list of things to check off before you leave the house? Are there some items that aren't on that list because they should be on your ATV or SxS already? Our staff of off-road experts have brainstormed to come up with five essential items you should have before heading out.
ATV.com thanks Yamaha for sponsoring this New Rider series.
When heading out for a day or longer trip with an ATV or SxS, we feel it's important to create a list of everything you think you might need for your adventures. Sure it sounds like a lot of work for a fun trip, but there's nothing worse than being out in the middle of nowhere realizing that you've forgotten an essential tool or piece of gear. Just what is that essential piece of gear?
No matter what you ride or drive, there are a few universal items that we highly recommend that you keep on hand in the event you have a mechanical issue when out on the trail. Not all essentials need to be for repairs, either. Depending on how long you might be stuck on the trail, you need to make sure that you can keep yourself protected. In no particular order, these are our five essential items for when you're heading out into the wilderness.
First-Aid Kit
Quite honestly, this is probably the most important item to have when you're going out into the wilderness on your ATV or SxS. Surprisingly enough, we've found that a lot of off-road enthusiasts don't carry one because they've rarely been in a situation when it's needed. Well, when you're 50+ miles from civilization and someone in your group gets cut, burned, stung, or bit by something, you'll probably be glad to have one.
If we've convinced you to get a first-aid kit, but after looking at all of the options you might be overwhelmed on which one to get…we get it. There are some out there that you'd swear are what you see strapped to the back of a paramedic, and you likely don't need to go to that extreme. There are plenty of kits that offer a wide array of items like gloves, bandages, antiseptic sprays, and more for under $100, and come in their own convenient storage cases.
Basic Tool Kits
I don't know about you, but when we head out for a ride with friends, there's almost always some kind of mechanical issue with someone in the group. Maybe it's bad luck or just a lack of proper pre-ride maintenance, but it's bound to happen so be prepared for the worst with a solid tool kit. Now we get that you don't have the same amount of storage with different machines. We couldn't expect you to carry a full blown 146-piece kit on a Sport ATV, as you wouldn't have a small 10 or 20 piece tool kit in your SxS. This is why you have plenty of options from a variety of brands like Boxo, Pit Posse, Cruz Tools, and more.
If you're on an ATV, you'd be great to find a kit that you can keep in a fanny pack, hydration pack, or backpack. These usually have a multi-purpose screwdriver, a ratchet and sockets for the most common size bolts on your bike, as well as a few wrenches. If you're on a chain driven machine, it would serve you well to also include an extra master link for the chain.
Since you've got more storage space with Utility ATVs or a SxS, you have many more options from the same brands. Boxo has a great 66-piece SxS-specific tool bag that has almost everything you'd need to handle basic repairs out on the trail. The only other thing we'd recommend with a SxS is to have a spare belt and belt changing tool.
Tire Repair Kit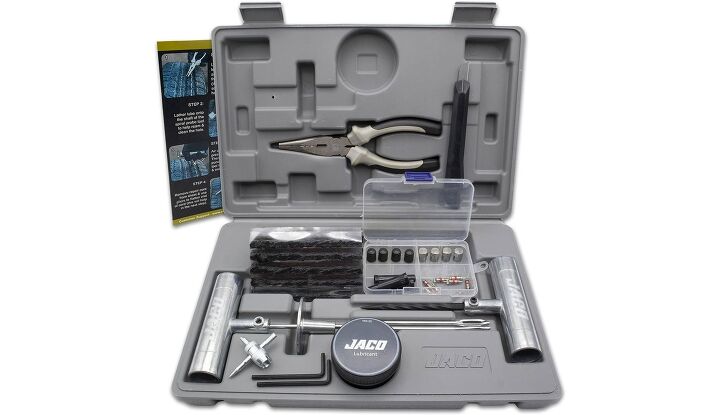 This is pretty self-explanatory. Nothing can ruin your ride faster than getting a tire puncture that causes a flat. Sure, you can fill your tires with whatever Slime or tire goo you like, but sometimes those liquid liners just aren't enough to seal off those big puncture holes. When you get a good tire repair kit, you'll have everything you need to plug those nasty punctures so you can get back out on the road. If you're worried about potential sidewall gashes, just know that with a little creativity you can even fill those. We've seen pictures from friends that left us scratching our heads how some of those sidewall tears were able to be sealed up with a handful of tire plugs.
The better kits will usually have a few C02 cartridges so you can also fill the tire back with air to get rolling again. If you really want to splurge, you can even find some that come with a small portable air compressor, so you can have an endless supply of air to ensure those tires stay up to spec.
Rain Gear
If you've ever been out riding and got caught in the middle of an unexpected thunderstorm, you'll understand why we have this on our list. Depending on the temperature of where you're riding, if you get soaked by a rain storm you can potentially suffer from hypothermia. If you have a packable emergency poncho or stowable waterproof jacket, you can quickly get yourself covered and stay dry.
Emergency rain ponchos are easy to stow in a fanny pack or backpack, they're extremely thin and just drape over you. Now if you splurge, you can get a nice rain/waterproof jacket from well-known brands like Klim, Fly Racing, and other moto gear brands. The less expensive models like the one from Fly Racing are essentially just plastic jackets that you wad up and stow away, which isn't bad. On the other hand, Klim has a few different options that cost much more but also come with great features and fit. It doesn't really matter how much or how little you spend on your rain gear, because all that really matters is that you're warm and safe.
Zip Ties
Just because they sit at the final spot on our list, doesn't mean zip ties aren't important pieces of equipment to have when out for a ride. For the longest time, Duct Tape was the universal fix-all item you wanted to have with you for some trailside fixes. It was, and still is, found on race bikes for desert racers in very discrete locations. Zip ties seem to have taken over because of how strong they are, the numerous options of size, and the ease of ability to store and transport.
Wonder what they can be used for? We've seen them used to hold basic handlebar controls or guards in place if a bolt might have gone missing. We've also seen them used to hold ball joints and/or tie rods into place if they bent or broke. Really, the list of what you can use them for is endless, all you need is your imagination to see what you can use them to secure items in place. Published September 1st, 2023 4:27 PM
Top Brands
Popular Articles