1 View
ARGO Everywhere: Designed to Go Where Others Can't
December 30th, 2019 10:54 AM
Share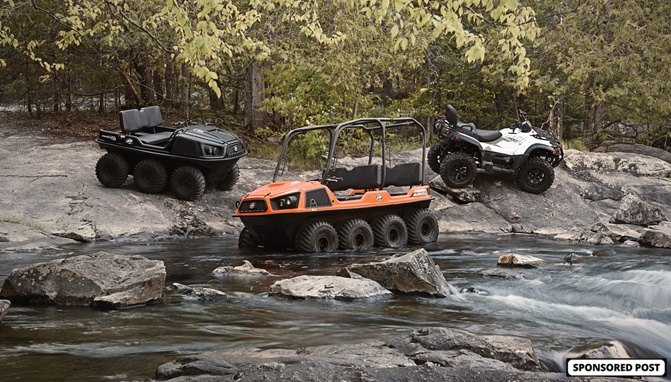 Cover more ground in an ARGO XTV
Few off-road rigs put an exclamation point on "over the river and through the woods" like an ARGO XTV. As a truly amphibious vehicle, ARGOs are able to keep on trucking when others are left at the water's edge, stymied by that lake sitting between you and the tree stand. Choose ARGO, however, and you can go ahead and remove "We'll need to find another way around" from your vocabulary all together.
While we've written about the many benefits of ARGO's varied lineup before, consider this your refresher course, as well as one final reminder to check out their current deal – only $7,999 for their 2020 Frontier 6×6 model – but you better hurry, because this great offer won't be available for much longer.
Go Here, There, Just About Anywhere
For hunters and anglers especially, an ARGO can mean the difference between a great day outdoors and a frustrating one, thanks to their utility to get you set up in spots that are otherwise difficult to access by motorized rig. The brand's entry-level Frontier 600 model, for example, uses a v-twin engine to shuttle power to all six of its wheels, giving it loads of traction and mountain goat climbing ability, making it capable of traversing previously-inaccessible grades.
A stout towing capacity, meanwhile, means hunters can cart home some of the largest game. While ARGO's amphibious capabilities – plus the option to add on an accessory outboard motor mount – means anglers can go straight from the trail to the water, so there's no need to haul a cumbersome boat in order to get to your favorite fishing hole.
Drive Time
Piloting an ARGO is slightly different than operating a traditional side-by-side or four-wheeler. A pair of handlebars are connected to a set of service brakes mounted inboard next to the drive axles; as the XTV's wheels are constantly connected to a drive system, the brakes slow the wheels on one side as a unit. In this respect, driving an ARGO is a lot like maneuvering a skid-steer tractor. (Note that most ARGOs can carry a couple more people on land than on water thanks to limitations of weight distribution, so make sure to plan your trips accordingly.)
Tread Lightly, Leave No Trace
The signature feature of an ARGO XTV is the unique traction it gets from multi-wheeled mobility. This, combined with its strong-but-light construction, give ARGOs the unique combination of low ground pressure and next-level traction. That allows an ARGO to make quick work out of all types of tricky and soft soils – including bog, muskeg, and snow. Not to mention, ARGOs are capable of crossing fragile terrain without a lasting impact on vegetation, making them an extremely green-friendly mode of transport — even more so when you add on an optional track system.
Squirming Out from a Rock and a Hard Place
With a multi-differential setup that provides even torque to all of an ARGO's tires, their unique steering gear permits a type of sideways movement — and even the ability to turn 180-degrees in its own length, in a true feat of engineering ingenuity. Called zero-turn, this feature proves invaluable for maneuvering through tight and tricky spots, and is a major factor in delivering on ARGO's promise to get you in — and out of — places traditional off-road vehicles can't.
A Vast Catalogue of Accessories
One of the great features of ARGO is the ability to customize and accessorize their vehicles depending on your needs. ARGO's wide variety of optional accessories range from convertible tops and a heater to keep you warm and toasty in even the crummiest of conditions to cargo bedliners to contain the day's haul. There's even the option to add an amphibious trailer, if you plan on frequent trips through the water. Add it all up and ARGO's made it extremely easy for customers to take an already great machine and fully kit it out into their dream vehicles.
So before you plan your next off-road adventure, visit the ARGO website to learn more about their exciting lineup of vehicles and how to set up a test drive at a dealer near you.
Published December 30th, 2019 10:54 AM
Top Brands
Popular Articles