1 View
Interview With Argo President Brad Darling
May 26th, 2020 1:25 PM
Share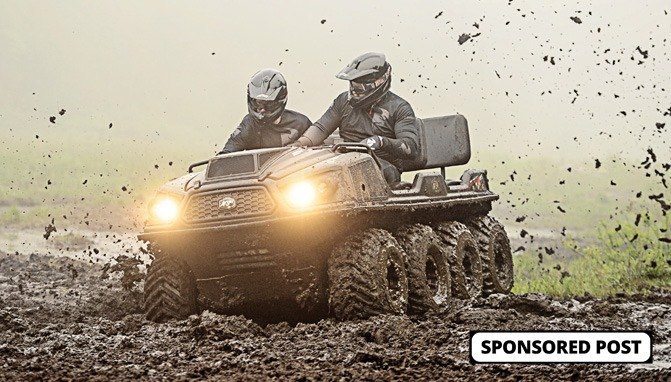 When it comes to all-terrain off-road vehicles, ARGO is decidedly different than anybody else. While traditional ATVs and UTVs from other brands have focused entirely on conquering terra firma, an ARGO XTV is equally at home on the water.
While the off-road world has known about ARGO for decades (the first ARGO was produced in 1967 – years before the first three-wheeled ATV), the past few years have seen the brand's reach expand dramatically. We had a chance to talk with ARGO President Brad Darling about the company and he told us that in the past few years sales have grown by 61%. This is the result of a number of factors, including expanding the ARGO dealer network and offering more affordable options.
And while hunters remain the primary ARGO buyer, the percentage of recreational buyers has grown significantly. According to Darling, buyers who would normally buy an ATV or Side-by-Side are starting to buy ARGO vehicles instead.
To help shed some light on ARGO and its lineup of vehicles, we've included a portion of our interview with Darling: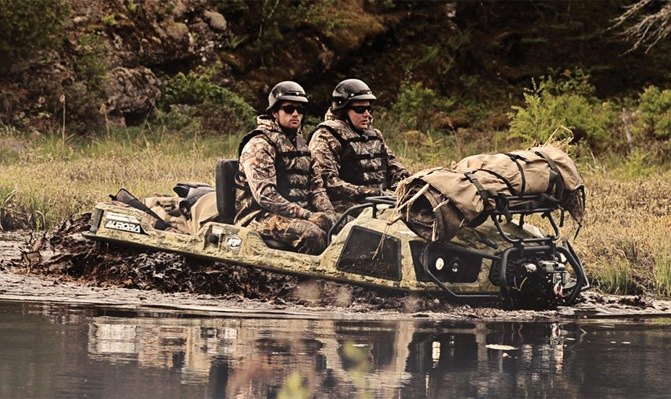 Q: How does an ARGO XTV stand out from a traditional ATV?
A: The first thing people visually notice is the 6 or 8 wheels, but the real difference is that an ARGO is amphibious. This aspect of the vehicle enables it to "swim", it propels in water with unique specifically designed tires at 3 mph. When you get into deep or swampy locations that a regular ATV simply won't go through or would get stuck, the ARGO floats and keeps on going. Capable of carrying up to 6 passengers (depending on model and configuration) Argo XTVs can be adapted to suit many applications through the wide range of available accessories. Optional top and windshields provide wind, rain or sun protection depending on the season. Optional tracks are available to lighten the footprint for swamp or snow conditions. All wheel drive provides superior traction to traditional ATVs. You ride in the Argo, not on the Argo, so you will stay clean and dry. Argo XTVs are the ultimate amphibious off-road vehicles for the world's most challenging terrain taking you to places you dream to go, then bringing you home safely.
Q: Hunters are obviously a key audience for ARGO. Why do ARGO XTVs make sense for a hunt camp?
A: The thing we hear most from our owners is that once they purchased an ARGO, it gave them access to land they had not been able to get to previously. In some cases, it was because they needed to cross a swamp, bog or open water. In others it was distance. Too far to carry all of their gear. The Argo allows hunters to bring up to 6 passengers and their gear out to the middle of nowhere.
Q: How does an ARGO XTV perform in winter conditions (snow/mud/ice)?
A: The Argo does extremely well in all conditions. Much like using snow shoes to cross deep snow, Argo XTVs use rubber tracks to lighten their footprint to less than 1psi to float over the snow. This is another benefit that an Argo provides that other off-road vehicles do not, year around use. This single vehicle can provide transportation Spring, Summer, Fall or Winter. Fishing, Bird hunting, Big game hunting or even ice fishing.
Q: Can you please explain how APS (ARGO Progressive Steering) works?
A: APS is an innovation in the area of braking force application to the transmission steering. By adding a spring element between the handlebars and the brake system we have achieved a progressive dual-rate steering system. This development combined with the Argo transmission is a technological milestone giving the ultimate driver experience. Steering is effortless and confidence-inspiring, offering the smoothest turning available in an ARGO XTV. Now an ARGO is as fun and comfortable to drive as any UTV.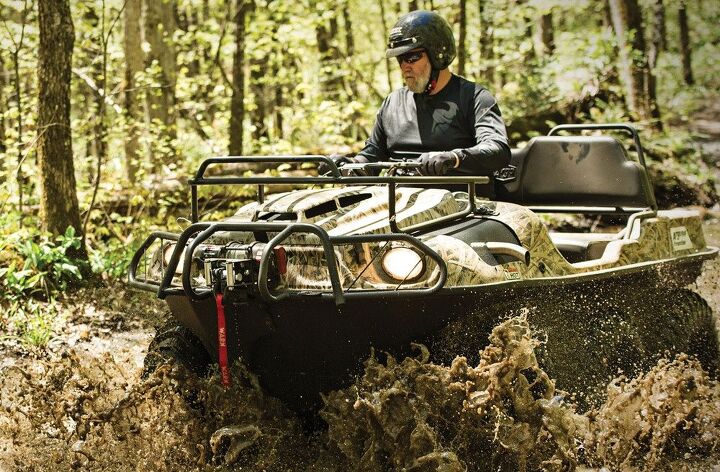 Argo Frontier 6×6
Q: Can you go into some detail on the new ARGO Frontier 600 6×6? Is this the most affordable XTV ever?
A: The Frontier 600 is definitely the most economical XTV ever offered! Our New Frontier 600 offers all of the key features such V-Twin EFI 4-stroke engine, classic transmission with high & Low range and APS in an amphibious vehicle at a special price point of $7,999. It provides a consumer the opportunity to get into an amphibious Argo XTV for the cost of a traditional ATV or SxS.
Q: Argo entered the traditional ATV market a few years ago. How is an ARGO ATV different from the competition?
A: There are a lot of very good ATVs out there, so we needed to be different. Our strategy is to offer a full-size chassis, better featured ATV at the competitors mid-size chassis price. Simply put, you get more for your money! We have 5 models of ATVs available in single rider or 2-up models with liquid cooled EFI engines, dual A-Arm front and rear suspension, steel racks, front differential lock for true 4 wheel drive, 2" receiver and our LEs add aluminum wheels on 26 " tires, brush guard, 2500 lb winch and Tri-mode power steering. As I said, more for your money.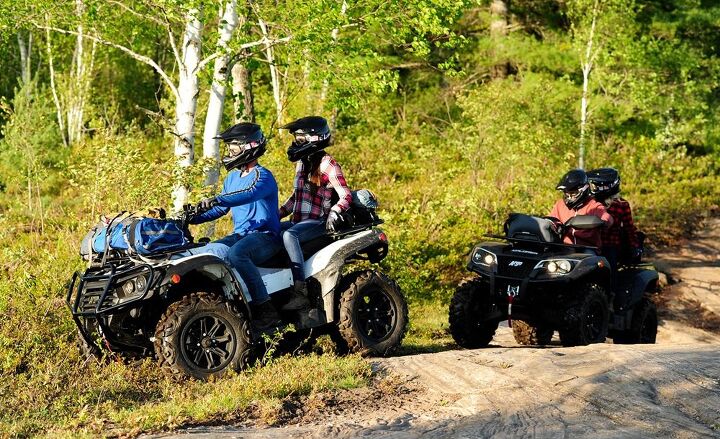 ARGO Xplorer ATVs
Q: How has the COVID-19 pandemic affected ARGO sales?
A: We have spent the past few years building a world-class dealer network and at the same time introduced a new model every year for the past 3 years. Essentially the Argo XTV line of Frontier, Aurora and Conquest are all new products. As a result of this we have seen significant sales increases and in February alone our sales were up over 68%! And then COVID-19 hit in the end of March, we then saw 3 weeks of lower sales but by mid-April consumers are buying Argos stronger than ever. Our tag line is "Go Anywhere", and I can't think of a better product to use for social distancing.
Q: We've been seeing some ATV and UTV manufacturers offer remote buying options for consumers during the pandemic. How is ARGO continuing to reach consumers during the pandemic?
A: Many of our dealers have remained open depending upon local government regulations and are doing a great job of taking care of our customers. We are working on launching a program that will allow interested consumers to talk with an Argo ambassador to help determine what is the right machine for them, get all of their questions answered. They will then be introduced to the nearest dealer with that machine in inventory to complete the deal, all without ever having to make a dealer visit. Not so long ago, we would have not thought this possible but with today's technology as well as the added desire for low/no contact purchasing, we really feel this is the right time to kick this off.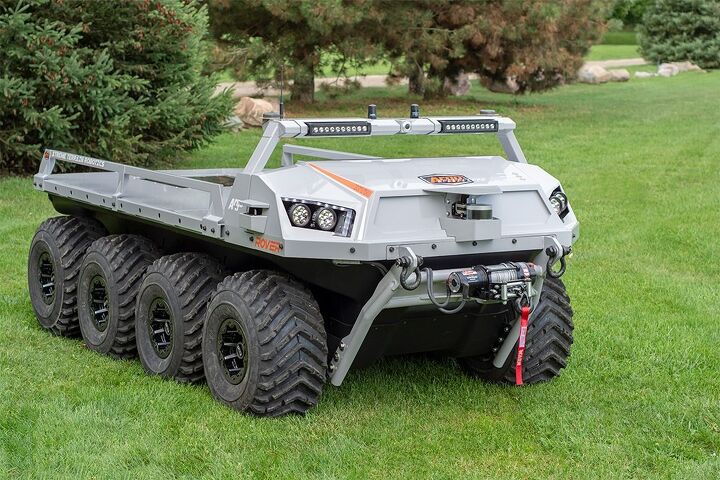 Q: How does the ARGO robotics division work with the XTV/ATV division? Are the consumer XTV models seeing any benefits from this relationship?
A: We call our Argo robotics XTR, for Xtreme terrain Robotics. Both our XTR and XTV share not only platforms but our engineering team is one team working on both platforms. The ARGO Rover can be controlled via remote teleoperation, line-of-sight RF, or a "follow-me" system, with user-friendly program editing for autonomous missions. Robotics are very high-tech machines and some of this technology is part of our XTVs.
Visit ARGO's website to learn more about its lineup of all-terrain off-road vehicles, as well as how to find a dealer near you.
Advertisement
Published May 21st, 2020 10:38 AM
Top Brands
Popular Articles