1 View
2009 Argo Avenger 750 Review
February 22nd, 2017 4:56 PM
Share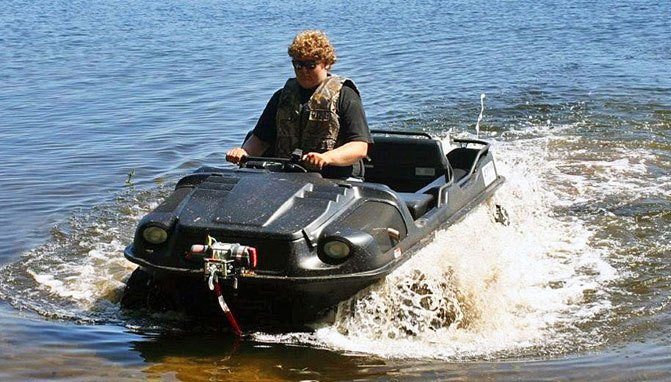 Argo gives "off-road" a whole new meaning
Driving an Argo is as close as most people will ever get to driving a tank; first because of the way it climbs and turns; second because its ride is probably just as rough. In fact my cell phone was the first causality of that ride quality during my weeklong test of the eight-wheeled, amphibious Argo Avenger.
Crashing through a swamp that showered the vehicle in muddy water and then climbing a rock strew hill that bounced me off the seat, my cell phone flew out of my breast pocket and splat! The upside is the Argo will dry out (it has drain plugs) – the downside, my phone now calls random numbers in China all on its own.
Built by Ontario Drive & Gear Ltd in New Hamburg, Ont., the Argo is a Canadian all-terrain vehicle with a forty-year history and a world-wide following. The reputation has been a long time building. Today you'll find Argos on every continent and in the nastiest terrain imaginable.
There's not much that can stop an Argo.
This polyethylene-bodied ATV sports either six or eight soft rubber tires that the Argo engine drives using a multi-sprocket, chain-drive system that turns each one of the those wheels – all the time – that's real eight-wheel-drive. This is what gives the little tank its unparalleled traction. I found that even with several wheels suspended in the air it never lost its forward momentum.
The other tank-like the Argo possesses is an ability to turn on a dime and spin 360 degrees in its own shadow. Twisting the motorcycle type steering bar brakes either one set of wheels (on one side or the other) – commonly called "skid steering." However, probably the most important fact about the Argo is that it floats like a boat.
My tester was one of Argo's most recent introductions – the Avenger 8×8. This eight-wheeled, six passenger bush basher is driven by a 31 hp, 748cc electronically fuel-injected Kohler engine that's a key-start, modern four-stroke which also meets new low emission standards. EFI is a recent upgrade and it's this addition of fuel-injection that has now smoothed out acceleration, improved the fuel economy and done away with the manual choke of older models. Other benefits include reliable cold weather starting and better performance at high altitudes. In fact, it can operate just about anywhere, so remote locations for hunting, fishing and bush trekking are never unreachable because of mud, water or even snow.
Even with several wheels suspended in the air, the Argo still has traction enough to move forward.
Driving the Argo is 25-inch Rawhide III tires with an aggressive tread and lug that are aired up to only around 4 psi. This low pressure lets the Argo climb sharp debris without getting punctures (well most of the time) and the jello-like tires offer the only bit of suspension the vehicle has. So, while it does not have the suspension travel of conventional four-wheeled ATVs, it will cross water obstacles that no other ATV could manage.
Thanks to its watertight body, the Argo can cross bodies of water that just aren't possible in a typical ATV.
Allowing the Argo to float is its watertight plastic body. But it doesn't just float – in the water the raised chevron treads on the tires become paddles, propelling the Argo up to 3 mph – not waterskiing speed, but quick enough to cross most water obstacles in short order. While my tester will carry six on land (which translates to a capacity of 1150 lb), only four is recommended on the water – and quiet water at that. Waves and Argo's don't mix, but if a bit more speed is required there is a spot to mount a small outboard on the rear.
You won't be setting any land speed records in an Argo, but you can tow 1,800 pounds and get to very remote locations.
The transmission on the Avenger has H (high), L (low), N (neutral) and R (reverse) gears. In high it will run at about 20 mph flat out, nice for the roads you might be on occasionally, but under most conditions you'll be moving somewhat slower than that. In low the Argo can easily tow up to 1800 lb as well as move itself (dry weight is 1250 lb) and passengers. This is the other reason it's as popular as it is – capacity – for work or play.
Argos change little from year to year but for 2009 a few items have been added; like a better padded bench seat and an optional new Brush Guard that can also mount optional fog lights. Also new are a Realtree Hardwoods Green camo pattern and a better LCD Digital Gauge Cluster with volt meter, oil pressure light, a parking brake reminder and warning lights for coolant temperature and a check engine light.
The Argo also has many popular add-ons that are available through its website, many of which are built by outside companies. The single most popular one is probably a full set of rubberized tracks that really make the Avenger look like a tank. Others cover the work and recreation fields and include hard tops, trailers, woodlot towing equipment, pop-up hunting blinds, and even something called a Jumping Jack popup trailer that lets you haul the Argo to your wilderness entry point – then using the Agro tow it to the final destination and then set up the tent-trailer part for camping.
As for cost; this type of versatility comes at an appropriate price – one that varies by model and size – but ranges around $7,000 through $16,000.
Related Reading
2009 Argo Lineup Released
2007 Argo Avenger Review
Published October 1st, 2009 12:09 PM
Top Brands
Popular Articles