36 Views
November 1st, 2017 2:12 PM
Share
We're committed to finding, researching, and recommending the best products. We earn commissions from purchases you make using links in our articles. Learn more here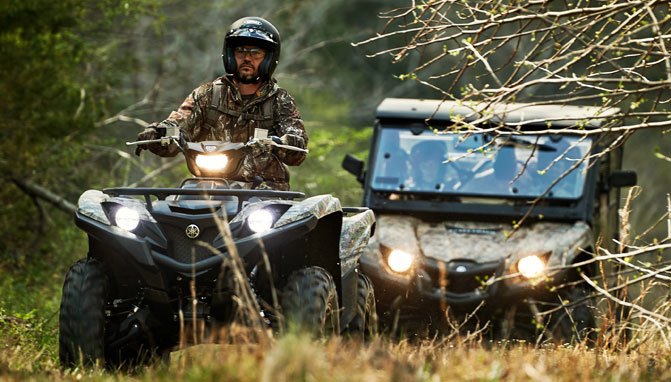 How do you pick between an ATV vs. UTV for hunting? Hunters have long known about the value of these machines, but which one makes the most sense for you?
It didn't take long for hunters to discover the benefits of using an all-terrain vehicle for hunting purposes. Today's ATVs are incredibly capable for hunting needs, with increased power, capacity and maneuverability. With the incredible advancements in UTVs, their uses for hunters have really taken off. With big cargo capability, passenger-carrying abilities and ease of use have made UTVs a choice many outdoor enthusiasts pick. So which is better for you? Choosing between and ATV vs. UTV for hunting is a tough call. Let's take a look at a few key areas of use.
Cargo Capability
One of the first things you're going to notice when comparing ATV vs. UTV for hunting is cargo capacity. This is an area when, generally speaking, a UTV is going to win out just about every time, especially if we're talking about a Utility model, like a Can-Am Defender. The cargo box on a Defender measures 38 x 54.5 x 12 inches and will hold up to 1,000 pounds. And that's just the box. Most UTVs have additional places for storage along with passenger seats.
Comparatively speaking, an ATV cannot match a UTV for cargo-carrying capacity. You have the front and rear rack, on most models, and some enclosed storage depending on the manufacturer and model. Most ATV racks are limited, with the rear rack able to hold around 200 pounds of gear and the front usually coming in around 100 to 125 pounds. There are exceptions, such as the Polaris Sportsman 6×6 Big Boss, that has a front rack, with storage underneath, and then a cargo box on the rear with 800 pounds of cargo capacity.
Maneuverability
If UTVs win on cargo capacity when comparing ATV vs. UTV for hunting, then the ATVs make up for some lost ground when comparing how much more maneuverable they are compared to the bigger, wider UTVs. With all ATVs coming in under 50 inches in width, you'll be able to fit into areas most UTVs fear to tread. There is also the added benefit of being able to put an ATV in the bed of your truck, a feat most UTVs can't pull off.
That's not to say UTVs are like a bull in a china shop when it comes to maneuverability. There are some great machines out there for handling in the tight stuff. Yamaha's Wolverine X4 comes to mind. There are also some very adept 50-inch UTVs available now, with the Can-Am Maverick Trail, Textron Wildcat Trail and Honda Pioneer 500 coming to mind. There are even a few UTVs that hunters can fit into the bed of their trucks, such as the Kawasaki Mule SX and the American LandMaster LandStar LS670.
The Elephant in the Garage
One of the ugly truths about the ATV vs. UTV for hunting debate is cost. Let's face it; you're going to have to spend more for most UTVs compared to an ATV. There's just no way around it. Comparing base model to base model, a Yamaha Kodiak 700 starts out with an MSRP of $6,999, versus a Yamaha Viking at $11,999. Both offer great value for what you get, but if cost is a factor, the ATV wins.
(Photo by Craig Watson)
The equalizer is passenger capacity. If you need to bring a hunting buddy along, you're going to need to either buy a second ATV, or get a 2-up ATV. Take the Polaris Sportsman 6×6 Big Boss mentioned earlier, for example. It is a 2-up, but has an MSRP of $10,999. With the Viking, you can bring a third passenger along and carry more cargo.
It's All Up to You
When it all comes down to the moment you have to sign the dotted line and make the purchase, there are a few simple questions you have to ask yourself when trying to decide between an ATV vs. UTV for hunting. How much stuff do you need to haul around? Look at the rack space on an ATV. Who's going to use it? Will you need to haul a passenger, or will it just be you on the machine? After that, you need to ask yourself will your stuff fit? If so, move on to the next question. Where do you need it to go? The amount of space you have to get through will help define your purchase, too. And then, how much can you afford to spend? It won't do you much good to have if you have to take a second job to afford it.
Either direction you take, there is no right or wrong answer. Both ATVs and UTVs make excellent hunting rigs. They offer a great deal of benefit to the hunter and help make the hunt better. Anything that helps get you out hunting is a win, so pick one and get outside. It's a great place to be. Derrek Sigler
Derrek's love for all things ATV started when he was a mere 11 years old, growing up on his family farm. His mom gave him and his sister a choice - get a horse, or a three-wheeler. The sister wanted the horse, and Derrek wanted the ATV. Luckily he won out, and was soon burning up the trails on a Yamaha Tri-Moto 200. By the time he was 14, he had saved enough of his own money by working on the farm and in his folks restaurant to buy a new 4-wheeler. That happened the day he and his mom were driving past the dealership and saw 1987 Banshee. His mom had no idea what he was buying, and he never looked back. He's been riding ever since, and been writing professionally for many years. He has ridden all over North America and been behind the controls of just about every machine out there. And yes, he still has his 1987 Yamaha Banshee.
More by Derrek Sigler
Published October 27th, 2017 5:01 PM
Top Brands
Popular Articles