16 Views
Choosing a Work Vehicle: ATV Vs. UTV
May 25th, 2021 12:56 PM
Share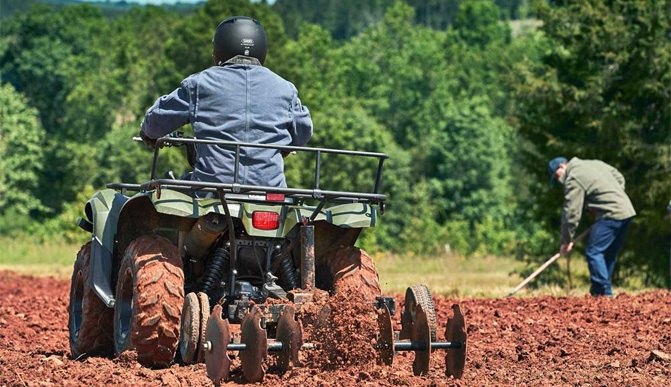 Which four wheeler best suits your needs?
ATV.com has been working on a series of articles about how and why ATVs and UTVs can be useful tools for farmers and landowners. Last week we looked at what these versatile machines can do to help ease your workload. This article will hopefully serve to help you decide between an ATV and a UTV.
An ATV, or all terrain vehicle as defined by the American National Standards Institute (ANSI), is a quad, quad bike, three wheeler, four wheeler or even six wheeler that travels on low-pressure tires. Fair enough, but from that humble three wheeler roots has grown a cottage industry dominated by well-known manufacturers such as Honda, Kawasaki, Artic Cat, Yamaha, Can-Am, Suzuki, Polaris and John Deere.
A UTV, or utility task vehicle, is an outgrowth that no longer gets an ANSI definition. Sometimes referred to as a side-by-side, UTVs are two- or four-person motorized off-road vehicles usually with wider and longer stances than ATVs. The explosion in this industry has led to hybrids with classifications such as XUV, or crossover utility vehicle and ROV, or recreational of-highway vehicle.
But which type of four wheeler makes the most sense is a question that requires more thought than just one has a steering wheel and the other handlebars – which do you prefer?
ATV
Let's start with some of the technicalities and capabilities of these machines. ATVs are offered in 2WD and 4WD versions but in the spirit of all-around performance, we'll concentrate on 4WD ATVs. ATVs can be had in a variety of configurations. V-Twin engines to 700+ cc displacements, electronic fuel injection (EFI), electronic power steering (EPS), front and rear hydraulic disc brakes, and automatic transmissions with engine braking capabilities are all possibilities. Of course, with each of those niceties comes additional cost. Cargo carrying is generally limited to 100 lbs in the front and 200 lbs in the rear using cargo racks, towing capacity can be surprising. As well, most ATVs are meant for just one person, though two-person units are available.
With industry pricing ranging from just under $4,000 to more than $14,000, let's focus on a mid-price machine such as the Honda FourTrax Foreman Rubicon. With a MSRP starting at $7,999, the Rubicon features a 499cc naturally aspirated engine that sends power through a constant velocity transmission (CVT) and has available EPS. Overall length is 83" and the width is 46.8". Ground clearance is 7.5" and the suspension is independent in front and swing arm at the rear. Brakes are disc in front and drum at the rear. The Rubicon weighs 640 lbs and can tow up to 850 lbs using a drawbar arrangement. Turning radius is 10.5'.
PROS: Lighter weight equals less turf impact, lower cost, good towing capacity, requires less real estate for storage
CONS:
No passenger room (usually), minimal cargo carrying capacity, straddle seating position, no rollover safety enclosure
Shop for ATV Storage Accessories
UTV
UTVs are generally larger than ATVs and with that extra space, designers and engineers seem eager to fill them with larger engines and more deluxe features. That doesn't necessarily translate into more capability, as the weight also goes up. So, horsepower per pound ratios can be pretty close.
With sticker prices ranging from $8,000 to well over $16,000, we'll look at the Honda Big Red which has a MSRP of $11,699. For that, the user gets a 675 cc powerplant, EFI, an automatic transmission with an automotive-style hydraulic torque converter, full independent front and rear suspensions, and hydraulic disc brakes front and rear. The Big Red measures 114.7" long and 64" wide. Ground clearance is 10.3" and the turning radius is 13.8'. The bed, which tilts to dump, can carry up to 1,000 lbs, and the UTV can tow up to 1,500 lbs. The Big Red weighs in at a hefty 1,433 lbs, but it can carry a driver and passenger.
PROS: Passenger seating, dump bed with generous capacity, rollover safety enclosure with seat belts and side webbing, automotive-style seats with better legroom, receiver hitch for towing, ability to add sunshade and cab options
CONS:
Higher cost, larger footprint and turning radius
Which Four Wheeler Is Right For You
In our opinion, it all comes down to your budget, the available space you have for operating and storage, the need for passenger space or not, towing and cargo capacity, and as we get into next week's article, what implements/attachments/accessories will help get those chores done.
If you find the decision daunting, don't rush into your purchase…do your homework. ATV.com and manufacturers' websites are a good place to start, but get to know your dealer. He/she will be the one who will listen to your requirements and expected usage and make recommendations based on those needs. We're also big proponents of taking a look at the dealership for telltale signs: is it neat and organized? Is the salesperson willing to introduce you to the service manager and/or owner? Does the salesperson make it a point to show you the service area? All of those points are opportunities to assess the dealership. Ask yourself: is this the dealership you would want going to bat for you on a warranty or even an out-of-warranty claim?
When you're comfortable with the selection of a dealer and begin to narrow down your choices, we recommend you test drive each. While doing so, pay attention to ergonomics, comfort, and balance. You are going to shell out a healthy amount of hard earned coinage, so this should be a machine you will enjoy spending time in or on. Don't forget that ATVs and UTVs can be quite a bit of fun when the work is done. Other important areas to pay attention to would be the ease of maintenance built in, the quality of fit and the components used.
Stay with us through the next two installments and we'll help you make that choice.
We are committed to finding, researching, and recommending the best products. We earn commissions from purchases you make using the retail links in our product reviews. Learn more about how this works.
Related Reading
ATVs and UTVs Are Useful Tools for Farmers and Landowners
Implements and Attachments for Your ATV and UTV
Choosing the Right ATV or UTV
2012 Honda FourTrax Foreman Review [Video]
2011 Honda Big Red MUV Review
2011 John Deere Gator XUV 825i 4×4 Utility Review
2013 Polaris Ranger XP 900 Review – Video
2009 Polaris Sportsman Big Boss 6×6 800 EFI Review
2010 Kawasaki Mule 4010 Trans4x4 Review
2012 Kawasaki Brute Force 750 4X4i EPS Review [Video]
2011 Arctic Cat Prowler HDX 700 Review
2011 Yamaha Grizzly 700 FI 4×4 EPS Review
Published September 21st, 2012 3:51 PM
Top Brands
Popular Articles