1 View
Choosing the Right ATV or UTV
June 16th, 2015 4:35 PM
Share
Which four-wheeler is right for your needs?
ATV.com, in partnership with Tractor.com, has been working on a series of articles about how and why ATVs and UTVs can be useful tools for farmers and landowners. In the first article, we looked at what these versatile machines could do to help ease your workload. In the second installment we looked at the pros and cons of choosing between an ATV and UTV. Last week we looked at some of the implements and attachments available to help get the job done around your property. This week, drum roll and all, we'll discuss specifications and get down to the nitty gritty of helping you chose which four-wheeler is right for your needs.
Weight
Since we're focusing more on vehicles used for work and less on sport where top speed and all-out performance are desired, the first area to look at is weight. In the case of a sport machine you want the highest horsepower to weight ratio but in the case of a work vehicle where towing and cargo capacity get the job done, light weight isn't to your benefit. ATVs have the best horsepower to weight ratios where you can see 750 cc or larger engines powering machines with less than 700 lb. curb weights. UTVs can have similar sized powerplants, but curb weights will generally range from 1,000 to over 1,700 lbs.
Size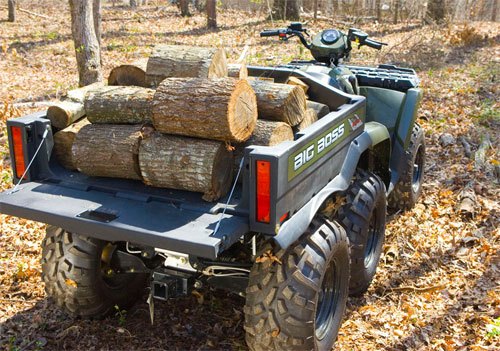 Size influences a raft of things ranging from how maneuverable the machine will be in tight quarters to how many can fit on a trailer. Trailers today are limited by law to 120" in width. If a machine exceeds 120", positioning it sideways on a trailer will not be an option. ATVs will have smaller footprints than UTVs so if size is a top requirement, an ATV may be your best choice. And depending on the conditions you plan to use the ATV or UTV, ground clearance may be another specification you need to pay attention to.
Cargo Capacity
If you only need to transport yourself and a weedwacker or chainsaw, most any ATV will fit your needs with rack capacities around 100 lbs. in the front and 200 lbs. in the rear. UTVs can carry much more, with bed capacities ranging from 200 lbs. to over 1000 lbs. Some, such as the John Deere 825i, can even be equipped with electro-hydraulic dump. But don't get too hung up on this feature; even if the model you select doesn't have a power dump option, aftermarket kits are readily available.
Tow Capacity
Towing capacity can be pretty close on ATVs and UTVs, but there are several things to look for. What is the size of the receiver? Is it 1-1/4" or 2" and does that make a difference to you? If you want to share hitches with other vehicles such as your truck, it just might. Another thing to look for is if the ATV or UTV comes with hitches in the front and rear. A rear hitch is universal, but if you've never used a front hitch to place a trailer in a tight spot, you don't what you've been missing. All that's required is to drive straight into the desired spot – no backing the opposite direction of the trailer and no figuring if the tow vehicle will clear obstructions while doing so.
Operator Space
You might say ATVs have the most space. Other than having to straddle the machine, the sky is the limit. But if you need to get on and off frequently, swinging a leg over the seat and frame can get tiresome. UTVs don't have this to deal with, but leg room on some can be tight. Some popular machines that seem tight to this 5'-11" tall tester are the Polaris Ranger, the Kawasaki Mule 4010 and the Yamaha Rhino. The John Deere 825i and the Honda Big Red seem to be a better fit for my frame, so this might be an area to consider.
Ergonomics
When you test drive an ATV or UTV, pay attention to the ergonomics. While none of the machines we've driven have poor ergonomics, some certainly have better designs than others. The position of the steering wheel (or handlebars), location of controls or buttons for transmission gear selection, brakes, and 2WD/4WD actuation are all important and things you will need to live with ostensibly for a long time. Ask yourself: does this vehicle feel comfortable to you? If not, spend a little time with another manufacturer's machine. Electric Power Steering (EPS) is a relatively new option and if available can make for less operator fatigue. And seats are not all the same so pay attention to this area as well.
Electronics and Other Niceties
Digital instrumentation is the craze today and many of these vehicles have standard or optional packages that can give the operator ground speed, engine rpm, coolant temperature, fuel level, maintenance indicators and other information at a glance. For UTVs we're big fans of beds with removable sides and tailgates which give the owner the flexibility of switching between flatbed and bed configurations. 12V outlets for your iPhone or MP3 player are nice to have, as well as gloveboxes and other protected places for you to store your gear.
Safety
For ATV operators there is no substitute for a helmet. For prospective UTV purchasers, make sure the safety cage or occupant protection system (OPS) is SAE, ANSI and OSHA certified and that it is equipped with seatbelts. Side doors, screens and even full cab enclosures – especially nice if you plan to do some winter plowing – are other areas to consider.
So Which Four-Wheeler is Right for You?
It comes down to your budget, the available space you have for operating and storage, the need for passenger space or not, towing and cargo capacity, and what implements/attachments/accessories will help get those chores done. We just hope our series has got you thinking about what features, specs and capabilities are the most important.
Fun
Published October 5th, 2012 2:35 PM
Top Brands
Popular Articles