5 Views
June 19th, 2015 4:58 PM
Share
We're committed to finding, researching, and recommending the best products. We earn commissions from purchases you make using links in our articles. Learn more here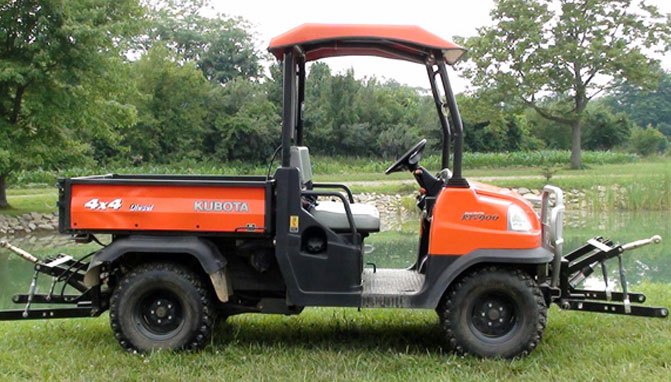 We visit the maker of three-point hitches for UTVs
While ATVs and UTVs can be wickedly fun trail machines capable of grin-inducing speeds, it's no secret they can be quite useful products for farmers and landowners. We ran a series of articles covering hitches and powered accessories a couple years back that were cross compatible with small tractors. We've been looking for opportunities to get more familiar with these innovations and the opportunity presented itself when we visited the 2014 National Farm Machinery Show (NFMS) in Louisville, Ky. and stopped by the UTV Hitchworks booth.
UTV Hitchworks is the vision of Mark Altemeier along with VPs Dale McOsker and Cody Tipton. Located in Maineville, Ohio, UTV Hitchworks may be small on the scale of giants like Kubota, John Deere, and Polaris, but it was clear from the moment we set foot in its facility that progressive, lean principles along with the latest, best business practices were being employed. And considering the demand for its products after just five years, and how it has become the industry class leader of this niche and expanding market, we have high expectations of many more innovations coming out of the Maineville facility in the coming years.
Implements and Attachments for Your ATV and UTV
On hand for our visit were several Kubota RTVs, a John Deere 825i, a couple of Cushmans, and a test bed of attachments. We were impressed. This was no Ma and Pop operation. Altemeier told us that UTV Hitchworks' philosophy is that its three-point hitches (3PH) be easily installed (minutes, not hours), that OEM brackets and holes be used, that rated lift capacity be without ballast, and that factory warranty be preserved. Hitting on all cylinders, the UTV Hitchworks team walked us through a variety of product offerings. Though UTV Hitchworks also manufactures 3PHs for Toro, Polaris, Kioti, and Argo, and are open to inquiries for other brands, for the focus of this article we will concentrate on Kubota and John Deere hitches.
Kubota
Kubota's RTVs come with hydraulics – at least the older models did – making it easy to tap into that power source. Newer models still have hydraulics, but rear outlets have been omitted. No matter, UTV Hitchworks makes an outlet kit to retrofit those newer machines. In the case of RTV-X models, the hydraulic flow is enough to give Farmboy models a 3PH lift capacity of 800 lbs with the same force available as downforce (more on this later). Farmboy models can also be installed on the front or rear of the UTV – or both! Farmboy Predator models, which are electric over hydraulic systems, still have 400/400 lbs of lift/downforce. 1-1/4″ and 2″ receivers are supported with the advantage that 1-1/4″ receivers get upgraded to 2″. For the RTV-X models, the Farmboy Sport X is available with 500/500 lbs of lift/downforce. A diverter kit is also available, adding the versatility of selecting where the operator wishes hydraulic flow to go.
John Deere
John Deere hasn't seen the need to outfit its Gator lineup with hydraulics, instead utilizing electric actuators for bed dump function. UTV Hitchworks does offer an electric over hydraulic system to power its 3PH (Farmboy Predator G) with 500 lbs of lift and downforce, but you really want the Farmboy Sport G which provides full hydraulic capability to 625i, 825i and 855d models. For golf course management where the ProGator is a common choice, the Farmboy Pro ups the hydraulic ante to 800 lbs of lift/downforce. All are clever adaptations, with the hydraulic pump located in battery box mounted on the right side.
ATVs and UTVs Are Useful Tools for Farmers and Landowners
Advantages
Other UTV hitches we've seen begin with complex bracketry that takes much more time to install and requires a fabricator's skill, if not a welder's. UTV Hitchworks begins with receiver hitches that then support the top link, lower link arms, and hydraulic cylinder. As well, turnbuckles steady the hitch to the UTV frame, making for a rigid platform while still allowing side-to-side implement float. Incorporated into the lift capacity, Altemeier wanted the design to barely load the suspension. On the Kubota RTV-X, with McOsker and Tipton's added weight on top of a 630 lb John Deere 71 planter, very little suspension loading was exhibited when the hitch was lifted. On the RTV-X the Receiver Hitch Extension and Skidplate (used alone or in conjunction with a Farmboy 3PH) brings added protection to the semi-exposed hydraulic pump. And to meet the challenges of manufacturer Cat 1 hitch geometry variances, the top link has two mount positions bringing more height control combinations to the UTV.
Dale McOsker and Cody Tipton test the suspension load of the Kubota RTV-X.
So, can these hitch-equipped UTVs get down and get some real work done? In a word, yes. Altemeier uses his UTV to disc fields in preparation for planting – a heavy task even for 4WD tractors – and customer testimonials back the same up. But the big task getting-it-done feature is the downforce. For as long as three-point hitches have been available, farmers have taken to piling on weight to achieve added pressure where the implement meets the ground. A few large tractors, mostly overseas, have had this feature, but it is only this year that tractors as small as the John Deere 4R series (large frame compact utility tractor) have this as an added option.
New Products
Currently under development are several new and exciting products. For landscapers especially, side racks incorporated into the ROPS can hold brooms, shovels and other tools. For Kubota BX owners, UTV Hitchworks has an eight-disc 3PH attachment that accommodates the inward lower link pin arrangement. The disc attachment, which we'll be reviewing in an upcoming piece, can be painted in your color of choice and works equally well with UTV Hitchworks and other standard Cat 1 three-point hitches. Walking around one mounted to a Kubota RTV, we immediately lauded the clipped corners, which one of us would have invariably banged a shin on. Altemeier tells us this was an added design feature, despite adding a few dollars in cost. Our shins tell us this is more than just an appearance improvement.
Choosing a Work Vehicle: ATV vs. UTV
Conclusion
With 428 three-point hitches shipped since Sept. 2010 and only one returned as a defect (Altemeier replaced the damaged component even though he notes there was plenty evidence pointing to abuse), you can be assured UTV Hitchworks' products are quality first. And subsequently even this failed component has been beefed up; such is the way things are done in Maineville. UTV Hitchworks three-point hitches retail for between $1,195 and $1,995. For the added versatility these products bring to a UTV, it's easy to see a short payback for a minimal investment. Published June 16th, 2014 4:13 PM
Top Brands
Popular Articles