18 Views
2012 Honda FourTrax Foreman Review [Video]
July 3rd, 2015 12:08 PM
Share
Redesigned 4x4 ATV Aims To Please With Improved Comfort and Convenience
The Honda Foreman started out as a 350cc four-stroke in 1987. For 2012, the fifth-generation FourTrax Foreman has more features than ever and a more rugged look, too. At the press launch held in South Carolina, American Honda's Kevin Aschenbach called the design changes important and said the Foreman has always been a hard-working ATV that is ready to roll up its sleeves and do anything you point it at. For 2012, Honda says its popular 4×4 can do even more. And the manufacturer still offers four different versions of the Foreman to accommodate almost every type of end user. The Foreman development team addressed three critical areas (appearance, power and comfort) during the redesign.
This Foreman is also significant because it was designed and built in the US, and came off the line at Honda's Timmonsville, South Carolina, production facility. In fact, we got to tour the facility and take part in the official "Line Off" ceremony for this machine. Let's take a closer look at the redesigned Foreman.
Get the Flash Player to see this player.
2012 Foreman Highlights
• All-new liquid-cooled, four-stroke engine
• Higher compression ratio
• New fuel injection system features a 36mm throttle body
• All-new rear suspension system combines a new steel swingarm with a single rear shock absorber (6.9 inches of travel)
• New, larger dual front hydraulic disc brakes
• New multi-function LCD digital meter
• New body styling with a tough, rugged and more aggressive look featuring large oversized fenders front and rear for exceptional mud and splash protection.
• New tires
2012 Pricing
• Foreman 4×4 foot – $6,899
• Foreman ES 4×4 – $7,099
• Foreman 4×4 foot with EPS – $7,499
• Foreman ES 4×4 with EPS – $7,699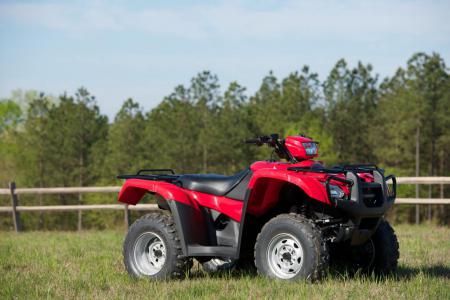 The 2012 Honda Foreman was designed in America and produced from Honda's Timmonsville, S.C., facility.
Engine
The Foreman is powered by an all-new liquid-cooled single-cylinder OHV four-stroke engine. It offers the same displacement (475cc), but features a 10 percent higher compression ratio (9:5.1 from 8:5.1), which improved its overall power. Honda reported a 6 percent gain in torque and 10 percent increase in horsepower. Aschenbach stated that riders should notice more low-end snap and, in general, a better hit off the bottom. But he said this Foreman would feel more responsive for other reasons, too.
With benefits like lower operating temperatures and added durability, Aschenbach stated that liquid cooling offers an ideal fit for the Foreman. "There was a little hesitance about getting away from air-cooled because that's some of the desire from people who liked the Foreman was that it was simple, no frills and get-the-job-done makeup," he explained. "Going to liquid cooling there's naturally going to be some hesitance of 'well, now I have a radiator and antifreeze to worry about,' but the people will understand with Honda technology it is tried-and-true and proven it's not a guessing game and is something we've spent a lot of time perfecting."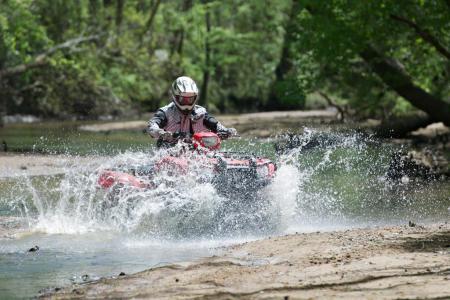 We've got your liquid cooling right here.
In addition to the new cooling, the Foreman now features electronic fuel injection with a 36mm throttle body. Along with improved fuel efficiency, Aschenbach said the Foreman's EFI system "offers better cold-weather starting, high-altitude performance and you're not going to worry about jetting from low to high altitudes."
We found the new Foreman to produce a snappy low-end hit and we like the thumb throttle's quickness when it came to throttle response. However, first and second gears were quick to expire. Third gear seemed to be the sweet spot on the 4×4 as we could lug it in the super tight woods or overrev it before coasting in certain situations. This Honda isn't super fast or quick, but fourth and fifth gear kept us smiling and entertained. We also liked the Honda's no-tools airbox design and washable foam filter as should any prospective buyer.
Suspension and Handling
A significant change was made to the Foreman's suspension. The dual-shock rear end was replaced by a single-shock and steel swingarm design. The single shock is higher quality and offers five-way preload adjustability, heavier spring rates and almost 7 inches of travel. "The valving for the initial ride plushness is still comfortable and more plush than previous models," stated Aschenbach. "It's such a hard-working machine that people use it so much, you want to make sure that somebody who is going to ride it all day, everyday on the farm, ranch and trails is going to be comfortable." And with working and riding, Honda engineers had to offer a rear shock that offered a plusher ride than previous generations yet also stayed true to the work ethic of the machine, said Aschenbach.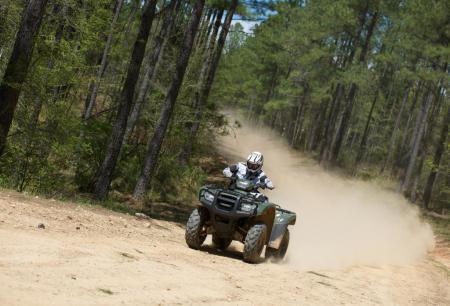 The updated suspension system uses a single-shock and steel swingarm design instead of the previous generation's dual-shock rear end.
The rear shock attaches to an all-new steel swingarm that is three inches wider than the prior model and features a brace. Aschenbach said Honda's testing wanted to balance the swingarm rigidity with allowing the machine to flex a little bit so it could track straight and true – keep its line straight and solid. The rear axle is enclosed in an axle housing for added durability.
Up front, the Foreman has new front shocks that are also adjustable for preload. They offer 6.7 inches of travel and were designed to offer an improved ride comfort (added plushness) especially at the initial part of the stroke.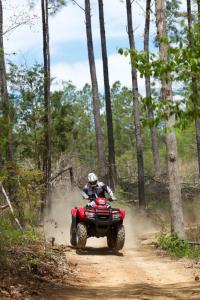 The suspension still has a more biased towards utility than sportiness.
The entire suspension package is an improvement over the previous generations just for the preload adjustability alone, but it was also more comfortable. We found that the suspension still felt more utility orientated than sporty, but was supple enough to smooth out the harshness of a trail. The shocks are especially important for those who plan to use the Foreman as, well, a foreman. With a combined rack capacity of 199 pounds (66 front and 133 rear), the Honda's preload adjustable suspension will help it work more effectively despite the somewhat conservative number. In rugged, rocky terrain or when riding sporty, the suspension will be fully used as will the 7.6 inches of ground clearance.
"One of the things Honda has always stood by is that our rating is conservative," Aschenbach explained. "We may have a number like 66/133 and that's something we feel is the safe limit for still maintaining all our handling and stability standards. It's possible to up the rack cargo capacities to what often times is maybe an unrealistic number — and I think some of the manufacturers unfortunately do to lure people on the sales floor — and creates something that doesn't meet our internal Honda engineering standards."
And when it comes to chores and hauling weight on the racks, Honda addressed that by beefing up the Foreman's front brakes. Disc brakes up front increased in size from 180mm to 196mm "Along with the increased size, were increasing the brake capacities. It will stop with a full load of towing and a full load of rack capacity and will not have a soft brake feel," Aschenbach stated. However, the rear drum configuration remains because Honda said its stopping power has proven to be effective.
Tires are important for work and play and the new Honda wears new 25-inch Maxxis tires (25 x 8 -12 front 25 x 10-12 rear). Aschenbach stated that this tire was an exclusive design made for Honda and features a balance between the right comfort, stiffer sidewall for work capabilities and the right traction for overall durability. We ran the tire in creeks, on hard pack, rutted turns and in aggressive power slides and were pleased with it.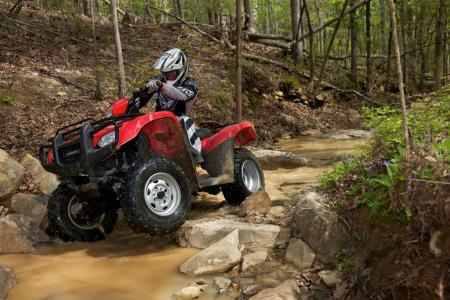 The Foreman's new 25-inch Maxxis tires were exclusively designed for Honda.
Handling on the Honda was improved by the addition of electronic power steering (as an upgrade) to the lineup. Although Honda ATVs have never been difficult or overly heavy to steer, EPS lightens the task, especially in rough situations, long rides or in working situations. This is especially true for those who use their machine for one-hand, slow-speed working situations (wand sprayers for example). However, it was much appreciated while playing in the rocky climbs during our test session. The Foreman is very predictable and mostly stable even when pushed to its limits. We never felt out of control on the Honda nor did we have to overcompensate to ride it aggressively. Sometimes, we could entice the outer rear wheel to lift off the ground during hard cornering, but the quad remained controllable.
Ergomics and Appearance
One of the tasks of the engineering team behind the Foreman was to improve the ergonomics of the rider triangle (handlebars/peg/seat). For 2012, the Honda widened and raised the Foreman's bars to produce a more comfortable feel and riding impression. Even more noticeable than the bars, is the 4×4's new facade and front fascia. "Appearance went from a sport-utility look to a more aggressive look with new bodywork, higher stance and wider stance," said Aschenbach. "It definitely gives the machine a lot bigger, tougher look." He also mentioned the Foreman has more wheel clearance, improved mud and splash protection and is larger than either the Rubicon or the Rancher ATVs. A softer seat material and feel was meant to add comfort yet not sacrifice durability and also improved the ride triangle. Add these changes in the full floorboards and a rider feels both comfortable and protected.
Another significant upgrade was made to the Foreman's gauge package. A new multi-function LCD digital meter is waterproof and built to last. It features large readouts for fuel gauge, gear position, speedometer, odometer, tripmeter, hourmeter and oil change reminder. LED lights for reverse, neutral, oil temperature and front differential indicator are also included.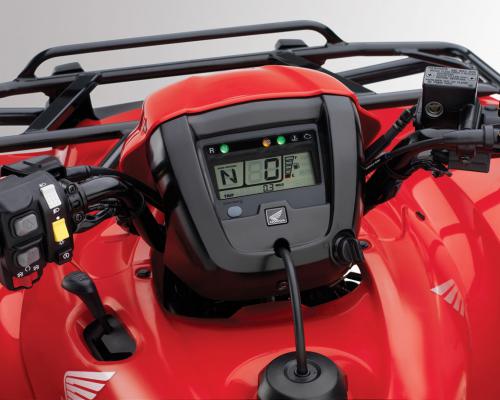 The 2012 Honda Foreman uses a new high-tech digital gauge and an old school cable-actuated 2WD/4WD manual lever.
Although Honda added a high-tech digital gauge, it chose to incorporate a cable-actuated 2WD/4WD manual lever (a design borrowed from the Rancher) instead of adding a push-button or electrical switch on the bars like some of its competitors. The previous Foreman featured an electro-mechanical 4WD switch. The system is very easy to use and gets the job done. It also retained the somewhat archaic reverse mechanism. Again, it's effective and easy to use (once you understand it), but an old school setup.
The electronic shift program has proven itself over the years, though we think it's sort of a love-hate feature. You either love it or hate it. OK, maybe there's some middle ground in there, too. We get the system and like it for most situations, but sometimes hit the wrong button during aggressive riding. This only happened a couple of times and was more operator error than a design flaw. We're thankful that Honda is one of the few makers that also offers a foot-shift transmission (also available on the Foreman) as well. Old-school shifting never felt so good.
Other positive features on the Foreman include twin storage areas (front left fender and rear cargo box), front and rear brake levers, 12-volt, waterproof accessory socket provides 12-volt, 850-pound tow rating, triple headlights and headlight pod for directional lighting, internal brake scraper and shaft drive.
Final Thoughts
Yes, Honda could have reinvented the wheel with its long-standing and well-respected Foreman ATV, but it elected to improve it without scraping the blueprints entirely, which could lead to higher prices. Aschenbach added that when doing a full model change, it's great to make as many changes as possible, but cost can limit what is and is not included in a redesign. "It's something that we still want to keep at an attractive price point for all the buyers and not price someone out of that unit because it's such a good-selling model. You want to balance the technology with the proven [items]. The brakes and reverse system have always worked well. Adding EFI, EPS and liquid cooling adds cost, so you have to pick and choose what you can and can't update," he explained.
Aschenbach also stated that Honda's research has shown that a utility model from 5- to-10 years ago was meant strictly for utility, whereas now that utility and that recreation are blending together. "Our aim was to maintain more work capability and still go along the advancements and the additional buyer who is going to use this for hard work on the farm, but yet is still going [want it] to perform while on trails," he said.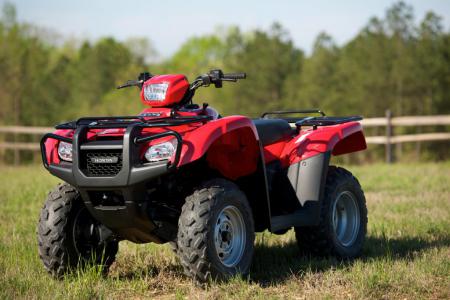 Published April 21st, 2011 1:05 PM
Top Brands
Popular Articles