57 Views
2010 Honda FourTrax Foreman 4×4 Review
June 17th, 2015 4:13 PM
Share
We're committed to finding, researching, and recommending the best products. We earn commissions from purchases you make using links in our articles. Learn more here
If it ain't broke...
Since Honda is planning to launch a new FourTrax Foreman in 2011, we figured it was high time to tell you a little about the current model.
The 2010 Honda FourTrax Foreman 4×4 is one of Honda's premiere ATVs and for good reason. Honda hasn't made any significant updates to the unit in a number of years, but it's still a very popular machine and one we see regularly out on the trails. Also, you can expect to find plenty of them at a great price once the new 2011 version hits dealerships.
We can say with confidence that the units currently available at dealers are impressive. We quickly understood when trying out the FourTrax Foreman 4×4 why Honda hasn't made any recent upgrades…if something isn't broken, there's no need to fix it.
The ForeTrax Foreman 4×4 is known as Honda's "Workhorse ATV," but we found out it plays just as hard as it works. On the test drive, we tried out a few attachments to test the strength and work capabilities of this machine, including pulling a trailer full of wood and removing some downed trees from the old logging road leading into the riding area. We never heard a whimper of complaint from Big Red's middleweight utility quad.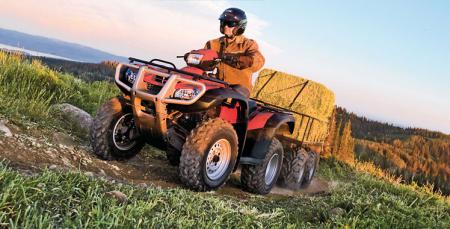 The FourTrax Foreman 4×4 is an eager working companion.
Once we were done doing a bit of trail maintenance, it was time to hit the trails and have some fun. We climbed aboard Foreman and headed up to some of the more challenging trails systems we could find.
Hondamatic Transmission
Honda's transmission offers the smoothest exchange of any we've ever tested.
Switching between working around the ranch or in our case doing some trail maintenance and hitting the trails for pure fun often requires something totally different when it comes to shifting gears.
The continuously variable design of the Hondamatic Transmission allows you to do the shifting manually or choose between different power train ratios with a thumb operated control switch. As we've written previously, the Hondamatic Transmission makes for the smoothest exchange of any ATV Transmission we've ever tested. The smooth power gets the job done whether on the trail or on the farm. Let's hope that's one thing Honda leaves along for 2011.
TraxLok
Switching between two-wheel and four-wheel drive is very convenient on this model as well, due to the TraxLok – a "shift-on-the-fly" system that allows you to switch with the touch of a button on the handlebar.
GPScape
We can usually find our way around the farm quite well, but when we get off on some of the public trail systems, good trail signage is sometimes only in our dreams, so having a GPS on board makes the trip a lot less stressful. This allows us to spend more time riding and less time stopped on the side of the trail trying to figure out where we are on some muddy map.
With GPScape, you can concentrate on having fun without worrying about finding your way back.
The Honda GPScape is a built-in GPS system offered exclusively by Honda that is actually wired directly into the ATVs electrical system so it is always reliable and available. No more worrying about remembering to grab it out of the jeep or having fresh batteries handy at the most inconvenient times. The GPScape comes with oversized buttons so it is easily operated in cold weather or while wearing gloves. Once you have it, it's not something you ever want to leave the trailhead without again.
Overall
Honda has a well-earned reputation for building high-quality vehicles. That reputation was certainly not sullied when it comes to the FourTrax Foreman 4×4. It's not the biggest or baddest thing on four wheels, but we were very impressed with this machine and would encourage anyone who is looking for something to cover all the bases to head down to your local dealer and give one a test ride.