79 Views
2008 Honda FourTrax Rincon Review
June 17th, 2015 4:22 PM
Share
We're committed to finding, researching, and recommending the best products. We earn commissions from purchases you make using links in our articles. Learn more here
High tech and high performance in a reliable package
Like it so carefully does in all its business areas, Honda makes every move in the ATV market deliberate, calculated and intended to strengthen its position as the ATV sales leader.
Historically, Big Red's success has been based on its overwhelming market strength in the 300cc to 500cc engine classes. In the 1990s, several quad builders decided they could not surpass Honda solely by competing head-to-head in the company's strongest market. Instead, these competitors—notably Polaris and later Yamaha–decided to forge new opportunities by building ATVs with larger-displacement mills, automatic transmissions and independent rear suspensions.
In typical Honda fashion, Big Red bided it's time before firing back with the release of its first big-bore, IRS 'Rincon' in model year 2003. In model year 2006, Honda increased the Rincon's displacement and added electronic fuel injection. The 2008 version continues to have Honda's most powerful engine, along with a plethora of innovative features delivering reliable high-technology performance.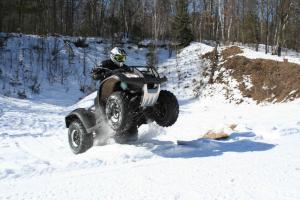 A pre-ride inspection of the vehicle revealed some of the distinctive features that make it a Honda. Excellent fit and finish on this package helps to support the marketing message that the Rincon is "The SUV of ATVs." The side profile has a sleek and muscular style flowing from front to back—not the behemoth 'monster truck' look that some of its competitors have. Wheel rims are made from aluminum to reduce un-sprung weight, but painted black for a more subdued, conservative appearance. The rear A-arms are aluminum, which also reduces weight. The lower A-Arms (or wishbones, if you will) are painted black, but the uppers are bare—subtly drawing attention to the independent rear suspension (IRS). The stainless steel muffler is neatly tucked behind a fascia piece that further showcases a full view of the IRS. There are two taillights in the back, contributing to increased safety as well as styling symmetry. The seat is probably the most luxurious in Big Red's entire sport-utility ATV lineup, inviting the rider to throw a leg over it and get right down to business.
The Rincon's engine starts by pushing a button on the left hand control cluster, kicking into gear a single-cylinder, fuel-injected 675cc OHV mill. There does seem to be a slight bit more vibration at idle than is standard on most Honda machines, although it has no effect once the ATV is in motion. The engine is very powerful and has a high fun factor—no soft spots in the acceleration curve, and the design favors speed over torque. In fact, Honda's own website lists the Rincon as a recreational rather than a utility ATV. Although it has plenty of power to carry out utility chores, its trail manners indicate it was bred primarily for performance. The Rincon features Honda's longitudinal engine mounting, which provides more efficient power transfer to the drive train. Having great engine horsepower looks good on a dynamometer, but it's the horsepower at the tires that counts on the trail.
The shift lever is conveniently located on the left side of the steering column and has simple forward, neutral and reverse settings. The Rincon has an automatic transmission that is completely unique in the ATV world—it features a hydraulic torque converter and three hydraulic clutches. A transmission control switch with two settings is located on the throttle control housing. When the switch is in 'Auto' mode, an electronic control unit automatically controls the three forward gears and reverse based on factors including throttle position, vehicle speed, engine rpm, gear selector position, brake application and engine oil temperature. The other control setting is called 'ESP'—an acronym for Electric Shift Program. This familiar feature lets the rider control the transmission shifting using buttons with up and down arrows on the left-had control. ESP is Honda's way of addressing its contingent of loyal customers who still prefer manual transmissions. Hondas are legendary for their reliability, and indeed there have been very few problems reported with the Rincon's transmission since the introduction of this new technology. Honda does not seem to be obsessed with winning specification chart comparisons, and this is an important reason for the machine's reliability. Honda's design philosophy is centered on understanding how their customers actually use their ATVs and then meeting those needs with technology that performs very well and can be counted on for long-term use.
Honda has nailed the IRS calibration on this model and the ride quality is top-notch. An ample eight inches of suspension travel in the rear and a sway bar help with stability. Rear suspension is very compliant with a spring rate that does not buckle under heavy acceleration, yet comfortably supports the rider. The shock absorbers cycle slightly less than seven inches from full compression to full rebound in the front. Front suspension performance is good and the Rincon can soak up bumps and fades in the terrain while keeping the rider in full control.
The Rincon is a flat-out blast to ride on trails. Its center of gravity feels exceptionally low, and this inspires a lot of confidence when cornering. In fact, it may be the most stable of all of the full-size ATVs on the market. The Rincon shines when landing jumps because of its forgiving geometry, especially off-camber leaps when an off-balance ATV or rider could result in the pilot becoming airborne. Power is there in abundance for climbing hills or any other situation that demands it. When extra ground-gripping is needed for pulling through mud or plowing snow, the Rincon has Honda's TraxLok limited-slip four-wheel drive. Once the 4WD switch on the throttle control is activated, TraxLok will engage as long as there is no more than six miles per hour difference between the front and rear wheels. While the system is not 100% posi-traction, it is more than enough to conquer nearly any riding condition. The Rincon's ground clearance is a very good 10 inches, and this helps a rider to clear obstacles and avoid becoming high-centered.
The GPScape system is interesting. As of press time, Honda still has the only stock GPS system to be found in the ATV world. GPScape lets the rider set up to 100 waypoints on demand. The system is useful for exploring new trails because once a trail is marked, the system provides an arrow on the instrument cluster that can guide a rider to drive back out on the same route that they came in on. The key to using GPScape is to be sure that the 'Set Waypoint' button is pressed whenever a turn is made at an intersection. If the rider forgets to set a waypoint at an intersection, the arrow is not very useful until the next intersection is reached and a correct bearing can be received again. A user can also program in specific latitude and longitude figures point-by-point for mapping out a trail before actually riding on it. There is also a compass function in the LCD panel for those that just need to know the direction they are traveling. From a development standpoint, GPScape has given Honda a leg up on the competition because it has given Honda years of field experience with technical challenges such as implementing the GPS antenna. In other words, GPScape has helped them lay a very solid foundation for future developments with GPS. The execution is conservative; yet having GPS still gives Big Red bragging rights over its competition.
When it comes to slowing and stopping, the Rincon calls on dual disk brakes in the front and a single disk brake on the rear drive shaft—and the braking performance is flawless. A scraper design on the brake assemblies, which Honda has patented, helps wipe gravel and mud off of the brake disks to reduce pad wear, minimize scoring on the brake disk and prevent the annoying squeal that a dirty brake disk can make.
Powder-coated steel-tube racks on the front and back of the quad help with any cargo hauling ambitions riders may have, and a handy four-quart storage bin is located just below the shift lever.
A couple of areas could use improvement on the Rincon: It would be nice to have more than a 4.3-gallon fuel capacity, and it would also be desirable to have a hitch on the back end for towing, although a hitch mount is available as an accessory.
The model I tested was clad in NaturalGear camouflage and carries an MSRP of US$8,349. The Rincon is also available in white, red and olive for 2008 and these models list for just US$8,049.
With the Rincon, Honda has done a tremendous job of integrating advanced engineering features into a package that is clean, sporty and stable. It will provide any quad pilot with years of great trail riding memories.
Related Reading
2006 Honda Rincon
2008 ATV roundup Published March 6th, 2008 2:43 PM
Top Brands
Popular Articles