31 Views
2014 Honda FourTrax Rincon Long Term Review + Video
July 9th, 2015 5:16 PM
Share
We're committed to finding, researching, and recommending the best products. We earn commissions from purchases you make using links in our articles. Learn more here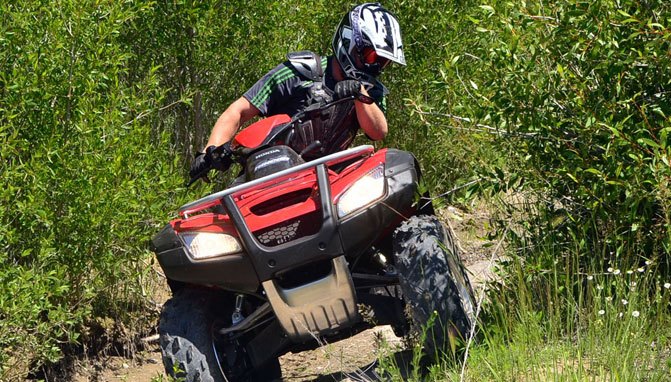 A quality ATV, but we want more
Honda's 2014 FourTrax Rincon is a study in quality. Its fit and finish is superb. It's a high-tech ATV that has a transmission unlike any other in its class. The Rincon has a smooth ride (within a certain driver's weight) and a low ride height to reduce rollover accidents. But, before we roll out our opinions on the Rincon, we need to give some detailed specifics to support our claims.
Honda's 2014 Rincon is powered by a single cylinder 675cc four-stroke motor that is fuel and oxygen fed through a single electronic fuel injected (EFI) throttle body. The throttle body is 40mm wide and the motor's bore and stroke are 102mm x 82.6mm, respectively. This is why Honda calls the Rincon a 680 rather than a 700, though it competes in this class, sharing beat time with Kawasaki's 750 Brute Force, Yamaha's 700 Grizzly and Suzuki's King Quad 750, among others.
Get the Flash Player to see this player.
Honda's 2014 Rincon is both sexy and tough looking. Its fit and finish earn an A+.
The Rincon's chassis is 83.2 inches long, 46.8 inches wide with a wheelbase that measures 50.8 inches. Offering 9.2 inches of ground clearance, the Rincon rests on front and rear independent double wishbone suspension with coil over shocks doling out 6.9 inches of travel up front and 8.0 inches of travel in the rear. Front brakes are hydraulic, with a single hydraulic rear disc brake on its driveshaft.
The Rincon's three-speed automatic transmission has Drive, Neutral and Reverse settings. It also has manual shift which, when engaged, allows the driver to move at will from first, second and third. Honda labels this transmission as: "Automatic with hydraulic torque converter, three forward gears, Reverse, and electronic controls."
Shifting the Rincon into gear is simple and requires little effort from its long handle mated to the shaft driven automatic transmission.
Honda's Electric Shift Program (ESP) is managed through two handlebar-mounted buttons. Riders can ignore ESP and let the three-speed auto tranny muster out all the work if they choose.
Unlike the three other Japanese-built heavyweights mentioned above, the Rincon does not have a front differential lock. Wheel spin is controlled by the automatic transmission. Honda's trademark TraxLok allows the rider to select either two-wheel drive or four-wheel drive.
2015 Honda FourTrax Rincon Preview
Seat height for the Rincon is 34.4 inches. Its handlebars are on a short post to match the seat's low height, giving the Rincon a low center of gravity. Thanks to this low center of gravity, the Rincon is easy to steer, provided the driver has strong arms and is no taller than six feet. Electronic power steering is not available as an option on the Rincon.
To light the way, the Rincon has two fender-mounted lights up front, with two stop lamps in the rear – one on the backside of each fender.
To Each Their Own
As we tore the rails and trails on Honda's model year 2014 Rincon, it became an ATV that spirited many discussions, which included eyeball rolling from test rider to test rider as each defended their points of view and scoffed at others' views. The Rincon is controversial and controversy makes good journalism. Of the Rincon defenders, I was the loudest. However, I support and respect the differing opinions from our guest test riders.
Stability is a strong suit of the Rincon. Its 9.2 inches of ground clearance and its seat height of 34.4 inches assured it hugged the trail. Ripping through S-curves, as much as a 4WD ATV can, was simple as the Rincon's low center-of-gravity gave confidence. But, there is a flipside.
With just 9.2 inches of ground clearance, riders need to be mindful of trail debris.
The comparatively small amount of ground clearance made us ride around many trail landmines (rocks) rather than buck over them. Furthermore, the low seat and handlebar height made it difficult for our tall test riders to spend much time on the vehicle in comfort. After being cramped in the cockpit – sitting for many miles – our tall test riders would stand. This brought out a humped-over stance. Though we appreciate the low center of gravity for safety purposes, tall riders found the Rincon not the perfect dance partner.
Honda's automatic transmission with three-speed manual-controlled option was controversial. For me, I loved it. I've had three paddle-shift sport cars, and my current Platinum F-150 with 6.2L motor also has manual shift where I can upshift and downshift the six-speed tranny at will. When towing loads in the winter time, I like being a tranny and RPM control freak. My fellow test riders didn't share those feelings. They ignored the ESP and kept the Rincon in full auto.
The Rincon is a thinking rider's ATV with its dual purpose transmission.
Though the torque converter kept the RMPs crisp, the other test riders felt like the torque converter absorbed too much engine power and kept the 675 motor labored down. These riders preferred the CVTs on the Grizzly, King Quad and Brute Force. However, when navigating steep ascents and descents, narrow S-curves with broken rock and shale, and trails where rocks and crags were exposed, I kicked in the ESP, kept motor speed up and seized the moments adjusting the tranny gears to the situation. I adamantly defend the Rincon's ESP, but I am alone here in the ATV.com world.
The Rincon delivers a smooth and compliant ride. On fast choppy trails, it tracked flat. But, lighter and heavier than average riders wanted to dial-in or dial-out preload. This can't be done on the Rincon, as its coil-over springs are fixed. Tuner dudes and gals don't like this. Adjustable suspensions are on Honda's FourTrax Rubicon line. Why not the heavyweight Rincon?
Not being able to adjust the preload on the suspension was a bone of contention for our test riders.
Handling…well, this too was controversial. Honda forgets Electronic Power Steering (EPS) on the Rincon, though EPS is available on Honda's FourTrax Rubicon line. Perhaps this omission is to keep the Rincon's price down, or to assure it is a different beast from the Rubicon. Regardless of the reason, Honda's large bore Sport Utility ATV without EPS is strangely odd.
The Rincon's steering, though manual, is fairly light. Also, as an ardent deep-powder snowmobile rider, where no mountain snowmobile has power steering, heaving on handlebars is no big deal; I have the arm strength. But, I am not the norm. And our test riders wanted EPS when it came time to navigate the rough stuff at low speeds. The Rincon is Honda's largest displacement ATV. The lack of power steering seems to be selling it short.
COMPARISON: Read our review of the 2014 Yamaha Grizzly 700 EPS Long Term + Video
Appearance, fit and finish are excellent. Honda also understands ATV owners are shade tree mechanics. Give credit to Honda for thinking through motor part and service accessibility. Removing panels or the seat to access the air filter, engine oil dipstick or other service components is Honda A+. Other ATV builders can take a lesson here.
Though the Rincon does not benefit from power steering, Honda managed to keep the handlebar action relatively light.
A little thing like having a two-stop lamp system is forward thinking. When following the Rincon on a dusty trail, one-stop lamp remains out of the rolling dust. When the Rincon rider squeezes a brake lever, following riders will always have a glowing light – from the right or left fender – that singles the Rincon is slowing or stopping. Those ATVs with a single tail lamp mounted in the middle of the rear end is often hidden behind flying trail dust and out of view of following ATVs.
Complaints aside, the Rincon is an ATV we enjoyed. It is a creature of own color and flavor. Different is not necessarily wrong, but just different. In this case, its different colors made for colorful opinions.
For me, I like the Rincon. But, I do wish for adjustable front and rear suspensions, power steering, taller seat and handlebars, and two inches more ground clearance. And I do like the auto/manual transmission; but many do not warm up to the auto/manual tranny. We applaud Honda for its quality craftsmanship and component accessibility. However, our test riders believe Honda needs to take the Rincon to the next level.
Thoughts from Test Rider Kevin Allred
In 2002, I purchased a new Honda Rancher for farm use. Twelve years later, the Rancher has nothing to prove in the way of durability. The factory battery continues to provide starting power to the 350cc single cylinder four stroke; my only expenses have been in oil and filters. What a loyal farm hand it has been.
As I spent time on ATV.com's long term evaluation 2014 Rincon, I observed many components that indicate the Rincon carries on with the same durability tradition. Little items such as a metal screen in front of the radiator, a large air filter under the seat, a cartridge style oil filter located within easy reach on the motor's side, and an automotive-style automatic transmission.
Everything we've seen on the Rincon left us confident it would stand up to years of use and abuse.
Another observation is how quiet and smooth the 675cc single cylinder four stroke operated – here again, typical Honda. I appreciated the Honda-installed auxiliary recoil starter – just in case the battery goes dead.
Up until this time, I have not ridden an ATV with a three-speed automatic transmission. My initial impression was "Why not, this could be good." But I admit, I had concerns that without a low range gear, the Rincon may not manage tricky mountain situations. Well we put that to rest; we learned the Rincon's first gear had the grunt to crawl over whatever we threw under at it. To that end, we also discovered that by setting the Rincon's tranny into manual shift mode, it climbed exceptionally well and delivered confident engine braking for those quirky descents.
For our long term evaluation honeymoon of this and a Yamaha Grizzly, Suzuki King Quad and Kawasaki Brute Force, the Rincon was the only ATV in this test basket without EPS. Though it had very precise and easy manual steering, it was hard to ignore the fact EPS was not present to help the Rincon rider navigate through tricky terrain.
The longitudinally mounted motor provides a compact and low center of gravity.
The Rincon's ground clearance is slightly less than other ATVs we evaluated; at times we had to motor around rocks the other ATVs were able to hump over.
At $9,199, MSRP on the 2014 Honda Rincon is slightly less than other ATVs we tested, even with the automotive-style automatic transmission. Remember, as I spoke, the Rincon has Honda's reliability – it is a good unit for those who reside in Honda's quality demographic. I know EPS (power steering) would increase its price, but believe the cost would justify EPS' value in the woods.
In summation, my summer's long experience on the Rincon assured me Honda's Rincon will carry the Honda flag for bombproof durability. Published September 10th, 2014 3:58 PM
Top Brands
Popular Articles