1 View
2014 Suzuki KingQuad 750 AXi EPS Long-Term Review + Video
September 10th, 2015 11:49 AM
Share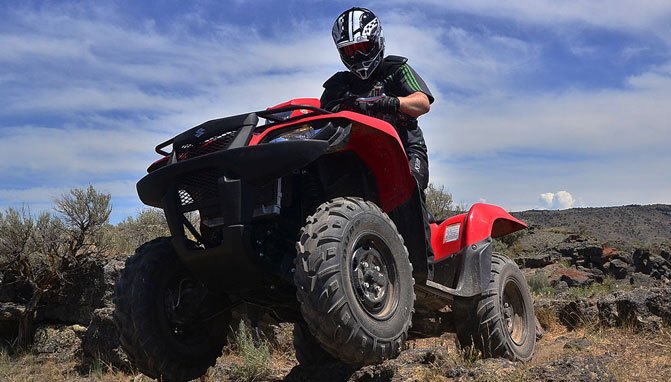 This piece of ATV royalty shines after months of testing
Winner 2014 Japanese ATV Shootout
As the F-350 stroked toward Gilmore Summit, near Leadore, Idaho, I took note of the many truck-towed trailers' ATV payloads. The most often carried ATV was the Suzuki KingQuad. The KingQuad is easily recognized by its three-headlamp system, two on the front fender and a Cyclops-like light mounted on the handlebar, which rotates with the steering bar.
The Genetics
Suzuki, from our history as evaluators for snowmobiles, ATVs and UTVs, builds durable and long-lasting motors. Our experience with Suzuki-powered Arctic Cat snowmobiles has built this lasting impression; the Suzuki two-stroke twin-cylinder motors in an Arctic Cat snowmobile takes us there and back weekend-in and weekend-out. The KingQuad 750 motor did the same: there and back and there and back, again and again.
Get the Flash Player to see this player.
We put Suzuki's flagship ATV through the ringer this summer.
Powering the Suzuki KingQuad 750 AXi is a single cylinder 722 cc four-stroke, liquid-cooled, double overhead cam (DOHC) motor with electronic fuel injection. The motor's bore and stroke is 104.0mm by 85.0mm.
As for the chassis, both front and rear suspensions are independent, double-wishbone designs with oil-dampened coil over spring shocks. Shock preload adjustments are set to soft or firm by twisting each shock's collar. Ground clearance is 10.2 inches, seat height is 36.2 inches and tires 25 x 8-12 front and 26 x 10-12 rear. Floorboards are spacious and feature a deep-well design with a center east-west bar running through the middle.
While plenty spacious for big ATV boots, the KingQuad's floorboards are a bit uncomfortable and make it challenging to press down on the rear brake.
A constant velocity transmission (CVT) squeezes a drive belt via a primary drive clutch and secondary driven clutch. Final drive, according to Suzuki, is shaft drive, meaning direct at high gear.
COMPARISON: Read our long-term review of the 2014 Kawasaki Brute Force 750 4x4i EPS + Video
On the right side of the handlebar is a front differential lock mechanism. The 4WD/2WD is engaged through a push button on the right side handlebar with companion differential lock engagement-toggle-switch that cleanly slides up over the 4WD/2WD button when 4WD is pressed.
Suzuki mounted the shift selector on the front left fender. It has High, Low, Neutral and Reverse settings. You can start the KingQuad in gear or in neutral, provided the brakes are activated when hitting the start button.
Activating 4WD or locking the differential is easily done with one hand.
Taking the 750 KingQuad down from "Go" to "Whoa" is the work of two front hydraulic brakes and rear cable-actuated brakes. The rear brakes are a sealed oil-bathed multi-disc system. The rear cable-actuated brake has a lock near the left side brake lever to keep the rear brake cable taught. Hydraulic brakes tend to bleed off, thus the cable-actuated rear brake locks down the rear wheels. The right side foot-actuated brake lever engages the four brakes.
Handlebar swing is managed through an electronic power steering unit – EPS. It is light and airy at low and high speeds.
The aforementioned lighting can be set at dim or bright and the middle handlebar-mounted light can remain on at all times if the operator so desires, be it dim or bright.
Three front-mounted lights help show the way when the sun goes down. We found the handlebar-mounted light especially helpful.
Storage is limited, but its dry canister (waterproof cylinder) is nice. It also has a small storage cell at the rear, opposite the muffler. Front and rear-mounted storage racks can receive a multitude of racks, bags and cargo containers.
The KingQuad's fuel capacity 4.6 U.S. gallons and it has a ready-to-ride curb weight of 672 pounds.
Riding Impressions
Driving the large bore single cylinder 750 KingQuad is a delight. Its motor is quiet and the CVT manages the motor's power with efficiency. Like any ATV driven at 5,000 feet and greater, the KingQuad 750 AXi needs its clutches tuned with heavy weights and springs to compensate for the thin air. We found the ATV delivered smooth upshift and downshift when traversing difficult terrain. When clipping along at moderate- to high-speeds on wide dusty trails, the motor and CVT also kept the driver informed of terrain and speed through positive and crisp shifting – nothing jerky or squishy.
Our KingQuad 750 benefitted from crisp, positive-feeling shifts.
In low speed situations, the power steering worked quite well. Whether rock crawling, river crossing, navigating steep ascents and descents, the EPS delivered excellent feedback that made for light work for hands and arms. However, we noted when humming along at high speeds on washboard or sandy trails, the EPS did not slow down enough to stiffen the bars – add resistance. We caught ourselves at times overcorrecting the KingQuad, which made for some momentary anxiety attacks as the nose wanted to invite the tail to lead. We'd like to see this, and other high-end ATVs, come with three-speed EPS resistance settings like the Tri-Mode DPS on Can-Am ATVs and UTVs. We understand this adds to an ATV's cost, but for us, the cost is worth it in safety.
COMPARISON: Read our long-term review of the 2014 Honda FourTrax Rincon + Video
We came to really appreciate the three headlamps for nighttime use – be it for trail riding or farm use. Sr. Test Rider, Kevin Allred, appreciated having a headlamp where he could direct the beam, such as at an irrigation ditch head gate.
Engaging the front differential was easy. Catching a glimpse of it hiding the 4WD/2WD button was confidence-building, knowing all needed settings, 4WD and diff lock, were activated when called on.
When the going gets tough, it's nice to know that 4WD or differential lock easily accessible on the right side of the handlebar.
When the CVT was in Low and 4WD, driving down steep descents was a motion of total control – no runaway KingQuad. This transmission and engine-braking configuration kept the wheels engaged in a posi-trac-like mode. Seldom did we squeeze the brake levers to slow it down in these situations.
Suzuki's KingQuad has not changed noticeably in five years – though the 2015 model did receive some upgrades. It is a product that customers keep buying and relying on. We see KingQuads in the mountains, on the trails and on the farms in southeast Idaho. It is a quiet ATV that is comfortable to ride. In our experience, the KingQuad has proper seat and handlebar height for sit down and stand up riding. With that, leg and knee positions are comfortable.
We thought Suzuki got the ergonomics right on the KingQuad 750. Handlebar and seat height felt just about perfect.
We applaud Suzuki for placing heat shrouds around the motor and transmission. It is an ATV that can be ridden on trails where speeds are slow and steady; no looking for a pool of water to cool off heat-soaked feet. We wish other ATV builders would protect rider's feet and legs like this.
If we could wish for one thing, it would be for one-inch taller wheels and tires and a half-inch more ground clearance. We push this for all ATVs, as it makes for traversing over rocks and rutty trails much easier.
Thoughts from Senior Test Rider, Kevin Allred
I knew Suzuki's King Quad 750 was popular amongst the ATV crowd – I was anxious to learn why. Once I climbed aboard the King, it didn't take long to figure out why this is a crowd pleaser.
First impression is the KingQuad 750 AXi delivers a smooth, comfortable ride. In the ergonomics department – seat, seating position and handlebars, combined with EPS – the KingQuad creates an natural feel.
Kudos to Suzuki for building a truly comfortable and confidence-inspiring ATV.
Heat- and sound-management from the motor, I believe, was the best from of the four competitive ATVs we tested (more on that later).
COMPARISON: Read our long-term review of the 2014 Yamaha Grizzly 700 EPS + Video
Engine braking seemed to work just right. One standout feature was the auxiliary lighting in the handlebars; this made the KingQuad my first pick for nighttime use.
The weatherproof storage on the front right fender was handy, along with a small storage box in the back opposite the exhaust.
While storage space is limited, the waterproof storage on the front fender is a great place for keys, wallets and smart phones.
Speaking of exhaust, Suzuki uses a vast amount of stainless steel throughout the exhaust system.
Also of note is the robust front bumper. I liked the front differential lock switch on handlebar.
Air cleaner service required removing two push pins in front of the seat to remove the cover. Once the cover was removed, servicing the air cleaner was simple. Accessing the motor to service the oil and oil filter can only be gained by removing the left side motor cover; this was done by removing five push pin fasteners. These covers that surround the motor compartment are the reason why the heat and sound are reduced.
Heat and noise from the engine are reduced thanks to the left side motor cover.
I was frustrated in removing the left side motor cover to access the oil dipstick. Checking engine oil is a little time consuming. Suzuki needs a rethink this.
All-in-all, my long-term experience on the KingQuad 750 AXi with EPS was excellent.
700-Class Competition
When we rode the backcountry trails, dunes and deserts on our Suzuki-loaned KingQuad 750 AXi with EPS, we also played in the dirt on three other Japanese-branded (but USA assembled) ATVs of same class: Yamaha 700 Grizzly, Kawasaki Brute Force 750 and Honda Rincon 680. All four ATVs are dirt, sand and trail savvy, with each one-upping the other in certain conditions.
We will soon publish our four Japanese heavyweight ATV shootout, where several highly opinionated guest-test riders challenged the ATV.com wrecking crew's opinions. Stay tuned.
Published December 3rd, 2014 1:32 PM
Top Brands
Popular Articles