18 Views
2014 Kawasaki Brute Force 750 4x4i EPS Long-Term Review + Video
July 9th, 2015 5:20 PM
Share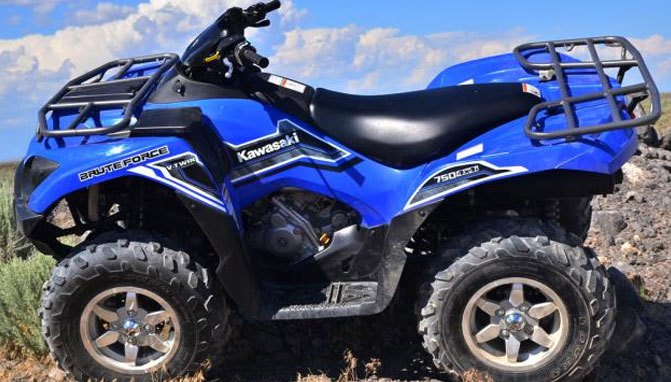 Brutish in the Brush
Receiving Twin cylinder power is like receiving energy from two caffeinated-drinks, one in each hand. Well, we don't recommend this, but the analogy is there.
Kawasaki's Brute Force 750 4x4i EPS is a Twin-cylinder tough boy ATV that is strong at low RPM and remains strong when RPM is high.
These past few months, the ATV.com long term evaluation wrecking crew beat down many mountainous trails on a 2014 Brute Force 750, appreciating its long linear power. When moving along a trail at elevations from 4,800 feet to 7,000 feet, the thin air reduces a motor's horsepower output from 3% to 4% for every 1,000 feet gained in elevation. Thus, at 7,000 feet for example, the Brute's motor (and every non-turbocharged and non-supercharged gas-powered motor) loses approximately 21% to 28% of its horsepower – factoring in humidity and barometric pressure. With this simplistic understanding, the Brute Force with its crisp electronic fuel injection (EFI) provided the ATV.com test drivers ample power to ascend high mountain trails and cross small rivers and fast moving creeks.
Get the Flash Player to see this player.
Kawasaki deems its Brute Force 750 4x4i EPS a Sport Utility ATV. With its sport-tuned independent double-wishbone front suspension and independent dual A-arm rear suspension and aluminum wheels, it is as sporty as it is utilitarian. For you number geeks, the front suspension has 6.7 inches of travel, where the rear has 7.5 inches of travel.
Before moving on to ATV.com's long term evaluation impressions, here are the Brute's mechanical specifics. The Twin-cylinder 749cc four-stroke motor truly does deliver crisp throttle response regardless of altitude. Its bore and stroke is 85mm and 66mm and its two electronic direct fuel-injected Mikuni-made throttle bodies are 36mm wide.
COMPARISON: Read our long term review of the 2014 Honda FourTrax Rincon + Video
Shocks at all corners are coil-over type with adjustable preload settings via an adjustment collar. Ground clearance is 9.4 inches and its wheel base is 50.6 inches. The Brute's length is 86.4 inches with a width of 46.5 inches. Kawasaki claims its curb weight (ready-to-ride) is 694.6 pounds. Fuel capacity is 5.0 U.S. gallons.
The Brute Force benefits from preload adjustable shocks, controlling 6.7 inches of travel up front and 7.5 inches of travel in the rear.
Directing the Brute to the right or left comes under the driver's command as she/he rotates the handlebar with assistance from an electronic power steering (EPS) system that is speed sensitive. What this means is that hauls that are slow and heavy inform the EPS to lighten up the handlebars, whereas cruises that are fast and light informs the EPS to add some resistance to the handlebars for stiffer rotation.
On the handlebars are the controls for the lights, brakes, throttle and differential lock. The instrument pod rests above the handlebar mounting post and rotates with the handlebars.
The yellow lever on the left handlebar controls the Brute Force's differential lock.
A wide and spacious seat is shaped to match many different-sized sit bones. Footboards are wide and fairly flat, allowing boots to rest comfortably. The right side foot brake lever is easily actuated due to the right footboard shape. We appreciate this.
Power from the single overhead cam (SOHC) motor with four valves per cylinder is strong. Twin-cylinder motors generally throw out more oomph than a single-cylinder motor of same size. However, with an extra cylinder, the four-stroke motor is wee bit more thirsty than its single-cylinder counterparts, such as Suzuki's 750 King Quad. That being said, it will take two days of hard riding to burn through the Brute's fuel supply.
Ride Impressions
Rolling the key to "Start," squeezing a brake lever, placing the red kill switch lever to "activate," and pressing the ignition button forces the 750's heart and lungs to beat, releasing a baritone sound that rumbles out a note boldly declaring, "I am brutish, hear me roar."
Power feels reasonably close (about 80%, by our seat of the pants feel) to that of a Can-Am Outlander 1000 Outlander. It emits a personality that is both strong and forgiving. It will deliver all you want, within its reach, and will be as tame as you want. Yet down low, the motor and constant velocity belt-driven transmission (CVT) generates much heat, more than that of a single cylinder ATV of same displacement.
While we appreciate the brutish power produced by the 749cc V-Twin, the power can be as tame as you like.
Last year we wrote about the heat Can-Am's 1000 Outlander Max Limited generated; Kawasaki's 750 Brute Force comes close.
When hauling a fast attitude over choppy trails with short rollers, the 750 Brute Force handles impact energy well. But our guest test riders were split on this; half felt the Brute Force was nailed down, others felt it bounced and got all mixed up if its tail wanted to lead the nose. These riders knew, though, the Brute's front and rear suspensions were set at an average setting. All wanted to configure the wishbone and dual A-arm front suspensions – the pre-load shock settings – to their preference; that is what ATV suspension adjustments are all about, making an ATV yours.
COMPARISON: Read our long term review of the 2014 Yamaha Grizzly 700 EPS + Video
Let's talk differential lock. The Brute Force, like other ATVs in this class, has a means to lock down the front differential to prevent front wheel slip when in 4WD. Two ATVs we evaluated have diff lock actuator switches that once set, remain set. This could be bad, this could be good. If always engaged, then mechanical damage may occur. But, these stay-in-place actuators give the driver one less thing to think about when navigating up and over rocky or loose terrain. The Brute Force differential lock mechanism is a yellow lever, like a brake lever, that rests behind the left brake lever (rear brake lever) and is only engaged when manually depressed – it only stays engaged when constant pressure (squeeze) is applied by the left hand.
Kawasaki's unique differential lock can make things unnecessarily complicated for the rider when trying to concentrate on more technical terrain.
The lever is on-demand – diff lock is engaged when squeezed, disengaged when released. This reduces premature front drive damage. That's good. However, if in a situation where hands must be fully engaged in squeezing brake levers, the throttle and maintaining handlebar control, then activating the diff lock lever is a passing thought. Lastly, squeezing the diff lock lever felt best when standing rather than sitting. In summation, Kawasaki has a great idea in having on-demand diff lock to increase front drive life, but the lever also challenges ATV multi-tasking when rock crawling on angles and slopes.
The Brute Force 750 has storage. Not an over-abundance, but just enough to handle day-trip goodies; the dry canister storage cell was much appreciated. The front and rear storage racks are wide, deep and spacious, and offer the Brute's owner room to lock down cargo boxes.
We give credit to Kawasaki for building the Brute Force with shallow – almost flat – footboards. This made for comfortable riding especially when wearing thick-soled boots.
Kawasaki's V-Twin produces quite a bit of heat, making occasional splashes in the water a welcome relief.
The Brute Force has appeal. Our test unit's sapphire blue color, graphics and stance spoke tough and ready. Yet, with its muscular stance, polished aluminum wheels and name, it could stand for another inch or more of ground clearance. We believe the Brute Force 750 with its premium ATV price ($9,999), would benefit from more than its 9.4 inches of ground clearance.
In closing, the 750 Brute Force is a two-fister ATV. It is a strong and capable ATV that is fast and good looking. But, its motor generates heat in abundance and its differential lock lever can be a challenge. Would we put one in our garage and ride it hard on the weekends? You bet!
Impressions from Sr. Test Rider, Kevin Allred
Kawasaki nailed it with the name Brute Force. The looks, the 750's exhaust note, V-Twin power, alloy wheels, aggressive suspensions, all come together to create a Brutish and Forceful ATV.
COMPARISON: Read our preview of the 2015 Polaris Sportsman XP 1000
Kawasaki defines the Brute Force 750 as a "Sport Utility Quad." This is fitting as it is a hard working ATV with a fun side. There is no doubt the power produced by the 749cc V-Twin puts the Brute Force in a class all its own compared to the other 700-class ATVs. Twin cylinder V motors by nature produce a distinct sound – the Kawasaki 749 is no exception. The sweet, but serious rumble helps start the day on the right "note." Notable features include:
1) Storage Compartments – The center-mounted, dry canister and open net storage on the right fender are superb. I found the open net compartment could hold a 32oz drink container, handy.
2)
Electronic Power Steering
– EPS works great for this ATV of size and weight; I definitely appreciate EPS.
3)
Maintenance
– Those who do their own maintenance will find the oil filter location is within easy reach; two thumbs up for easy air filter accessibility. Remove the seat, pop off two clips, roll up the lid, and there sites the air filter.
4)
Suspensions
– The front and rear suspensions matched motor performance.
5)
Engine braking
– Very effective.
My long term experience on the Brute Force gave me a positive impression. Its only down side was its noticeable engine vibration and annoying motor heat, especially during slow speeds.
As for a wish list, I feel the Brute Force would benefit from dual hydraulic disc brakes at the rear axle rather than the single wet disk brake; this is my seat of the pants observation. I also would like more ground clearance.
The Brute Force is no doubt a great choice for those who want a dual purpose ATV.
Published October 9th, 2014 9:56 AM
Top Brands
Popular Articles