42 Views
2014 Yamaha Grizzly 700 EPS Long Term Review + Video
July 9th, 2015 5:15 PM
Share
We're committed to finding, researching, and recommending the best products. We earn commissions from purchases you make using links in our articles. Learn more here
A bear with technology
Yamaha's Grizzly 700 EPS is an ATV that hides in plain sight. It is a Utility ATV that is business first and its business is to give its rider confidence. Assembled in the United States, this is an ATV built with forward-thinking technology and old-school common sense.
Powering the Grizzly is a single cylinder liquid cooled four-stroke motor that uses an electronic fuel injection system. The single overhead cam (SOHC) motor's displacement is 686cc.
The transmission is Yamaha's Ultramatic V-belt unit with all-wheel braking; the tranny has High, Low, Neutral, Reverse and Park settings. Yamaha's On-Command pushbutton system allows the driver to move into and out of 2WD and 4WD on the fly. It has a three-way differential locking system that is controlled by the drivers to lockdown the front wheels in power mode.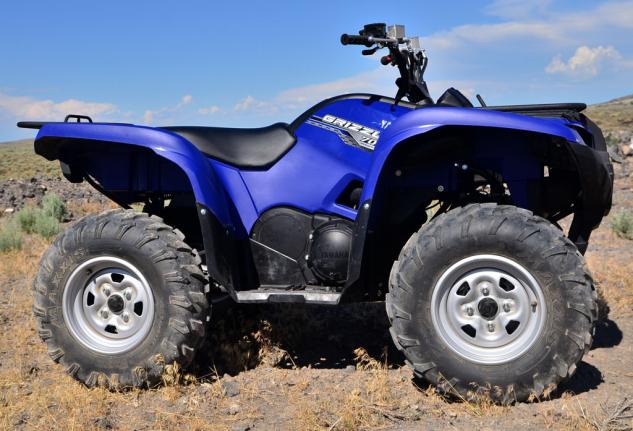 We put Yamaha's Utility ATV flagship, the Grizzly 700 EPS, in the hands of our long-term test team for months of evaluation.
Yamaha believes in making Grizzly riders control freaks and that includes controlling stopping power with four-wheel hydraulic disc brakes. Nice. Levers on the handlebar allow the rider to squeeze the disc pads collectively or individually. A right foot peg gives the driver the ability to apply pressure to all wheels without calling on the hand levers.
COMPARISON: Read our review of the 2015 Honda FourTrax Rincon
Both the front and rear suspensions are independent double wishbone designs with five-way preload adjustments. Vertical travel in the front is 7.6 inches with the rear having slightly more at 9.2 inches. Yamaha declares its ground clearance is 10.8 inches.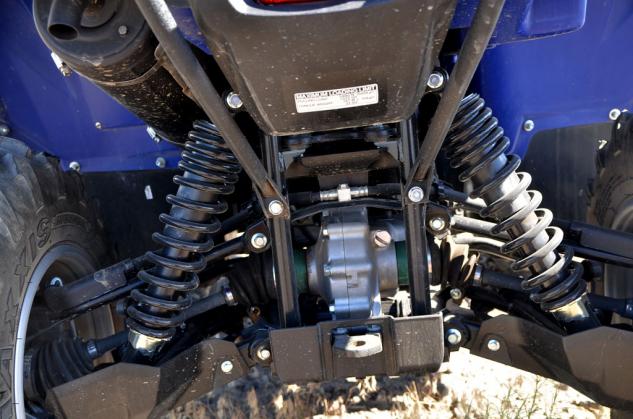 Yamaha's independent double wishbone suspension offers up 7.6 inches of travel up front and 9.2 inches of travel in the rear (pictured).
Going right or left is the command of a speed-sensitive electronic power steering (EPS) system that senses load and speed and adjusts accordingly.
Fuel capacity for the Grizzly 700 is 5.3 gallons. Loaded with fuel and coolant, the Grizzly comes in at a Yamaha-published wet weight of 648 pounds.
Test Ride
The ATV.com crew threw the Grizzly into a four unit ATV shootout where it, Suzuki's King Quad 750 EPS, Honda's FourTrax Rincon, and Kawasaki's Brute Force 750 EPS went smack down in lava rock infested desert, on some sand dunes, and some mountainous trails. You can expect a full shootout story and video in the coming weeks. Here, though, we dissect how the Grizz handled itself over our months-long testing regimen.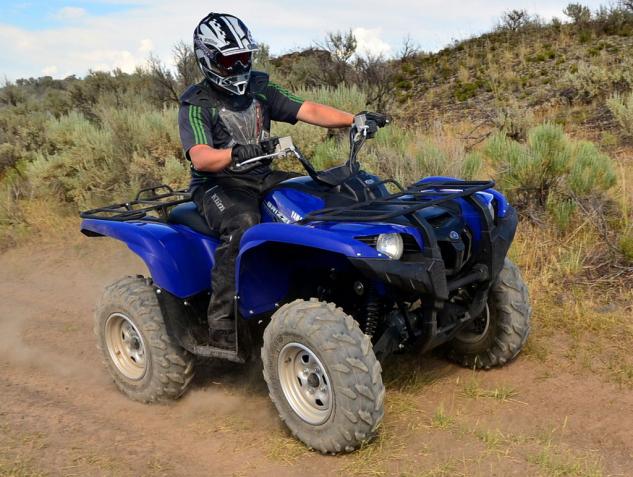 We came to love the high-reaching handlebar, as it kept us upright and comfortable.
Power comes on gentle on launches. As it spools up on a hefty load of fuel and oxygen, the motor easily spins the constant velocity transmission (CVT) with sprag clutch. The tires receive command from the CVT, and in most cases, do not break loose; most notably when locked into 4WD. In 2WD, the rear tires will momently break loose on hard pack or loose sand.
The single-cylinder motor and CVT do not make the Grizzly a flesh eating machine, but an ATV that will evenly and smoothly dial up the rpm without snapping the driver's head and pulling out their arms from the shoulder. When rock hopping, the Grizzly's gentleness, we've learned, prevents the driver from being nervous about flipping over onto its back. All four tires, when in diff lock 4WD, rotate with slow and methodical momentum up and over rock and crag.
If you want a single-cylinder ATV that is strong on the throttle, then this is the ATV for you. Its torque filled motor is strong on the bottom end and it is pretty dang good sprinter. In common terms, Yamaha's Grizzly is tractor like. It wants to work, not race.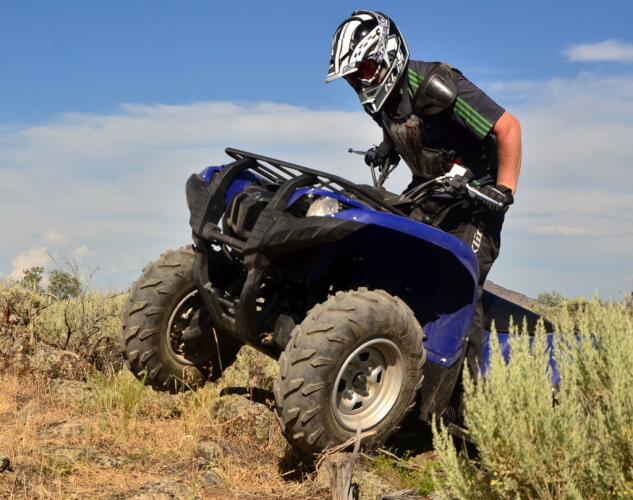 With its smooth and predictable engine, the Grizzly offered confidence-inspired performance when rock crawling.
Moving on to ergonomics, the Grizzly is very friendly to the arms. Its tall and excellent curved handlebar keeps hands and arms at a neutral position. It swings right and left flatter than most ATVs in its class, with little down dip as the right and left ends swing toward the driver.
Thanks to the Grizzly's blunted down nose – it is not at same length as the front fenders – it gives the rider a clear view when rock climbing and descending over rocks. This is much appreciated.
COMPARISON: Read our review of the 2012 Kawasaki Teryx4 750 4×4 + Video
The gated transmission selector is simple to use, but if each slot is not memorized, you may find yourself gear hunting. If you are a right hand-dominate driver, which most of us are, you may find the transmission knob on the left a bit cumbersome. This does not make the Grizzly a difficult machine to operate, but a machine that teaches us right handers to be ambidextrous.
Because the Grizzly has front and rear hydraulic disc brakes, it has a park position on the shift selector. This is the only 700-750-class ATV with that feature.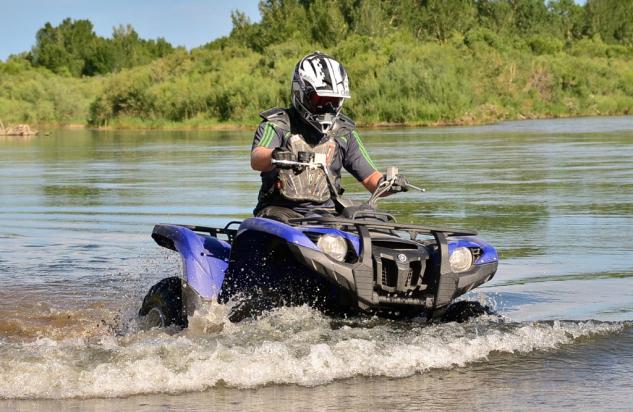 Lying ahead of the handlebar steering post and down toward the nose is the instrument pod. This multi-function gauge is purposeful and tucked out of way. With the pod down off the handlebar and mounted in front the handlebar post lock, it opens up the driver's line-of-sight. The distance from eye-to-pod makes information somewhat hard to decipher when taking quick glances, but the open view is worth it.
The On-Command 4WD/2WD push button selector is wonderful; we like its function. Yet, at times we had to look at the button's side profile to verify if it was in 2WD or 4WD; though the pictorial image on the button informs the driver what position represents 2WD or 4WD, it is hard to tell if it is pressed or depressed. We prefer a slide switch were 2WD is on one side and 4WD is on the other.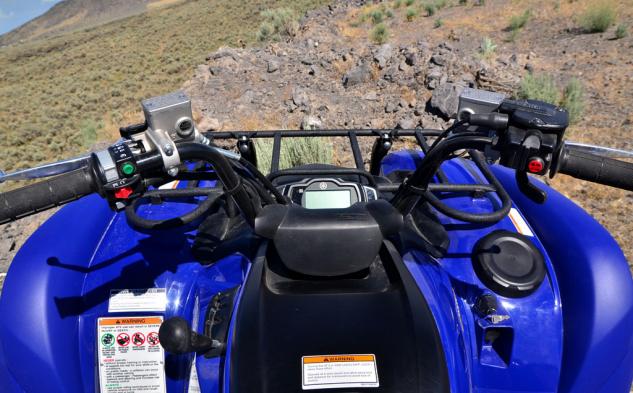 The gauge pod is located off the handlebar, which improved the view of the trail but made seeing the information being displayed a bit cumbersome.
Under the 4WD/2WD depress button is the diff-lock control, which slides up over the 4WD/2WD button and exposes another depress button, the "diff lock" and "4WD" button. This allows on-the-fly diff lock (engaged or disengaged) when in 4WD. We found the slide and depress button user friendly.
Yamaha's EPS performed as promised. When under load, at low speeds, the EPS adjusts its sensitivity to the slow moving load and becomes feathery light. When traversing a trail at high- to moderate- speeds, the EPS slowed down by increasing feedback to the driver by being somewhat heavy. Our preference is for the EPS to throw more pressure to the handlebar when kicking down the trail at speeds greater than 30 mph; at times we overcorrected our handlebar swings as we blitzed through some S-curves and rutted-out straightaways.
Attack a trail with speed and Yamaha's EPS limits feedback to the handlebar.
Ground clearance was sufficient for our needs. We scraped the bottom a couple times when we unintentionally dropped all four wheels over a rock, but you can't fault the Grizzly for that. When rock crawling in off-camber angles, the Grizzly cleared oncoming obstacles and remained in control. Let's also add here, we found its independent front and rear wishbone suspensions to provide compliant and in-control crawling, especially when in differential lock. The chassis remained fairly flat as the wheels and suspensions moved up and down following a rock's profile. Also, downhill descents were smartly managed. Give credit to engine and transmission braking, as well as its superb four-wheel hydraulic disc brakes. Speaking of that, we experienced no brake fade when rolling down a hillside.
One thing to add to the wish list is a two-inch longer wheelbase. We found the rear end wanting to come around the front and lead from behind.
While the motor and transmission emit heat, we've experienced far worse – especially from big brawny twin cylinder ATVs. Be in the know and wear full-length pants and over-the-ankle shoes and it won't be a big bother.
The Grizzly has front and rear storage racks and a hitch mount to slap a ball to. You can easily stow, haul and tow, but you'll need to accessorize with your favorite storage components.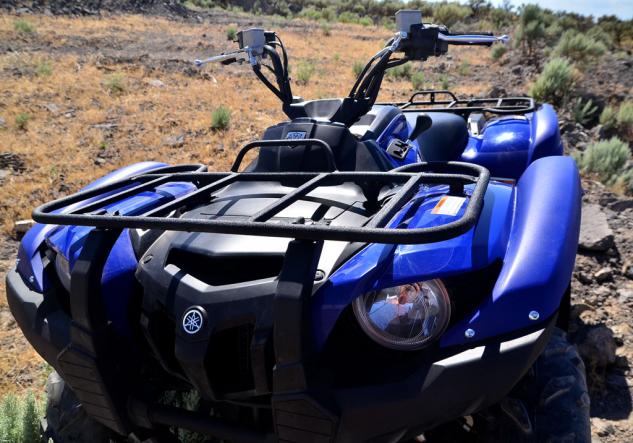 Front and rear storage racks offer plenty of space to pack for a long ride.
Overall, the 700 Grizzly is a good ATV. It grunts along in sure-footed fashion. Its EPS makes slow heavy load traversing easy. We like its ergonomics, comfortable leg and foot positioning and flat handlebar swing. On the downside, we did find the instrument pod hidden from view, and the on-off 2WD/4WD button hard to conclude if it was engaged.
Here comes a wish. This is a high-end Utility ATV, and we'd like to see Yamaha throw some bling to it. Some polished, chrome, aluminum or magnesium wheels would make the Grizzly sexy, giving its speak-softly-but-carry-a-big-stick attitude an exclamation point. There is a special edition Grizzly, the Stealth Black Edition, a blacked-out model that also has black rims. We think the EPS-equipped Grizz would be well served with a bit of shiny chrome.
COMPARISON: Read our review of the 2013 Yamaha Grizzly 700 SE Tactical Black
Check back in the coming weeks to see how the Yamaha Grizzly 700 EPS faired against its 700-750 class rivals.
Thoughts From Test Rider Kevin Allred
As I think about my long term experience, I sum up the 2014 Yamaha Grizzly 700 as a great utility ATV. Any complaints I have are nit-picky at the most.
The Gizzily's fit and finish is Yamaha typical – excellent. The scuff resistant texture on fender edges and near the engine resists marring. These areas include edges on front and rear fenders, and at the areas where a rider's leg rub the plastic.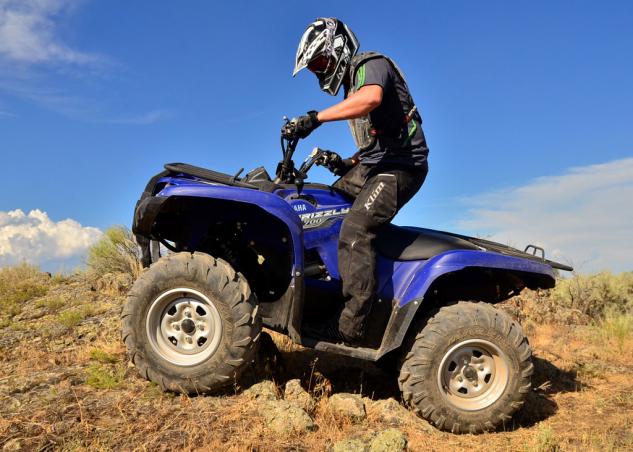 Multiple test riders found the Grizzly 700 to be a comfortable and capable Utility ATV.
The 686cc single cylinder motor is stout, and the Grizzly's belt drive transmission with high and low settings, engage the wheels smoothly and predictably. To engage the transmission, any brake lever must be squeezed to shift the lever.
Bringing the Grizzly to a stop is easy to do with its outstanding hydraulic four-wheel discs. Along with hydraulic disc brakes, downhill engine braking is not too much, but enough to do the job. In low gear, it creeps down a hill.
For me, ride quality is where it needs to be.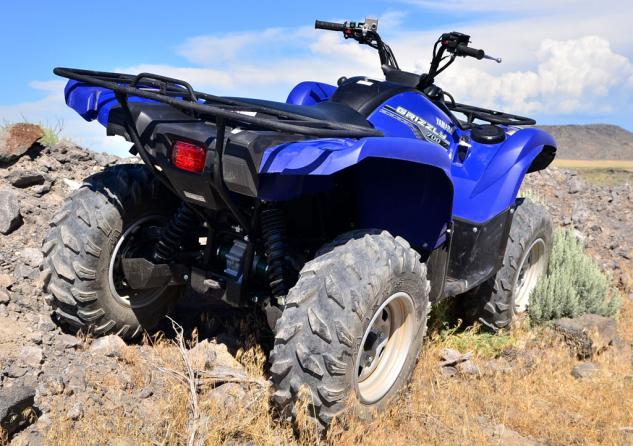 For its ergonomics, I like the high rise handlebar and the electronic power steering. Steering is comfortable and precise. For night riding, its blue backlit instrument pod was easy on the eyes.
A short time ago, I visited with a local repair shop that recently serviced (routine maintenance) a 2008 Grizzly 700 which had 20,089 miles clocked on the odometer – all of the miles from hard farm use. Other than routine maintenance, at 18,000 miles, the dealer replaced the primary clutch and drive belt. In my opinion, the Grizzly's durability is proven. I would have no problem spending my own money to put a Grizzly in my garage. Published August 18th, 2014 10:49 AM
Top Brands
Popular Articles